Author Archive: BT Online Editor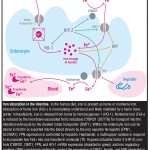 This column is written by medical students and is dedicated to reviewing the science behind obesity and bariatric surgery. Lesson #1 explores topics in gastrointestinal physiology and discusses the implications of gastric bypass surgery for each subject.
OBESITY ACTION COALITION (OAC) RELEASES SPANISH VERSION OF THE YOUR WEIGHT MATTERS CAMPAIGN TOOLKIT Tampa, Florida—The OAC announced the release of its Spanish version of the highly-successful Your Weight Matters Campaign toolkit. "With more than 42 percent of the U.S. Hispanic population impacted by the disease of obesity, we felt it was imperative to offer […]
 An Interview with Dr. Ahmed Ahmed Dr. Ahmed is a Consultant Upper Gastrointestinal and Bariatric Surgeon, Department of Bariatric Surgery, Imperial College Healthcare, Charing Cross Hospital, London, United Kingdom. The state of obesity and bariatric surgery varies from country to country. In this series, authors from around the world discuss obesity and bariatrics in their […]
by Wendy Scinta, MD, MS Wendy Scinta, MD, MS, FAAFP, Medical Director, Medical Weight Loss of NY, BOUNCE Program for Childhood Obesity, Fayetteville, New York; Clinical Assistant Professor of Family Medicine, Upstate Medical University, Syracuse, New York.
This month: The State of Obesity and Bariatric Surgery in Italy An Interview with Dr. Mirto Foletto Bariatric Times. 2014;11(5):12–13. Introduction The state of obesity and bariatric surgery varies from country to country. In this series, authors from around the world will discuss obesity and bariatrics in their country, answering questions on the most recent […]
by Katherine van Schaik, MA, MD PhD Candidate Katherine van Schaik, MA, MD PhD Candidate, is from Harvard Medical School and the Harvard Department of the Classics in Boston, Massachusetts. Bariatric Times. 2014;11(5):14–15. It is no wonder that, while others wandered around the whole city performing salutations and dined with the rich and powerful and […]
by Raul J. Rosenthal, MD, FACS, FASMBS; Samuel Szomstein, MD, FACS, FASMBS; and Emanuele Lo Menzo, MD, PhD, FACS, FASMBS Column Editor Raul J. Rosenthal, MD, FACS, FASMBS Clinical Editor, Bariatric Times, Professor of Surgery and Chairman, Department of General Surgery; Director, The Bariatric and Metabolic Institute; Director, General Surgery Residency Program and Fellowship in […]
Uppsala, Sweden March 20–21, 2014 by Magnus Sundbom, MD Dr. Sundbom is from the Department of Surgery, University Hospital, Uppsala, Sweden. FUNDING: No funding was provided. DISCLOSURES: The author reports no conflicts of interest relevant to the content of this article. Bariatric Times. 2014;11(5):24–26. The Second Nordic Bariatric Meeting: The Highlights More than 60 bariatric […]