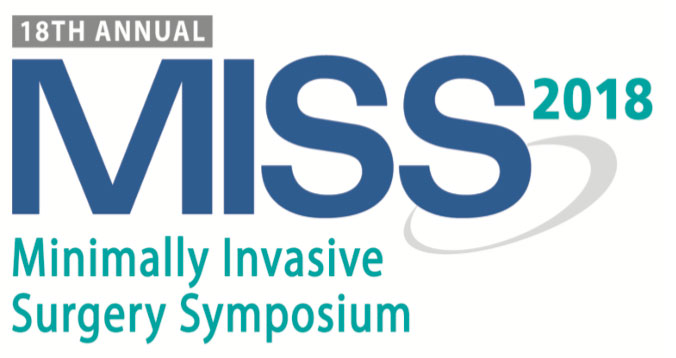 By Lisa Hack
Funding: No funding was provided.
Disclosures: The author reports no conflicts of interest relevant to the content of this article.
Author affiliation: Ms. Hack is a freelance writer.
Bariatric Times. 2018;15(10):24–25.
The 2018 Minimally Invasive Surgery Symposium (MISS), which took place March 6–9, 2018, at the Encore at Wynn Las Vegas in Nevada, represented the 18th year for MISS and featured more than 90 presentations on colon, hernia, foregut, bariatric/metabolic surgery, and enhanced recovery after surgery, as well as Q&A panels. The MISS 2018 symposium also included an optional pre-conference interactive workshop for general and bariatric surgery: Ultrasound, TAP, and Laparoscopic Techniques for Performing Infiltration Blocks, as well as scientific poster sessions.
MISS 2018 participants had the opportunity to earn up to 30.75 AMA PRA Category 1 Credits™ (including optional MOC self-assessment credit), as designated by the symposium's providers—the University of Cincinnati and the Global Academy for Medical Education.
Colon Program Highlights
Co-directed by Bradley R. Davis, MD, Charlotte, North Carolina, Tuesday's and Wednesday morning's sessions focused on a number of critical colon issues. Topics included surgery for inflammatory bowel disease, risk reduction in colorectal surgery, management of anastomotic leaks, management of parastomal hernias, options for rectal polyps, and robotic sigmoid colectomy.
Enhanced Recovery Program Highlights
Part of Tuesday's and Wednesday's programs were devoted to sessions about enhanced recovery. Co-directed by Stacy A. Brethauer, MD, Cleveland, Ohio, topics included multimodal pain management strategies, whether carb loading matters, regional blocks, and whether enhanced recovery saves money. As Dr. Brethauer commented, enhanced recovery is a concept that a lot of surgeons "still aren't that familiar with; they may be employing parts in their practice, but the comprehensive protocol or pathway of enhanced recovery really isn't something that a lot of folks are fully aware of."
Stephanie B. Jones, MD, Boston, Massachusetts, explained that enhanced recovery involves "thinking of the surgical experience in a much more longitudinal fashion." She said the concept entails having the patient, and everyone involved in the surgical experience, focused on ensuring that the patient has the best outcome and is released from the hospital in the minimum amount of time and in the best shape possible. Dr. Jones added that enhanced recovery views recovery as a "package" instead of as many elements being managed by individuals.
Hernia Program Highlights
Wednesday afternoon's and Thursday afternoon's hernia sessions, co-directed by Guy R. Voeller, MD, Memphis, Tennessee, included topics such as big data and hernia care, the explosion of robotic hernia repair, management of diastasis recti, management of seromas, and the use of Botox in abdominal wall reconstruction.
Dr. Voeller commented that Michael Rosen, MD, Cleveland, Ohio, was trying to convey to the audience in his sessions that many complex abdominal wall repairs "are not as easy as one may think" and that some "may be causing more harm than good," especially with regard to some robotic procedures.
In recapping the session "Robotic TAR: Should You Do It and Tips and Tricks" presented by Igor Belyansky, MD, Annapolis, Maryland, Dr. Voeller said if general surgeons "want to do these things that are a little more complex and a little out of [their] wheelhouse," they should come to a setting like MISS to learn how to perform these procedures.
With regard to the great mesh debate, Dr. Voeller commented that with all the publicity, "every single patient wants to know whether or not you're going to be using mesh. Repairs, especially with incisional hernias, do better with mesh," but the most important aspect "is to inform patients as best we can about these complex issues."
Foregut Program Highlights
The foregut sessions, which took place Wednesday and Thursday afternoons, were co-directed by William O. Richards, MD, Mobile, Alabama.
Michael Vaezi, MD, PhD, MSc, FACG, Nashville, Tennessee, began with the work-up of gastroesophageal reflux disease (GERD) and later discussed the gastroenterologist's view of antireflux surgery, as well as the endoscopic diagnosis and treatment of Barrett's esophagus.
Dr. Richards explained how to treat the patient with gastroparesis and later spoke in a session called "Antireflux surgery a must for treatment of Barrett's," during which he reviewed a meta-analysis that showed that there's an incidence rate ratio reduction of esophageal adenocarcinoma after antireflux surgery in patients with Barrett's.
Leena Khaitan, MD, MPH, commented in her sessions on GERD Thursday morning that many people don't realize how much reflux affects quality of life. She noted, "Weight loss surgery, particularly gastric bypass, has become the management procedure for GERD in the [patient with obesity]," even though "thinking of weight loss surgery as part of the antifreflux armamentarium is still something that is lost on insurers in a lot of places." She also noted that "Reflux after sleeve [gastrectomy] has really become its own field. We have essentially created a new field."
Lastly, Khaitan remarked there's room for a bit more standardization. She said, "If you talk to 50 surgeons about how they do a sleeve gastrectomy, the concepts are all the same, and I think we all believe the same things, but the way we actually do it is a little bit different; everybody brings their own nuance to the table."
Metabolic/Bariatric Program Highlights
MISS Metabolic/Bariatric Program Co-Directors John B. Dixon, MBBS, PhD, FRACGP, FRCP, Edin, Melbourne, Australia, and Bruce M. Wolfe, MD, Portland, Oregon, opened the flagship portion of the MISS conference discussing the gut microbiome and chronic disease and the gut microbiome and implications in bariatric surgery, respectively.
Daniel P. Schauer, MD, Cincinnati, Ohio, emphasized in his sessions on obesity and cancer Thursday afternoon, that "obesity is strongly associated with the risk of cancer." He presented new data on cancer reduction after bariatric surgery. "We found overall that cancer was reduced by about a third." The types of cancer that were significantly reduced included postmenopausal breast cancer; cancers of the endometrium, colon, and pancreas; and esophageal adenocarcinoma.
Wondering whether the reduction in cancer risk was due to the surgery or the weight loss, Dr. Schauer and his colleagues determined that the reduction in cancer risk was due almost entirely to the weight loss and that those who lost more weight had a greater reduction in cancer risk. He concluded that "the implications are that losing weight through bariatric surgery or other means is key to reducing [cancer] risk."
Special guest lecturer Ted Adams, PhD, DrPH, Salt Lake City, Utah, presented 12-year data on a study he has been conducting on weight loss and diabetes remission after Roux-en-Y gastric bypass (RYGB) surgery. With a 90 percent follow-up rate, Dr. Adams followed 1,156 patients over 12 years.
He reported that in terms of weight loss durability, there was a 35-percent reduction in weight at two years post-surgery, 28 percent at six years, and close to 28 percent at 12 years. For diabetes remission durability, 75 percent of the surgery group was in remission at two years post-surgery, 64 percent at six years, and 51 percent at 12 years. "We didn't see a real strong correlation, however, between weight loss and diabetes remission," Dr. Adams commented. Diabetes remission "was more closely linked to how long the person had had diabetes prior to their surgery and whether or not they were taking insulin prior to surgery; those on insulin were less likely to remit."
Compared to the findings of the Swedish Obese Subjects Study, "Our results were very similar," Dr. Adams said. "Our diabetes remission at 12 years was a little more favorable than [that of the] Swedish Obese Subject Study, [but] I believe this is because most of their patients had a procedure that is no longer performed, and our subjects all had gastric bypass, so I think it was all procedure related."
In speaking about the benefits of surgery beyond weight loss and diabetes remission, Dr. Adams mentioned long-term increased mobility and its effect on quality of life. He said that improvement from pre- to post-surgery on a treadmill test "was pretty remarkable." He also mentioned that he and his study colleagues are speaking with the National Institutes of Health about possibly funding a 16- to 17-year follow-up study. One of the things Dr. Adams would particularly like to look at down the road is bone mineral density and, by implication, osteoporosis.
Ninh T. Nguyen, MD, Orange, California, reported on the findings of a one-year randomized controlled trial comparing gastric bypass to gastric banding. He said that laparoscopic gastric bypass and gastric banding are both safe and effective approaches for the treatment of morbid obesity. Gastric bypass resulted in better weight loss at medium- and long-term follow-up but was associated with higher rates of perioperative and late complications and a higher 30-day readmission rate. With regard to gastric banding, Dr. Nguyen explained that there is a wide variation in weight loss with a small proportion of patients considered as treatment failures, and that male gender is a predictive factor for poor weight loss.
ASMBS President Samer Mattar, MD, FACS, FRCS, FASMBS, Seattle, Washington, delivered a session Thursday afternoon entitled, "Key ASMBS Quality Initiatives for 2018." He said one issue worth addressing is the "lack of retention." He added, "We need to find ways to retain patients to improve outcomes and offer support." He said another initiative worth pursuing is to "better protect our patients from deep vein thrombosis. Although the safety of bariatric surgery has reached unprecedented levels, the main cause of death still remains pulmonary embolism." Dr. Mattar emphasized the need "to come up with a formula or policy that can be standardized and used for all patients that is obviously cost-effective and easy for patients to adopt and maintain. That way we will reduce the incidence even more."
In his session entitled "Update on ASMBSE Enhanced Recovery Initiative: ENERGY," Dr. Brethauer brought attendees up to speed on one of the largest national enhanced recovery initiatives to date—Employing New Enhanced Recovery Goals for bariatric surgery (ENERGY). Researchers working on the initiative, which involves about 35 centers across the country, have completed the first-quarter data collection. This means that by MISS 2019, "we should have significant data supporting the safety and value of adding enhanced recovery to bariatric surgery programs," Dr. Brethauer, who is the Immediate Past President of ASMBS, said.
In a Friday morning session, Robin P. Blackstone, MD, Phoenix, Arizona, spoke about the management of hypoglycemia after gastric bypass. She first explained that hypoglycemia after bariatric surgery has a much higher incidence than we previously thought. "About 30 percent of people are actually affected by some variation of hypoglycemia," she said, and it exists in a range of forms from mild to neuroglycopenia.
"About 6 months to 1 year after surgery, patients can begin to experience real symptoms of low blood sugar," Dr. Blackstone said. Because at that time patients are often back in the care of their primary care physicians, "we have to educate primary care physicians that this exists."
She added that late dumping (severe hypoglycemia or neuroglycopenia) is caused by glucagon-like peptide-1 (GLP1), and that the majority of cases can be managed with medical treatment; surgical treatment has imperfect results.
In closing, Dr. Blackstone said the two most important things to remember are not to give oral glucose to treat hypoglycemia in patients who have had bariatric surgery, and "don't minimize this metabolic complication."
Special guest lecturer Daniel B. Jones, MD, MS, FACS, Boston, Massachusetts, spoke about avoiding electrocautery injury and the Society of American Gastrointestinal and Endoscopic Surgery (SAGES) Fundamental Use of Surgical Energy (FUSE) Program. He pointed out that 40,000 patients suffer electro-surgical-related injuries annually, and that many surgeons have knowledge gaps in the safe employment of widely used energy-based devices. Dr. Jones shared that the web-based FUSE didactic is free of charge and available at www.fusedidactic.org.
Dr. Philip Schauer, the penultimate speaker of the conference, discussed diabetes surgery guidelines and the next steps toward their full adoption. And James Ponce, MD, FACS, FASMBS, Chattanooga, Tennessee, the final speaker, presented the latest data on the use of gastric balloons.
The 2019 MISS will be held February 25–28, 2019, at the Encore at Wynn Las Vegas. For complete information as it becomes available, please visit the conference website at http://MISS-cme.org.
Category: Past Articles, Symposium Synopsis