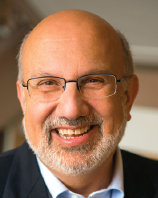 An interview with:
Allen S. Levine, PhD
Vice President for Research and Professor, Department of Food Science and Nutrition, University of Minnesota, St. Paul, Minnesota; President, The Obesity Society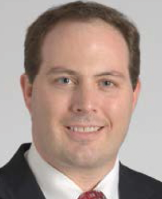 Introduction by Stacy A. Brethauer, MD, FACS, FASMBS
Associate Professor of Surgery, Cleveland Clinic Lerner College of Medicine; Program Director, Bariatric Surgery Fellowship; Director of Bariatric Surgery, Fairview Hospital; Medical Director, Supply Chain Management; Quality Officer, Digestive Disease and Surgery Institute. Cleveland Clinic, Cleveland, Ohio; President, American Society for Metabolic and Bariatric Surgery
Just as those of us in surgery work closely with the medical device industry, many of our medical colleagues work hard to create change within the food industry. There are many misconceptions about working with the food industry, especially among those who are not involved. The most obvious concerns are centered around relationships with companies that produce unhealthy products. It seems obvious to those of us outside that world that we should simply ask the companies to stop making high-sugar and high-fat food and drink products that are contributing to the obesity problem. Certainly, inviting the food industry—apart from company scientists who should be attending scientific meetings—to sponsor our conferences and symposia would create scenarios that might be problematic (e.g., ObesityWeek sponsored by a soda company). The reality, though, is that this is a much more nuanced issue than we might imagine.
So, how can the societies dedicated to the treatment and care of patients with obesity, namely the American Society for Metabolic and Bariatric Surgery, The Obesity Society, and the Obesity Medicine Association, work with food industry partners in a constructive and productive way without compromising our mission to prevent and treat the disease of obesity? We need to listen to the experts who have experience working with the food industry and understand how doing research with and partnering with responsible companies in the food industry might lead to incremental changes.
Funding: No funding was provided in the preparation of this manuscript.
Financial Disclosures: Dr. Levine reports no conflicts of interest relevant to the content of this article.
Bariatric Times. 2017;14(8):10–11.
---
Thank you for taking the time to discuss this important topic. Please begin by providing a background on your careers and how they relate to the food industry. 
Dr. Levine: My career has provided me ample education and experience in the field of food science. I received my PhD from the University of Minnesota with a major in nutrition and minor in food science, and also completed a National Institutes of Health (NIH) post-doctoral fellowship in gastroenterology. Later, I joined the Minneapolis VA Medical Center and was appointed department head of Food Science and Nutrition at the University of Minnesota. In 2006, I became Dean of the College of Food, Agricultural and Natural Resource Sciences at the University of Minnesota. Currently, I serve as Interim Vice President of Research at the University of Minnesota and President of The Obesity Society.
For my entire research career, I have been involved in neuroscience research, specifically studying the rewarding circuits of the brain. We sought to learn the answers to the following questions, "What makes food taste good and why do we enjoy it?" and "What controls the regulation of food intake?" Throughout my career, I have been involved in and witnessed changes in research, which has in turn changed the food industry.
What comprises the "food industry?" How does this industry relate to the disease of obesity and how did you become involved in working with it?
Dr. Levine: The food industry is how we get fed. It is comprised of either agricultural products (fruits, vegetables, dairy, and meat) or pre-packaged foods. If you think about what the public asks of the food industry, they want to have access to products that 1) taste good, 2) are not too expensive, and 3) are microbiologically safe from food-borne illness. That is what was demanded of the food industry for most of its inception. The industry did such a good job that we now have food that meets all of these demands and, is for the most part, convenient—but it is not always healthy. I had to get involved and learn food industry processes in order to understand its evolution and role in human health, including obesity. I became interested in how we could work with the food industry to change some of the products and create ones that were healthier.
Is there a definition or criteria of what constitutes "healthy" food and drink products?
Dr. Levine: Defining "healthy food" is difficult because it might take a lifetime for a food to cause change in human health, and studying just one food in the human diet is almost impossible. For example, if I wanted to conduct a study to test whether a certain food caused cancer, I would have to account for many variables, such as the study participants' diet, lifestyle (e.g., tobacco use, physical activity level), and environment. This is why we use population studies to examine diet, health, and longevity.
What the public views as "healthy food" changes with new research and trends. Take eggs, for example. The Seven Countries Study (SCS),[1] launched by Ancel Keys, conducted exploratory research on the relationship between dietary pattern and the prevalence of coronary heart disease. The SCS pointed out the cardioprotective effect of the Mediterranean diet and the "Keys equation" on the effect of different dietary fatty acids on serum cholesterol levels, which is still studied today. SCS suggested that individuals should not eat a lot of cholesterol containing foods or foods high in saturated fats, such as eggs or beef. So, did this mean that eggs were bad for you? Not necessarily, although this research and other studies impacted the public's view of eggs as a healthy or less-than-healthy food to consume.
While defining what is healthy is complex, population health studies have revealed that cultures that seem to have less degenerative diseases and live longer have diets consisting of mostly vegetable matter with the animal products as an ornament rather than as the main dish—for example a pound of steak with mashed potatoes on the side. My personal guideline for "healthy" is consuming foods and beverages that are dilute in calories and concentrated in nutrients. I can say with security that fruits and vegetables, which contain nutrients, fiber, and water, fit this criteria but soda pop, which contains sugar and no other nutrients, does not. Sweetened beverages and candy products provide pleasure and reward, but not a high concentration of nutrients.
Regarding pre-packaged food, it's hard to determine what products are healthy and unhealthy based on any criteria. The pre-packaged food industry is always forced into a corner because of the three demands listed previously (taste, convenience, and safety). Food is pre-packed for convenience, but it also needs to have shelf stability. So, the food industry is tasked with developing a product that has those properties associated with it. Many pre-packaged foods have a high salt content for preservation and flavor. If an individual has been advised by his or her doctor to cut back on sodium in their diet, then he or she might view this food as "unhealthy." The industry responds by producing products that are "reduced sodium," but often they don't taste as good. For instance, soups without salts are really hard to manufacture.
What is the chain of events that occurs between research conducted on food health and safety and the food industry's response?
Dr. Levine: The food industry wants to sell food, and the public drives demand for the type of food. If nutritionists, doctors, and surgeons tell their patients to eat a certain kind of food based on the latest research, the food industry has to respond by modifying their offerings. If they do not give the public what it wants, they won't sell their products.
For instance, there was a period of time when "low-fat" was "in." Many healthcare professionals recommended their patients stick to low-fat diets, and the food industry responded by making more low-fat products because they knew people wanted them. The dietary guidelines continue to emphasize ingesting fewer high-fat foods.[2] Another example can be seen in high-fiber products. Studies have shown that high-fiber diets might help in prevention of colon cancer.[3] Given this information, gastroenterologists might recommend high-fiber diets to their patients. The food industry responds by putting more fiber into the products they already produce and labeling them "high fiber."
An example of food fads is the gluten-free diet. People with celiac disease are not able to eat gluten-containing foods, but gluten is not a problem for the general public. Within the past few years, we have heard the message that gluten is not good for you, whether you have celiac or not. The general public has bought into this message and as a result we have more gluten-free foods on the market. So, you see that the food industry does change its offerings based on research and/or public demand. The same holds true for the restaurant and fast-food industries. They understand that if they do not offer what the public wants, they will lose business. An example of this can be seen in fast-food chains increasing their offerings of salads and lower calorie options like oatmeal.
This all morphs into the questions, "What can we as clinicians and basic scientists do to influence positive change in this area?" and "Why would an organization like The Obesity Society work with the food industry?"
Why would an organization like The Obesity Society work with the food industry?
Dr. Levine: It is important for us as clinicians, applied and basic scientists, and societies dedicated to prevention and treatment of obesity to understand why the food industry is producing certain products. Our goal is for those products to have a beneficial effect on societal health, and we must work with industry in order to reach this goal.
I personally feel as a scientist and someone who has worked with patients, that you should engage with the food industry. If the public cares about the science and the physicians are recommending patients eat and drink a certain way, then the food industry has to also care about the science. We can help introduce and maintain foods that are healthier and lower in caloric density and thus impact what the public eats.
How does TOS work with the food industry?
Dr. Levine: As I said, scientists and physicians are very important to the food industry. We work with them through research and development to help improve their product lines, thus influencing what is being offered to the public. It's hard to control what the food industry is doing as a whole, but members of TOS are participating in a variety of ways. One major way we work with industry is via our research. For example, I was involved in a study on the effect of high-diet breakfast foods, such as cereal, on appetite control.[4] Another good example can be seen in the Healthy Weight Commitment Foundation (HWCF), funded by the Robert Wood Johnson Foundation.[5] The HWFC was a pledge signed by 16 food and beverage companies to remove one trillion calories from the marketplace by 2012, and 1.5 trillion by 2015. The 16 companies committed to the HWCF calorie-reduction pledge included the following:
Bumble Bee Foods, LLC
Campbell Soup Company
ConAgra Foods (includes Ralston Foods)
General Mills, Inc.• Hillshire Brands (previously Sara Lee Corporation)
Kellogg Company• Kraft Foods Group/Mondelez
Mars, Incorporated• McCormick & Company, Inc.
Nestlé USA
PepsiCo, Inc.
Post Foods
The Coca-Cola Company
The Hershey Company The J.M. Smucker Company
Unilever
The food industry is interested in what this research discovered, and so a company funded it. No aspect of food science is left untouched. There are people who study the agricultural products to learn more about stability and storage times. Others look at how the body absorbs nutrients from foods. Members of TOS are researching not only the nutritional content of food, but also how the way in which it is processed and labeled impacts its consumption, and the food industry is highly interested in these results.
Discussions around whether the labels on food and drink products make a difference are happening all the time. Does nutrition education affect the way people eat? What should and should not be on a product label? Eye-tracking studies are also conducted to see where people's eyes go on a label. This information is mutually beneficial to the society and industry. Health professionals are interested in how these results impact individual choice pattern and consumption of calories/nutrients, while the food industry is interested in how these results might help them make their products more attractive and meet the demands of the consumer.
Another area of interest to the food industry is food packing techniques that help patients lose weight. For example TOS Past President Dr. Barbara J. Rolls, Professor and the Helen A. Guthrie Chair of Nutritional Sciences at The Pennsylvania State University, is an expert in volumetrics, or how the volume of food that people eat affects satiety.[6] You can see industries' response to this research with the availability of low-calorie foods, which might contain more air, fiber, and water. This is a clear example of how a TOS member has worked with industry to develop certain product offerings that have a beneficial effect on patients with obesity.
What might happen if the healthcare industry did not work with the food industry?
Dr. Levine: I think there are a variety of ways we work with the food industry as scientists as I have already discussed. If we don't work with them, then there is the danger of the industry not introducing or maintaining more healthful products. Of course, the industry knows this and hire their own nutritionists and food scientists who have been trained by faculty at universities that include our members.
References
Keys A, Menotti A, Karvonen MJ, et al. Diet and 15-year death rate in the seven countries study. Am J Epidemiol. 1986;124(6):903–915.
U.S. Department of Health and Human Services and U.S. Department of Agriculture. 2015–2020 Dietary Guidelines for Americans. 8th Edition. December 2015. Available at http://health.gov/dietaryguidelines/2015/guidelines/. Accessed May 30, 2017.
Weisburger JH, Reddy BS, Rose DP, et al. Protective mechanisms of dietary fibers in nutritional carcinogenesis. Basic Life Sci. 1993;61:45–63.
Levine AS, Tallman JR, Grace MK, et al. Effect of breakfast cereals on short-term food intake. Am J Clin Nutr. 1989;50(6):1303–1307.
Ng SW, Slining MM, Popkin BM. The Healthy Weight Commitment Foundation pledge: calories sold from U.S. consumer packaged goods, 2007-2012. Am J Prev Med. 2014;47(4):508–519.
Rolls B, Hermann M. The Ultimate Volumetrics Diet: Smart, Simple, Science-Based Strategies for Losing Weight and Keeping It Off. New York, New York,Harper Collins Publishers; 2012.
Category: Interviews, Past Articles