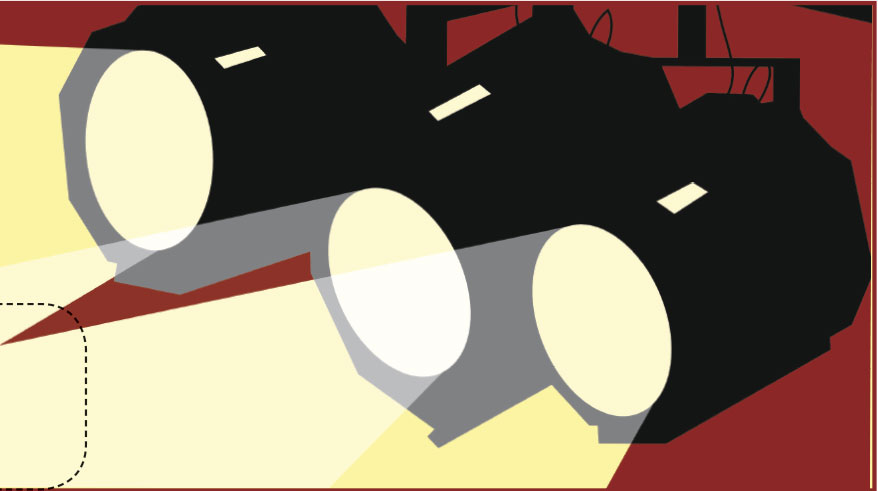 by Chintan B. Patel, MS Surgery (Mumbai), DNB Surgery, FIAGES, FMAS, FBMS (Bariatric); and Dharmesh S. Dhanani, MS Surgery, FNB Minimal Access Surgery, FALS, FMAS, Fellow (GI Oncosurgery)
Drs. Patel and Dhanani are from the Center for Weight Loss and Bariatric Surgery at Kiran Hospital, Multi Super Speciality Hospital & Research Center, in Surat, Gujarat, India.

Funding: No funding was provided for this article.
Disclosures: The authors reports no conflicts of interest relevant to the content of this article.
Bariatric Times. 2018;15(12):18–20.
This column is dedicated to featuring accredited bariatric centers around the world, with a focus on their facilities, staff, statistics, processes, technology, and patient care.
---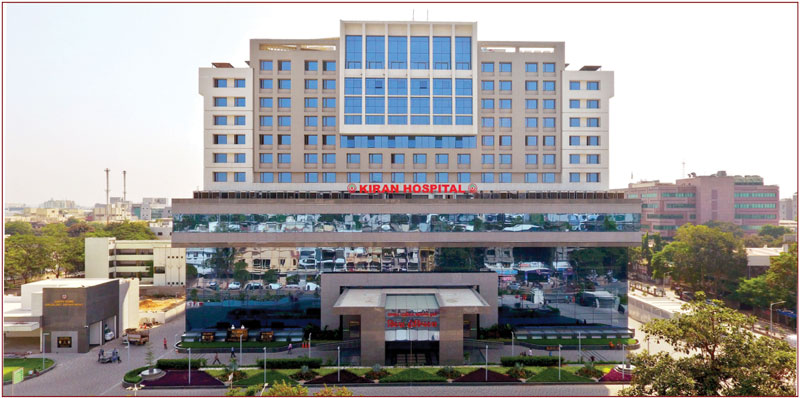 Kiran Hospital, Multi Super Speciality Hospital & Research Center, is in the diamond capital of India, Surat, Gujarat, open to all patients not only from the state of Gujarat, but also across the country.
As a state-of-the-art center, Kiran Hospital has bridged a qualitative gap in the sphere of medicine, especially among the super speciality branches of modern medical science.
The hospital is managed by Samast Patidar Aarogya Trust, a nonprofit organization, and was inaugurated by the Indian Prime Minister Narendra Modi on April 17, 2017. Since its inception, the hospital has worked to provide quality healthcare in all areas.
Our Bariatric Team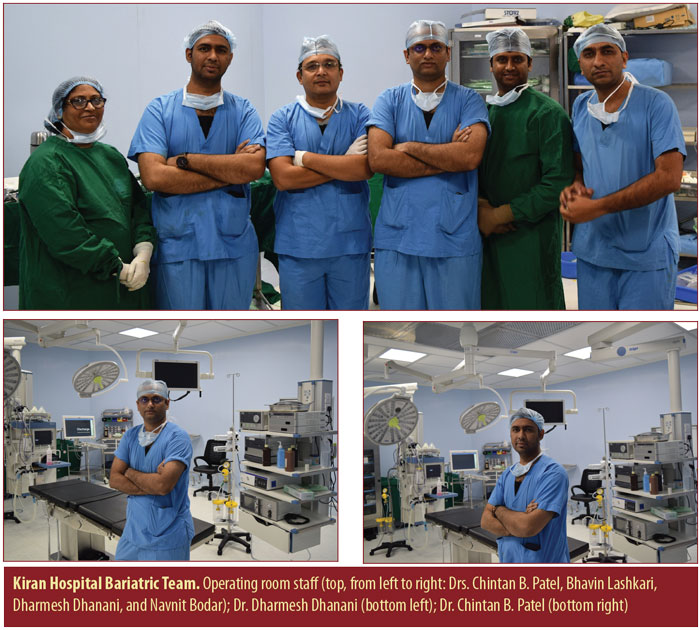 Surgeons. The hospital's weight loss services started with a group of full-time consultants in different specialities and gradually developed into an official center for weight loss and bariatric surgery adhering to bariatric-specific protocols as surgical volume increased. We are proud to report that our facility is now one of the highest volume bariatric surgery centers in Surat.
The Center for Weight Loss and Bariatric Surgery is run by a highly skilled and pioneering team. Surgeons Drs. Dharmesh Dhanani and Chintan B. Patel joined the Kiran Hospital's multidisciplinary team to provide a complete range of weight loss solutions to patients, including surgical, medical, and lifestyle modification treatment. Dr. Dhanani completed his fellowship in Minimal Access Gastrointestinal Surgery at GEM Hospital and Research Center in Coimbatore, India, under the guidance of Dr. C. Palanivelu. Dr. Patel pursued his surgical training at globally renowned Sir Jamshedjee Jeejeebhoy (J.J.) Hospital, in Mumbai, India, under mentorship of Drs. Ajay H. Bhandarwar and G.D. Bakhshi.
Mrs. Kalpana Didi is a bariatric nurse, Ms. Hetal Baria is a bariatric nurse team coordinator, and Dr. Hiral Sonani manages the bariatric ward. Ms. Vaishali Parmar serves as our bariatric patient care coordinator. Patients are screened according to body mass index (BMI) and comorbidities by various departments in Kiran Hospital. After preliminary consultation, patients are referred to pulmonologist Dr. Hardip Maniar and internal medicine specialist Dr. Kalpesh Chopda. They investigate and preoptimize the patient for best outcomes and manage medical weight loss options. Gastroenterologist Dr. Pravin Borsadiya performs preoperative endoscopy for all our patients as routine protocol. The hospital has multiple specialties trained in bariatric services, including an anesthesia team spearheaded by Drs. Bhavin Lashkari and Vimal Kagathara. Dr. Anuj Khandelwal provides psychological assessment and motivational counseling, which is essential to managing patient expectations for weight loss. Bariatric dietitian Dipika Valand explains changes in eating habits following surgery.
Patients scheduled for bariatric surgery receive counseling on healthy eating and lifestyle changes. Bariatric physiotherapist and trainer Dr. Nency Modi works with patients on physical activity routines postsurgery, Dr. Vitrag, critical medicine and intensivist, works to optimize patients postoperatively in the intensive care unit.
Our Facility
Patient rooms were designed to be spacious and accomodating to the patient with obesity. We have fully automatic beds that convert to six positions, with patient and nurse control remotes. The beds allow easy mobility of patients with obesity, which can be a challenge to the care team. Rooms feature extra-load-bearing toilets. Our center also has an in-house fully functional radiology department.
Patient Demographics and Surgical Volume
Obesity in India has reached epidemic proportions in the 21st century, with morbid obesity affecting five percent of the country's population. India is following a trend of other developing countries whose obesity and diabetes rates are steadily rising in tandem. India is home to the second largest number of adults living with diabetes worldwide, after China with an estimated 74 million cases of diagnosed T2DM and more than half undiagnosed.
Unhealthy, processed foods have become much more accessible following India's continued integration in global food markets. This, combined with rising middle class incomes, is increasing the average caloric intake per individual among the middle class and above income households. This is exacerabated by the "Asian Indian phenotype," characterized by higher body fat, especially in the abdominal region, at lower BMIs.
Several studies have shown that Asian population have increased risk of developing T2DM and other obesity-related disease at lower BMIs compared with other ethnicities. While studies in the general population identify overweight and obesity at BMIs ≥25kg/m2 and ≥30kg/m2, respectively, screening criteria in the Asian patient population reflect the recent evidence pointing to diagnosis and treatment at the following BMIs:
Normal weight: 18.5–22.9kg/m2
Overweight: 23.0–24.9kg/m2
Obesity: >25kg/m2
At Kiran Hospital, we perform an average of 7 to 10 bariatric surgery cases per month, with the majority of our patients coming from the Gujarat and Maharashtra. Most cases are women of middle-age with an average BMI of 44kg/m2.
Applying for Accreditation
Currently, we are in process of applying for accreditation by the International Excellence Federation (IEF) for Metabolic and Bariatric Surgery. We feel there is a lack of awareness surrounding obesity and its comorbidities, and we want to increase education our bariatric colleagues at other centers in India to follow international standards and protocols, to improve long-term outcomes.
Patient Adherence and Follow up
We tackle the obstacle of patient adherence and long-term follow up by using motivational strategies. All staff members are trained in motivational interviewing (MI). Motivational interviewing aims to enhance self-efficacy and personal control for behavior change. It uses an interactive, empathic listening style to increase motivation and confidence by specifically emphasizing the discrepancy between personal goals and current health behaviors. We employ this technique to encourage patients in the pre- and postoperative periods.
We also host regular monthly "chats." It is generally face-to-face on outpatient department basis. We have noticed that patients with good follow up have excellent outcomes following bariatric surgery. Resources such as WhatsApp, a free messaging service available on mobile devices, are helpful in communicating with patients. By communicating updates on their weight loss, we feel they are encouraged to stay motivated and self monitor on a regular basis. These have been proven successful strategies as the majority of our surgical patients return for follow up.
Our patient care coordinators manage patient follow up by assisting with scheduling patients' regular appointments with the bariatric team. When patients cancel or miss appointments and are in danger of being "lost to follow up," our patient coordinators reach out with a phone call inquiring about their progress and general health status. They persuade them to schedule another appointment. In general, a strong relationship is established by the time a patient has undergone bariatric surgery and this bonding has helped us to maintain an excellent follow up.
Patient adherence comprises multiple areas of care, including nutrition and physical activity. Common concerns we see across patients are compliance with dietary instructions and risk of overeating, especially during special occasions where food is often a focal point. In the past, overall patient follow up was inconsistent, however, recently, our coordinators have made an effort to connect emotionally to patients, expressing empathy, which has helped patients keep in touch with the program.
Drs. Dhanani and Patel discuss with patients the benefits, expectations, side effects, and potential complications of standard bariatric surgical procedures at the initial screening level. At the point procedure selection, individual stratifications are explained. We place emphasis on the comorbid conditions of overweight and obesity and the necessity for the patient to reduce weight in order to improve his or her health.
New Technology
Sanitation and maneuverability are crucial in the healthcare environment. We use medical and safety technology products throughout the facility to enhance cleanliness and efficiency. We have totally modular operating rooms made from solid mineral surface (SMS) with surgeon control panel and anti-static, antibacterial flooring.
Our heating, ventilation, and air conditioning (HVAC) system has laminar airflow, which is designed to prevent airborne contaminants from entering an area, with 0.3 µm high-efficiency particulate air (HEPA) filters.
Hands-free and hermetically sealed sliding doors in the operating room help staff maintain cleanliness and safety throughout operations. In anesthesia, a mounted workstation (Primus, Dräger, Lübeck, Germany) helps the team achieve good depth with minimal anesthetic agents by using an oxygen sensor. It is easy to maneuver and provides maximum floor space utilization.
The tables in the operating room (AlvoEtiuda, Alvo Medical, Śmigiel, Poland) have remote control operations with battery backup to help provide stability and patient comfort with bariatric attachments that can bear 496Lbs of dynamic load at any point.
Touchscreen display monitors (Infinity Omega-S, Dräger, Lübeck, Germany) integrated provide real-time vital signs monitoring at the point of care, with an Infinity C700 for the information technology (IT) workstation, which displays comprehensive patient data on a 20-inch touch-screen color display. Infinity Explorer software enables two-way communication between the Kappa monitor and the C700 for IT, bridging the gap between patient monitors and the IT infrastructure of our hospital as these data appear throughout the hospital's network.
We use a world-class laparoscopy system with multiple scopes and instruments from Karl Storz (3D System, Karl Storz, Tuttlingen, Germany) and energy devices from Olympus (Thunderbeat, Olympus, Center Valley, Pennsylvania, United States) and Medtronic (FT10 Valleylab™, Medtronic, Minneapolis, Minnesota, United States) to eliminate thermal spread and minimize damage to the patient.
The central sterile services department (CSSD) uses sterilizer systems (Steam Sterilizer, Tuttnauer, Hauppauge, New York, United States; Sterrad 100S, Advanced Sterilization Products Division of Ethicon, Inc., Irvine, California, United States) throughout the hospital.
Coordinating Care
Patient care coordinators Vaishali Parmar and Mr. Dharmendra Chauhan manage our bariatric phone helpline. Our current and prospective patients can directly connect regarding scheduling of follow ups, inquiry, symptoms, or clinical complaints, if any, post surgery.
Scheduling is done using hospital software (Akhil Systems Pvt. Ltd. [ASPL], New Delhi, India), and we have a bariatric pre-operative checklist to ensure there are no last-minute changes to the patient's care plan This checklist comprises 1) preoperative bariatric blood profile, 2) radiological imaging 3) preanaesthesia fitness and optimization, and 4) upper GI endoscopy.
Inventory is managed separately by the biomedical department in coordination with a purchase committee formed by the hospital. The hospital also formed a bariatric board comprising a bariatric surgeon, dietitian, psychiatrist, and physician from the practice to review patient eligibility for surgery. Factors include the patient's medical history, diet patterns, and psychical activity level.
Our system for managing care has improved patient satisfaction in terms of motivation, which we observed is low in some patients in the preoperative period. Motivation is essential to care because a motivated patient is more likely to adhere to regular follow-up schedules and long-term diet and exercise regimens in order to successfully maintain weight loss. Our staff undergoes sensitivity training and receives education on obesity-related problems. Our patient care coordinator oversees the care process to prevent any weight related bias and/or discrimination. The team also undergoes regular training on communication strategies from human resources manager Mr. Govindbhai Dholakia.
Cost and Efficiency
Our facility has high surgical volume resulting in better purchase price of consumables used in bariatric surgery. In fact, our hospital is able to pass on a portion of this discount on consumables purchased to the patient as well. We are moving toward fast-track surgery and implementation of a pre-operative work-up strategy, which might result in shorter hospital stays, translating to lower costs for both the hospital and patient.
Patient safety is ensured by our preoperative bariatric checklist protocol. Airbed usage in patients with super obesity helps to prevent bedsores postoperatively. Automatic, wide hospital beds accommodate patient lifting and transfer.
Interesting Cases
A case of gastric bypass with intestinal malrotation was interesting. We reported on this experience in Bariatric Times. In summary, a 26-year old male patient with morbid obesity and a BMI of 50.4kg/m2 with no other comorbid conditions was scheduled for laparoscopic single anastomosis gastric bypass (SAGB, commonly called "mini" gastric bypass) after thorough preoperative assessment. During surgery, a long, narrow gastric tube was created with gastric division from the lesser curvature, using a 36 French gastric calibration tube. We attempted to identify the ligament of Treitz in the left upper quadrant; however, we were surprised to find the terminal ileum and the appendix on the left side and entire small bowel on right side of the abdomen.
Intraoperatively, the duodenojejunal flexure was located in the right hypochondrium below the gallbladder instead of conventional anatomical location on the left side, with entire small bowel loops on the right side. Thus, the diagnosis of intestinal malrotation was confirmed, and the jejunal loops were followed from the right sided duodenojejunal flexure for 210cm. Gastrojejunal anastomosis was performed.
This case emphasized the importance of correctly identifying the ligament of Trietz and highlights the risk of inadvertent antiperistaltic anastomosis in a patient with intestinal malrotation .
The same patient was revised a year later for weight regain and another interesting finding was observed not noticed during the first surgery—abnormally long bowel (1050cm). This case illustrated the need for consensus on the length of limb to bypass in Roux-en-Y gastric bypass or single anastomosis gastric bypass operations, and suggests that such consensus should include rare patient anatomy, such as abnormally long bowel.
A Unique Facility
A world-class infrastructure and a best-supporting staff motivates the bariatric patient to adhere to regular follow up appointments, which translate to better long-term outcomes. The multidisciplinary care team at Kiran Hospital continuously strives to improve care to emerge as a center of excellence.
Category: Bariatric Center Spotlight, Past Articles