By Michelle A. Shermak, MD, FACS
Author affiliations: Dr. Shermak is Associate Professor of Plastic Surgery, Johns Hopkins Medical Institutions, Private Practice Plastic Surgeon, Lutherville, MD
Funding: No funding was provided for this article.
Disclosures: The author reports no conflicts of interest relevant to the content of this manuscript.
Bariatric Times. 2018;15(8):10–13.
Abstract: Individuals who undergo bariatric surgery now present to the plastic surgeon with minimal, barely perceptible abdominal scars related to their bariatric procedure. Furthermore, over the past 15 to 20 years, these patients have experienced a decline in prevalence of other scars from open abdominal surgery related to hernia repair, cholecystectomy, and appendectomy. This puts some pressure on the plastic surgeon to attempt to perform bodylift surgery with minimal visible scars. Facelift, brachioplasty, breastlift with or without augmentation, abdominoplasty, belt lipectomy, and thighlift have procedural options available to minimize and camouflage scars, yet results still demonstrate impactful contour outcomes. These procedures have limited applicability to lower BMI individuals with good skin quality. The onus is on the plastic surgeon to provide safe, functional, plastic surgery procedures that optimize aesthetics while also focusing on reducing and/or camouflaging scars when possible.
Keywords: Bariatric, bodylift, facelift, brachioplasty, breast augmentation, mastopexy, abdominoplasty, Fleur-de-lis abdominoplasty, belt lipectomy, thighlift, and lower bodylift
Introduction
While massive weight loss after bariatric surgery improves overall health status, skin redundancy with physical symptoms and cosmetic deformity can hurt the psyche. Skin redundancy indiscriminately and quite significantly affects body regions from head to toe. With the evolution from open to laparoscopic surgical weight loss procedures over time, individuals are presenting to plastic surgeons with barely perceptible abdominal scars and intact abdominal walls, as opposed to 15 to 20 years ago when most bariatric surgery was performed through an upper midline incision. Weight loss patients today also present less frequently with other abdominal scars from procedures, such as cholecystectomy and appendectomy, in which open procedures are falling in prevalence as well.
Patients sustaining significant weight loss consult with plastic surgeons for skin removal, and the plastic surgery literature has seen growth in bodylift procedures available for a broad range of presentations from massive weight loss. Plastic surgery procedures have been developed that involve wellhidden and even imperceptible scars with impactful contouring results. A spectrum of excisional lifting techniques after massive weight loss exists for each body region, including the arms, breasts, abdomen, back, and thigh regions. Typically, the procedure applied meets the demand of the body region presented, such that an individual with minimal skin excess and laxity will undergo a minimal incision procedure, while another individual with more significant sequelae of massive weight loss will proceed with more extensive skin removal and associated scarring. Minimal incisions afford minimal results. Some patients choose to undergo the smaller procedure despite being a candidate for a larger one because they do not want a significant scar, but they understand the result will be less impactful and possibly incomplete. The discussion of surgical options available takes place between the plastic surgeon and patient who underwent massive weight loss prior to surgery. Based on this discussion, a surgical strategy is developed to account for the patient's scar acceptance and correction of physical appearance.
The onus is on the plastic surgeon to either avoid significant, visible scarring or camouflage scars as much as possible in light of the bariatric surgeons' success in avoiding significant, visible scars.
Face
Individuals who sustain significant weight loss demonstrate premature signs of aging, including cheek deflation, skin laxity, enhanced furrows and lines, jowling, obtuse neck angle, intrinsic skin damage and thinning hair. Facelift is the treatment for this spectrum of findings, even in individuals in their thirties. Incisions fall into well camouflaged creases around the ear, extending up along the sideburn and temple and under the neck. Skin is undermined into the lateral brow, midface, and neck to remove and tighten the excess skin and reduce the skin dimension between the eye and the hairline, effectively pulling the hairline forward, resulting in the hairline seeming fuller (Figure 1).
Arms
A spectrum of bodylift procedures are available to address a spectrum of findings. Brachioplasty scars get the most attention for the most visible scar extending along the length of the arm. A limited population of weight loss patients exist who have a low body mass index (BMI) and low change in BMI who have lax skin of the arm with ptosis, but not remarkably enlarged circumference of the arm. These patients are excellent candidates for minimal incision brachioplasty, comprising elliptical excision of proximal arm skin just distal to the axilla to tighten skin laxity. Extending this incision posteriorly, as is being done with thighlift surgery, helps amplify results (Figure 2). Some individuals who would benefit from more extensive skin reduction opt for this minimal incision technique because they prefer a well-camouflaged scar over impactful correction of skin redundancy that requires longer, possibly more visible incisions (Figure 3).
Breasts
Women after massive weight loss demonstrate multiple changes in the breasts, including volume loss, upper pole deflation, ptosis, descent of the inframammary fold, medialized and stretched nipple areolar complexes, and intrinsic skin changes. Women with good symmetry and limited ptosis are good candidates for breast augmentation with implants to address deflation and limited incision mastopexy with a circumareolar scar with vertical extension to address skin laxity. The vertical scar fades remarkably and variable sized implants will provide variable degrees of breast fullness (Figure 4). The inframammary fold can be lifted and set during the mastopexy, and in women with thoracic and breast deformities, shaped implants can create more proper landmarks.
Abdomen
Individuals who experience massive weight loss most frequently present to plastic surgeons for abdominal improvement. Significant weight loss results in excess skin overhanging the pubis, lax abdominal muscles, stretch marks, umbilical elongation, and mons pubis fullness. Abdominoplasty includes removal of excess skin and muscle tightening with lift and reduction of the mons pubis and contouring of the waist. Secondary improvement includes improvement in the anterior upper thigh and lateral thigh with significant skin removal. Fleur-de-lis abdominoplasty with a midline skin takeout in combination with removal of excess lower abdominal skin is often endorsed by plastic surgeons to address the significant excess abdominal skin seen in massive weight loss.1 The Fleur-de-lis technique allows both vertical and horizontal skin tightening for multidimensional skin removal, and provided a great strategy in the past to revise the upper midline scar and hernia that accompanied open Roux-en-Y gastric bypass surgery. The worst aspect of the Fleur-delis abdominoplasty is the visible midline scar, which is particularly bad when the referring bariatric surgeon presents a nearly scar-free abdomen.
Fleur-de-lis with vertical takeout is not necessary to address significant skin excess and folds associated with significant weight loss. Abdominoplasty without a midline scar provides adequate skin reduction, as long as there is significant superior undermining, and if needed, extension around the back. Belt lipectomy scars are well hidden under bathing suits and underwear, so that individuals undergoing abdominoplasty can feel comfortable with more exposure of their bodies on the beach and in the gym (Figure 5). Contour is not compromised with well-camouflaged abdominal scars.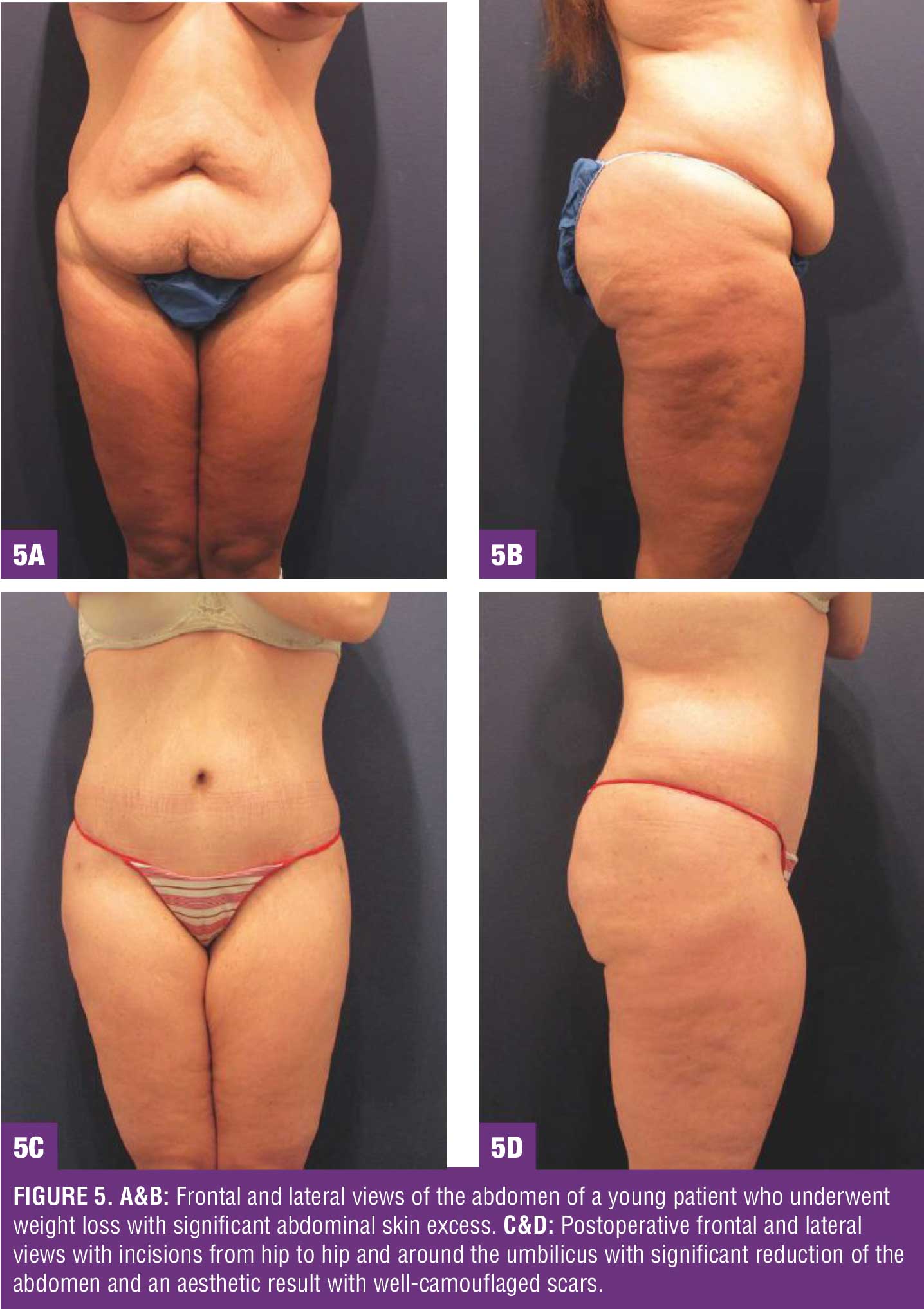 Thighlift
The most frequently performed thighlift for patients who underwent massive weight loss involves a medial mid-axial incision extending from the groin to the knee. This approach to thighlift allows for reduction of the thigh circumferentially, with improved tautness of the skin. The problem with this thighlift is not only the visible scar but also the risk of venous and lymphatic injury along the course of the skin excision, leading to calf swelling and concern for venous thromboembolism. There is also risk of lymphocele. It is challenging to achieve symmetric, imperceptible scars with this vertical takeout. Dr. Lockwood, a pioneer of contemporary bodylifting, presented a thighlift idea counter to the well-accepted, lengthy midline thigh scar, with a minimal, well-hidden scar in the groin.2,3 While this minimal scar approach was revolutionary, the approach is applicable to a limited prospective patient base, as it only allows for reduction and lifting in individuals with relatively small amount of excess skin. This Lockwood thighlift was typically part of a lower bodylift including belt lipectomy.
The main limitation of the Lockwood thighlift is the limit in removal of excess skin in the upper thigh. Extending the thighlift incision more posteriorly, however, allows for greater skin removal while maintaining a scar that is well hidden in the groin and infragluteal creases. This thighlift, termed the anterior proximal extended (APEX) thighlift, is also an excellent accompaniment to belt lipectomy. The key to this procedure is suspension of the thigh skin to the pelvic periosteum, from pubis to ischium, to maintain a fixed scar position allowing for lift while combatting pull on the infragluteal crease and labia.4 In addressing the inner thigh skin excess from anterior to posterior, skin removal is more impactful and secondary improvement in gluteal aesthetics is also remarkable. No drains are needed and calf swelling is not exacerbated (Figure 6).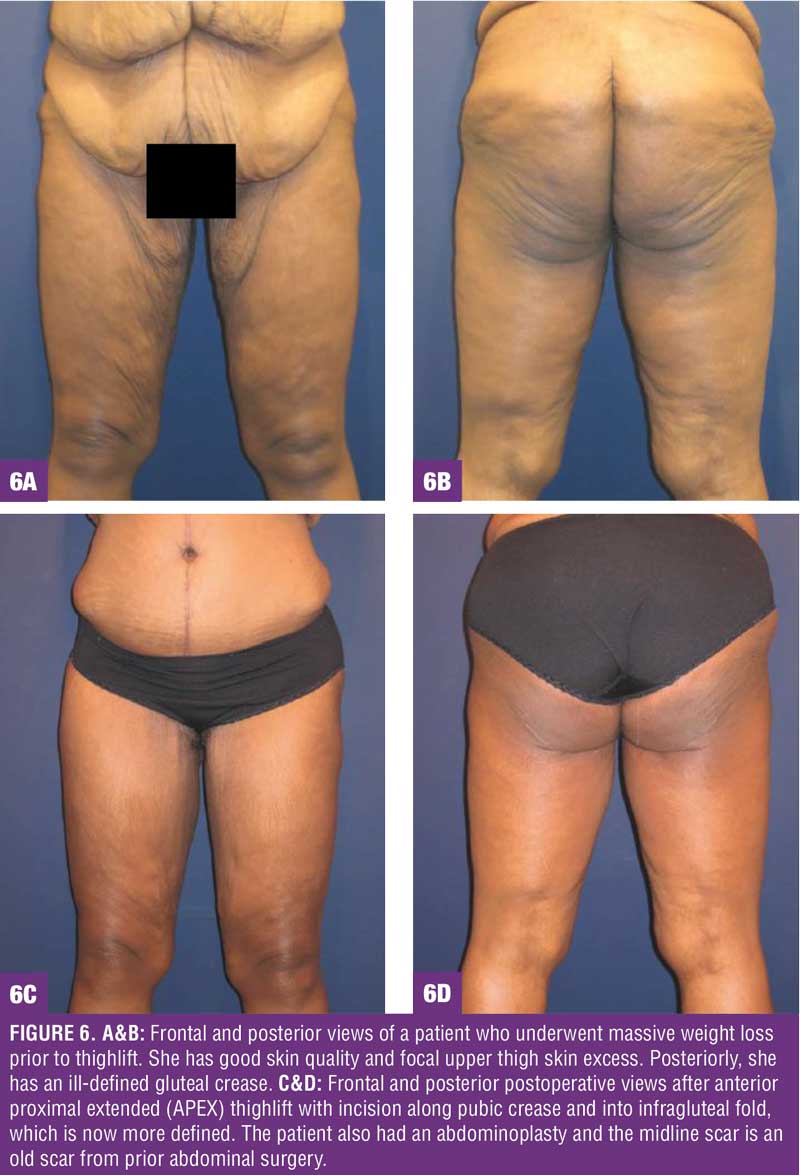 Conclusion
Plastic surgery focus is placed on function and safety above all, with aesthetic outcome placing a close second. In the age of laparoscopic minimal incision bariatric surgery, it makes no sense for the plastic surgeon to instinctively embrace techniques for excess skin reduction that create visible scarring. While visible scarring cannot be avoided in individuals with significant change in BMI and poor skin quality, there are individuals with focal skin excess and good skin quality who have impactful contour results with body lifting techniques that provide minimal, well-camouflaged scars.
References
Ziegler UE, Ziegler SN, Zeplin PH. Modified Fleur-de-lis abdominoplasty for massive weight loss patients. Ann Plast Surg. 2017;79(2):130–134.
Lockwood T. Lower body lift with superficial fascial system suspension. Plast Reconstr Surg. 1993;92(6):1112–1122; discussion 1123–1125.
Lockwood TE. Fascial anchoring technique in medial thigh lifts. Plast Reconstr Surg. 1988;82(2):299–304.
Shermak MA, Mallalieu J, Chang D. Does thighplasty for upper thigh laxity after massive weight loss require a vertical incision? Aesthet Surg J. 2009;29(6):513–522.
Category: Past Articles, Review