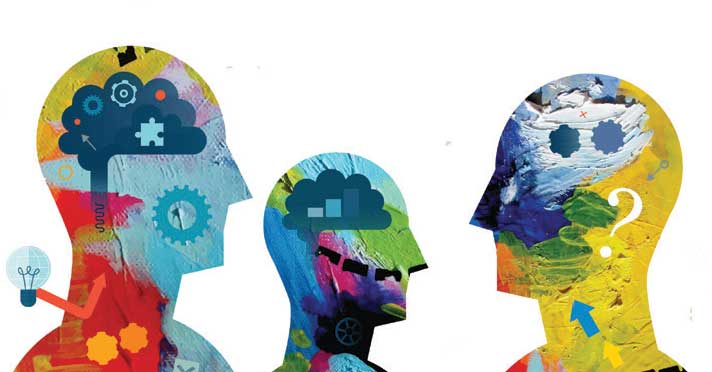 Barham K. Abu Dayyeh, MD, MPH, FASGE
Head of Advanced Endoscopy, Associate Professor of Medicine, Consultant in Gastroenterology, Hepatology, and Advanced Endoscopy, Mayo Clinic in Rochester, Minnesota
Manoel GalvÃo Neto, MD, MSc, FASMBS, FASGE
Scientific Director of Endovitta Institute and Affiliate Professor of ABC Medical School—FMABC in Sao Paulo, Brazil
Christopher C. Thompson, MD, MSc, FASGE, FACG, AGAF
Director of Endoscopy, Brigham and Women's Hospital; Clinical Faculty, Boston Children's Hospital and Dana-Farber Cancer Institute; Associate Professor of Medicine, Harvard Medical School; and Chair, Association of Bariatric Endoscopy
Funding: No funding was provided.
Disclosures: Dr. Abu Dayyeh is a consultant to BFKW, Boston Scientific, Metamodix, USGI, Endogastric Solutions; received research support from Medtronic, GI Dynamics, Apollo Endosurgery, Aspire Bariatrics, and Cairn Diagnostic; and is a speaker for Olympus and Johnson & Johnson. Dr. Galvao is a consultant and proctor in a retainer for Fractyl Labs; is a consultant, proctor, and Scientific Advisory Board member in a retainer contract with GI Dynamics; is a consultant in a fee-for-service base contract with GI Windows; is a consultant and proctor in a fee-for-service event base for Apollo EndoSurgery, USGI, and Colubris Mx; is on the Scientific Advisory Board for Keyron; and assists US and LA Faculty and is a consultant for Ethicon EndoSurgery, Medistronics, and Olympus. Dr. Thompson is a consultant for and receives consulting fees from Boston Scientific, Medtronic, USGI Medical, Olympus, Apollo Endosurgery, Fractyl, and GI Dynamics; an Advisory Board Member for USGI Medical and Fractyl; provides research support for and receives research grants from USGI Medical, Olympus, Apollo Endosurgery, Aspire Bariatrics, Spatz, and GI Dynamics; and has an ownership interest in GI Windows and EndoTAGSS.
---
This column is dedicated to advancing the professional collaboration between all medical and surgical specialties involved in the care of patients with overweight or obesity. Through communication, education, and free exchange of innovative ideas, healthcare professionals across all fields of medicine will gain a better understanding of obesity as a disease, its treatment challenges/barriers, and the unique needs of its patients, ultimately leading to greater empathy and better treatment outcomes for bariatric patients around the world.
Bariatric Times. 2019;16(10):10–12
---
In this edition of "Collaboration in Action," we interviewed three internationally known and well-respected endoscopic surgeons to learn more about the important role endoscopy/gastroenterology plays in the integrated care of bariatric patients. These physicians discuss key aspects of their clinics' obesity treatment programs; describe how gastroenterology/endoscopy, metabolic medicine, and bariatric surgery complement each other in the fight against obesity; offer thoughts on recent and emerging advances in bariatric interventions; and provide their unique perspectives on other important aspects of endoscopy related to the overall model of care for the bariatric patient.
How do you currently care for patients with obesity in your specialty?
Dr. Abu Dayyeh: At Mayo Clinic, we have a comprehensive integrated weight management program that includes "healthy living" specialists, psychologists, exercise physiologists, dietitians, endocrinologists, gastroenterologists, and bariatric surgeons. All patients begin their weight loss journey with an integrated intake program called a "start point," during which all available weight management and metabolic disease interventions are presented (Figure 1). This is followed by a shared decision-making clinic visit in which a particular approach is pursued based on a patient's preference, obesity severity, associated comorbidities burden, medical and psychological factors, and financial consideration/insurance coverage. In general, patients with mild-to-moderate obesity who have tried conservative measures with limited success are considered for bariatric endoscopic interventions. The bariatric endoscopy program begins with a "lose it" phase based on the principles of the Mayo Clinic Healthy Diet, which is mailed to the patient two weeks before starting the program. Once on site, patients are evaluated by a multidisciplinary team, and a tailored healthy living program personalized to a patient's specific needs is designed and implemented by a "healthy living" coach assigned to the patient over the 12 months after the procedure. On the third day, patients undergo either the endoscopic sleeve gastroplasty (ESG) or intragastric balloon (IGB) placement, depending on their preference. Patients are carefully followed for weight recidivism and offered adjunct medical and surgical therapies, if needed.
Dr. Galvão Neto: We run a fully dedicated bariatric endoscopy center in Sao Paulo, Brazil, with local and international activities and ties with academic centers. Our group treats an estimated 500 cases per year in Brazil and abroad in private (mostly) and public centers. The procedure breakdown is approximately 40 percent ESGs, 25 percent balloons, 15 percent endoscopic treatment of bariatric surgery complications, 10 percent endoscopic revision for weight regain after bariatric surgery, and 10 percent experimental endobariatric procedures (Institutional Review Board [IRB]-approved) trials. All of those patients are treated under the umbrella of a multidisciplinary team with nutritionists, psychologists, endocrinologists, and physical trainers.
A few of the devices/procedures our group performs are not yet approved by the United States Food and Drug Administration (FDA), such as the adjustable and "procedureless" intragastric balloons (currently under FDA trial), other gastroplasties besides ESG (e.g., the POSE 2.0, which is about to begin its FDA trial), and endobariatric bowel interventions, such as the duodenal mucosal resurfacing and duodenal-jejunal sleeve pass, both of which are undergoing FDA trials.
Dr. Thompson: There are a variety of endoscopic procedures approved by the FDA for the treatment of obesity. We rely on a rapidly expanding body of literature and pivotal FDA trials to provide evidence-based, clinical care. At our institution, we offer a variety of endoscopic procedures, including ESG and gastric plication (distal POSE) (80% of total cases), aspiration therapy (15% of total cases), and intragastric balloons (5% of total cases). Additionally, we perform a variety of revision procedures for weight regain after Roux-en-Y gastric bypass (RYGB) and sleeve gastrectomy (SG). These include transoral outlet reduction (TORe), revision obesity surgery endoscopic (ROSE), and argon plasma coagulation (APC) of the gastro-jejunal anastomosis.
There are many aspects to bariatric endoscopy, including the management of various post-surgical adverse events. These adverse events include the following:
Gastro-gastric fistulae: These can be managed via mucosal ablation and endoscopic suturing, with modest success rates.
Leaks: After the precise location is confirmed, these are typically managed with esophageal stents in the acute setting and internal pigtail drainage in the chronic setting.
Marginal ulceration: Proton pump inhibitor (PPI) therapy is effective in the majority of cases, with endoscopic oversewing reserved for recalcitrant lesions.
Gastro-jejunal anastomotic stenosis: Hydrostatic balloon dilation is successful in over 80 percent of cases, with lumen apposing metal stents showing some early success in those who fail with balloon treatment.
Sleeve gastrectomy stenosis: Serial pneumatic balloon dilations are successful in up to 80 percent of cases where acute angulation is not an issue.
Hemorrhage: Double therapy, including epinephrine injection, endoscopic clips, or bicap coaptive coagulation, as applied for typical upper gastrointestinal (GI) bleeding. However, clips or hemospray are preferred on fresh staple lines.
Weight regain: Endoscopic suturing, plication, or APC for patients with dilated gastrojejunal anastomosis and where other causes of weight regain have been excluded.
Though often performed as first-stage obesity interventions, bariatric endoscopic procedures represent an option for patients who gain weight following primary bariatric procedures.
What are some challenges you face when caring patients with obesity?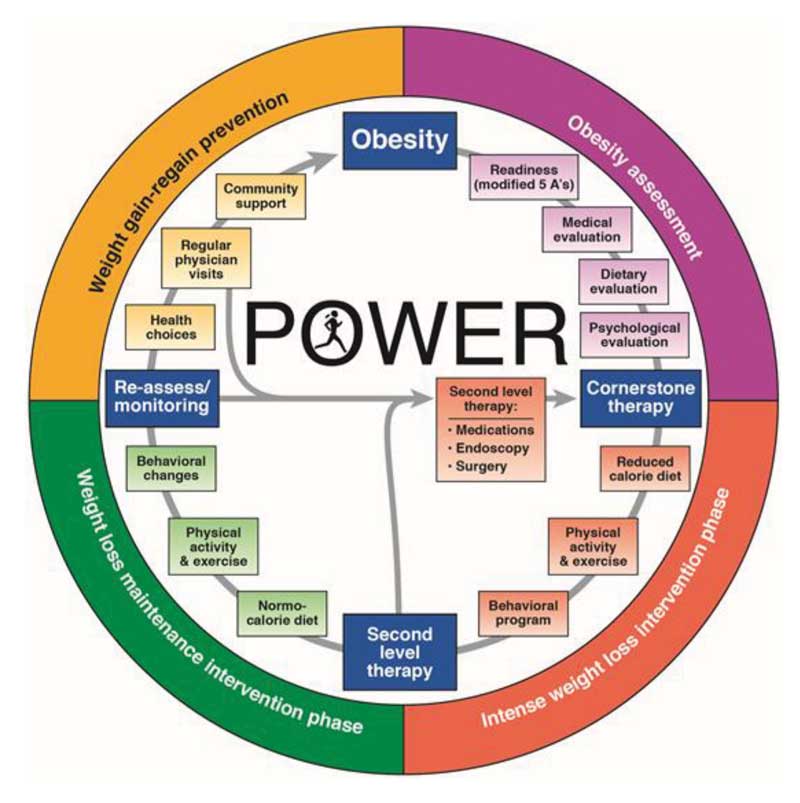 Dr. Abu Dayyeh: Obesity is a chronic disease with heterogenous multifactorial pathophysiology. Thus, setting appropriate expectations and avoiding the "easy fix mentality" is an important challenge to overcome to effectively manage patients with obesity. Furthermore, with weight loss comes a cascade of counterregulatory physiologic changes that increase hunger and decrease metabolic rate in response to the weight loss. As gastroenterologists embarking on managing this chronic disease, understanding and applying the Practice Guide on Obesity and Weight Management Education and Resources (POWER), devised by the American Gastroenterological Association (AGA), is a good way to get started.1
Dr. Galvão Neto: Obesity is a complex, chronic, and progressive disease with a broad spectrum of symptoms and active mechanisms. The endo-bariatric therapy (EBT) for obesity and metabolic conditions currently used in clinical practice mainly aims to decrease body mass index (BMI) in patients, which through weight loss, can improve comorbidities in patients who are not yet eligible for bariatric surgery, and providing a safer end procedure.
In the world of obesity treatment, EBT positions itself in between clinical and conservative treatment and the surgical treatment interfacing with both. It is not as powerful and durable as surgery but seems to be more efficacious than the clinical treatment. So, if one considers the treatment of a chronic disease, such as obesity, then EBT definitely fits in the algorithm. The main challenge of a broader use of EBT is cost since it is not yet covered by insurance, and governmental assistance programs are extremely limited. Safety and midterm results have been demonstrated in published literature, as well as in clinical practice, so in the future, we expect this barrier will fall. For example, in Brazil, insurance coverage for intragastric balloons (on a limited basis) was recently approved
Dr. Thompson: There are several challenges to treating obesity, but the most common are optimal patient selection and obtaining insurance approval for necessary procedures and dietary counseling. In general, patients with a BMI of 30 to 40kg/m2 can be considered for endoscopic therapy. ESG and gastric plication are broadly applicable and appear to have improved in durability over balloons. Intragastric balloons are typically more effective near the bottom of this spectrum, provided the patient has not had prior gastric surgery. Additionally, aspiration therapy is approved for BMIs up to 55kg/m2 and is effective for patients committed to making and adhering to the required lifestyle adjustments to accommodate the therapy. We believe all of these options are important and that selecting the best therapy for an individual patient will result in optimal long-term outcomes. Unfortunately, insurance coverage is difficult to obtain in most of these cases, requiring a laborious pre-approval process. Revision procedures and fistula closure are better covered; however, progress is being made for some of these primary therapies. A typical multidisciplinary evaluation and care plan is required for the pre-approval process, including nutrition counseling, lifestyle coaching, and psychologic evaluation. Ultimately, these patients will require close follow-up and continuity of care to help achieve adequate long-term outcomes.
Are there specialized groups or training programs available for bariatric endoscopy?
Dr. Abu Dayyeh: Yes, the Association of Bariatric Endoscopy (ABE) (https://bariendo.org/) offers a plethora of resources, including practice guidelines, webinars, and biannual courses with hands-on training. The AGA has published a clinical practice update2 in our flagship journal Gastroenterology, along with POWER, and pathways to reimbursement in the journal Clinical Gastroenterology and Hepatology.3 Training and credentialing guidelines are also being developed to ensure adequate training in obesity medicine, in addition to the technical procedural skills required for the safe and effective dissemination of bariatric and metabolic endoscopy procedures and devices.
Dr. Galvão Neto: Indeed, in Brazil, bariatric endoscopy is a mature field with hundreds of groups fully dedicated to its practice, so training is broadly available to anyone who qualifies. For example, the Brazilian Society of Digestive Endoscopy (SOBED) has an official program of intragastric balloons and endosuturing workshop that we help organize as well—Institut de Recherche contre les Cancers de l'Appareil Digestif (IRCAD) Brazil—which provides a hands-on bariatric endoscopy course in world class facilities with didactics, live cases, and wet lab twice a year in Portuguese and Spanish. Our group, Endovitta, hosts international workshops 3 to 4 times a year, and we have a national bariatric endoscopy meeting that grows continuously (Endoscopia Bariatrica e Terapeutica [ENBATE]), and this year, we are expecting around 200 attendees, including endoscopists and multidisciplinary team members.
Internationally, like in US, we have the Association of Bariatric Endoscopy (ABE) that is a division of the American Society for Gastrointestinal Endoscopy (ASGE), which promotes a yearly, didactic course during Digestive Disease Week (DDW) and a hands-on course at the ASGE headquarters in Chicago, Illinois. Also, we have the Flexible Endoscopic Surgery (FES), which is held yearly in Miami, Florida, with a full day of bariatric endoscopy (didactics and hands-on lab). In Europe, we have the oldest bariatric endoscopy meeting held in Madrid, Spain. The Madrid International Bariatric Endoscopy (MIBE) meeting, which is becoming a tradition along with IRCAD Strasburg, has dedicated hands-on courses. Additionally, the American Society for Metabolica and Bariatric Surgery (ASMBS), Society of American Gastrointestinal and Endoscopic Surgeons (SAGES), and ASGE also have bariatric endoscopy hands-on course during their meetings.
Dr. Thompson: There are a handful of bariatric endoscopy fellowship positions in the US and abroad. Fellowships provide the most in-depth training in designated specialties. Training is also available through courses and externships at various high-volume centers. The ASGE Interactive Training & Technology center (ITT) also offers a series of Skills, Training, Assessment and Reinforcement (STAR) programs for developing specific endoscopic skills. One such program exists for general endoscopic suturing, and a broader program is under development for obesity and the various primary therapies.
What can those in other fields of medicine learn from your discipline and care of patients? What are the benefits to the endoscopic approach?
Dr. Abu Dayyeh: Obesity and metabolic disease have reached pandemic proportions; yet, to date, nonsurgical treatment modalities focusing on lifestyle interventions or pharmacotherapies have limited success and impact on the metabolic consequences of obesity. To put this in perspective, the prevalence of Type 2 diabetes (T2D) in the US has risen by more than 400 percent since 1988, and more than 100 million Americans qualify for minimally invasive endoscopic interventions for obesity and metabolic disease.
Bariatric surgery has not only offered a select group of patients with obesity a way to achieve effective and durable weight loss, but it has ushered a better understanding of the role of the gastrointestinal tract in regulating energy intake and metabolism through weight-loss dependent and independent pathways, coining the term metabolic surgery that is applicable to metabolic diseases, such as T2D, and nonalcoholic fatty liver disease (NAFLD). Penetrance of bariatric surgery, however, remains low, with only 1 to 2 percent of eligible patients receiving it, creating a significant management gap for patients with mild-to-moderate obesity (BMI 30–40kg/m²) or those with severe obesity (BMI≥40mg/kg²) who do not wish to pursue bariatric surgery. In the field of cardiovascular medicine, angioplasty and stenting, through a minimally invasive interventional cardiology approach, bridged the gap between medical and open heart surgery for the management of coronary artery disease. Similarly, the field of bariatric and metabolic endoscopy ushers a new wave of minimally invasive and effective tools for the management of obesity and its metabolic complications, which will complement medical and surgical approaches to increase access by offering anatomy-preserving, reversible, lower-cost, and repeatable options.
Dr. Galvão Neto: As bariatric endoscopy was born in an interdisciplinary way, its main weight is its interface in between clinical and surgical treatment. Some benefits of EBT are its less invasive manner, comprehensive approach, intermediate results, interface with pharmacotherapy, and the possibility of being repeated during the chronic course of the disease.
Dr. Thompson: Bariatric endoscopy helps many patients achieve their weight loss goals and represents an important component to the multidisciplinary care of patients with obesity. These procedures are less invasive than surgical alternatives, which might be appealing to many patients. Although longer-term durability is not entirely clear for these newer therapies, many are repeatable or can be used in sequence, and this could help enhance long-term outcomes. Another area where endoscopic procedures are gaining acceptance is bridge therapy. There are increasing reports of the effectiveness of endoscopic therapies in providing weight loss in the short term for patients in need of orthopedic, cardiovascular, or transplant surgery.
How are you collaborating with bariatric surgery and obesity organizations to advance understanding and care of your patients who present with obesity?
Dr. Abu Dayyeh: Obesity impacts multiple common conditions that gastroenterologists manage on a regular basis. With advances in the field of bariatric and metabolic endoscopy, a gastroenterologist will also participate in the management of obesity and its gastrointestinal complications. However, this can't happen in isolation—engaging obesity, endocrinology, and bariatric surgical societies for collaborative and complimentary efforts is crucial. This is evident on multiple fronts, including how many gastroenterologists are obtaining their obesity medicine board, active participation in ObesityWeek, and collaborative efforts between endocrinologists and bariatric surgeons in conducting research and clinical trials in this evolving field.
Dr. Galvão Neto: Bariatric endoscopy is a dynamic and evolving field, and as our bar is high (an EBT has to go through a pilot randomized, controlled trial [RCT] to be FDA approved), we are generating solid, high quality evidence via sham controlled RCTs and meta analyses, studying intragastric balloons, transpyloric shuttle, and aspiration therapy. The relevance and importance of the field was confirmed in the July 2019 issue of Gastrointestinal Endoscopy, which listed bariatric endoscopy as the number two field, among 10 listed by the journal's Editorial Board.4
Dr. Thompson: The ABE and ASGE collaborate closely with the other bariatric societies. We have sponsored joint symposia, including those at ObesityWeek, DDW, and The International Federation for the Surgery of Obesity and Metabolic Disorders (IFSO), and have copublished position papers on this emerging field. We would like to continue to work closely together moving forward.
What emerging trends in the specialty are you seeing?
Dr. Abu Dayyeh: Multiple gastric and small intestinal endoscopic bariatric interventions are currently available or are in late stages of development. The future is in the application of these interventions in tandem or in sequence with obesity pharmacotherapy for the effective and durable management of obesity and metabolic disease.
Gastric interventions include space-occupying devices that most commonly take the form of temporarily placed prostheses. These include the following:
Intragastric balloons

The TransPyloric Shuttle (BAROnova Inc, Goleta, California), which intermittently seals the pyloric channel and delays gastric emptying in the fed state to induce early satiation and prolonged satiety

The Full Sense Device (BFKW, Grand Rapids, Michigan), which is a modified fully covered gastroesophageal stent with a cylindrical esophageal component and a gastric disk connected by struts that exerts constant gentle pressure on the gastric cardia, triggering afferent vagal signaling to the central nervous system and sensation of fullness resulting in weight loss

Gastric remodeling techniques that reduce the gastric reservoirs by creating an endoscopic tubular sleeve along the greater curvature of the stomach with transoral endoscopic suturing (Overstitch, Apollo Endosurgery, Austin, Texas) or plication (USGI Medical, San Clemente, California)

Aspiration therapy that allows patients with obesity to dispose of a portion of their ingested meal via a specially designed percutaneous gastrostomy tube, known as the A-Tube (Aspire Bariatrics, King of Prussia, Pennsylvania).
Further important developments in the field stem from understanding the role of the small intestine in the pathogenesis of T2D and NAFLD orchestrated through a variety of pathways that results in insulin resistance and chronic inflammation. These pathways include alteration of gut incretin to anti-incretin neurohormonal signaling, changes in the gut microbiome and mucosal barrier function, and activation of innate immune reactions caused by excess free fatty acid, bacterial lipopolysaccharide, chemokines, cytokines, and adipokines. These pathways are targeted by developing endoscopic bariatric and metabolic therapies that excludes the proximal small intestines by impermeable polymer duodenojejunal bypass liners (EndoBarrier, GI Dynamics, Lexington, Massachusetts) (Metamodix, Minneapolis, Minnesota) and ablative duodenal resurfacing techniques that regenerates the proximal small intestinal mucosal barrier (Fractyl Laboratories, Cambridge, Massachusetts).
Dr. Galvão Neto: Bariatric endoscopy is indeed an evolving and dynamic growing field, and we see more and more centers getting involved. Bariatric medicine is now its own specialty. It's hard to predict the future, but I see EBT going in the same direction as endovascular procedures. Nowadays, most EBT over-the-stomach procedures are approved for clinical use, whereas the EBT on the bowel are still experimental despite providing growing evidence. So, imagine when we can finally put them together and jump to more powerful and durable tools aggregated to a rational use of the new medicines, such as glucagon-like peptide-1 (GLP1) analogues. It might not happen in my lifetime, but that doesn't mean it is that far from happening.
Dr. Thompson: This specialty seems to be growing rapidly after years of relatively slow growth. Several of our fellows have recently gone on to lead or build bariatric endoscopy programs in major academic centers. This is, no doubt, a critical step for growth of the field. Additionally, new devices focusing on different mechanisms, such as the small bowel devices currently in FDA trials, will likely also be important in achieving efficacy across various patient populations. Ultimately, personalized medicine, matching devices or combinations of devices (or pharmacotherapies) with specific patient phenotypes, will likely help to achieve the best long-term outcomes.
The interviews have been edited for length and clarity.
References
Acosta A, Streett S, Kroh MD, et al. White paper AGA: POWER—Practice Guide on Obesity and Weight Management, Education, and Resources. Clin Gastroenterol Hepatol. 2017;15(5):631–649.e10.
Abu Dayyeh BK, Edmundowicz S, Thompson CC. Clinical practice update: expert review on endoscopic bariatric therapies. Gastroenterology. 2017;152(4):716–729.
Brill JV, Ashmore JA, Brengman ML, et al. White paper AGA: an episode-of-care framework for the management of obesity-moving toward high value, high quality care: a report from the American Gastroenterological Association Institute Obesity Episode of Care and Bundle Initiative Work Group. Clin Gastroenterol Hepatol. 2017;15(5):650–664.e2.
Cohen J, Desilets DJ, Hwang JH, et al. Gastrointestinal Endoscopy Editorial Board top 10 topics: advances in GI endoscopy in 2018. Gastrointest Endosc. 2019;90(1):35-43.
Category: Interviews, Past Articles