October 16, 1920 – December 28, 2020
Dedication Messages

Eric DeMaria: With the passing of Dr. Ed Mason, our specialty of metabolic and bariatric surgery has lost its father—the man who pioneered the concept of operating on the normal gastrointestinal (GI) tract to combat obesity. The resultant proliferation of procedures and exponential growth in our understanding of the complex mechanisms by which these procedures work were not evident at the time Dr. Mason began our specialty, but his first step was the essential foundation without which none of the rest could have evolved. Dr Mason also began our field with a humble and strongly scientific approach that allowed it to flourish as an increasing number of surgeons began to believe it was possible and appropriate to attack obesity in this way. He was the ideal person to bring others together to form the American Society for Bariatric Surgery (ASBS) and serve as guiding light as its first President, blazing a trail for the development of the world's largest national professional association devoted to this new specialty. We should all mourn his loss and yet celebrate his life and remember his contributions—the humble, kind, scientific man who laid the foundation for the world's only truly successful treatment for the disease of obesity and its devastating consequences for the millions who suffer its ravages. Rest in peace Dr. Mason. Godspeed and many thanks from millions of patients and a grateful specialty of surgery.
John Morton: I have witnessed genius in Iowa—Dr. Ed Mason, a 100-year, bright comet that blazed a trail for all of us to follow. Hitch your wagon to his star.
Jaime Ponce: Dr. Mason was a true visionary during times when nobody believed in bariatric surgery. He had a scientific mind, analyzing unexpected beneficial results of operations not intended to be used for weight loss or even metabolic improvement benefits. In times where computers were not widely available, he already had a database. He was a true leader for organizing the field and our Society! The Father of Bariatric Surgery. RIP.
Georgeann Mallory: Although I have been the Executive Director of the American Society for Metabolic and Bariatric Surgery (ASMBS) since 1996, Dr. Ed Mason's leadership of the newly founded society preceded my own tenure. However, I did get to know him in the 1980s by virtue of a kind gesture he made that was the type of thing Dr. Mason would not hesitate to do and that demonstrated his lifelong commitment to help persons struggling with obesity.
I was working as the registered dietician for Dr. Alex MacGregor at the Gainesville Surgical Group in Florida. Each year, Dr. Mac would host a celebration for his surgical patients and invite a guest speaker. Dr. Mason graciously accepted the invitation and came to our small town to meet with our patients and to give a talk at the dinner held in the meeting room of a motel (yes—motel, not hotel!). It was the first time I had the opportunity to personally meet and talk with him. It was such an amazing thing for him to join in our festivities, and it demonstrated how important Dr. Mason thought it was to always keep the patients' best interest. Everyone was so impressed and grateful that he would attend our meeting and celebrate the new lease on life experienced by our patients.
What I recall from his visit and the wonderful celebration was thinking how exciting it was to be involved in this growing specialty. At the time I had no idea that my own career path would take a turn to link me forever to the then fledgling ASBS (now ASMBS). But knowing that the founding President was quiet and humble, and yet a brilliant, insightful man who truly cared about the many difficulties faced by his patients with obesity, made it easy for me to see dedicating my career to this organization.
Years later, I was lucky enough to join a group of ASMBS presidents led by Dr. John Morton, who was the current President, on a visit to Dr. Mason at home in Iowa for an afternoon of discussion about the beginnings of the ASMBS and the specialty of bariatric surgery. Dr Mason and his lovely wife Dordana made us all comfortable and at ease in their lovely home. It was easy to see that we were visiting the same kind and brilliant man that I first had met so many years ago as he regaled us with stories about the early days of bariatric surgery and shared insights about the current science and trends.
With Dr. Mason's passing, we have lost a wonderful man of tremendous scientific knowledge who made many contributions to our field and set our organization on the right path for the future.
Raul Rosenthal: I can say that I feel privileged to have known Ed Mason. He was great surgeon, a pioneer, an academician and a Mensch. I met Ed Mason first when he came as a faculty to the Surgery of the Foregut meeting at the Biltmore hotel in Coral Gables, Florida, and stayed in touch with him ever since. He was an avid reader and writer in Bariatric Times, and he felt strongly that surgery would not be the solution to severe obesity. As such, he was unhappy with sleeve gastrectomy, regardless of the low morbidity. Ed used to say that we need a bariatric intervention that does not cause as much morbidity and doesn't need long-term follow up. He stated that bariatric surgery, however, revealed a nonsurgical approach that could be made available to millions of people with Type 2 diabetes or were at high risk to develop the disease. He further elaborated that all we needed was to stimulate the L cells of the terminal ileum with glucose mimetics, such as T- Tagactose.
I received the message of Ed's passing with great sadness. I lost a friend and a role model, and we all lost one of the greatest minds in the world of surgery. We will miss him forever. May he rest in peace.
Teresa lamasters: Dr. Ed Mason was a pioneer and an innovator. He guided the nascent field of bariatric surgery to a scientific base. Understanding the importance of following data, he developed one of the earliest multicenter databases for outcomes of bariatric surgery at the University of Iowa. He encouraged collaboration and brought together other bright minds to form the earliest bariatric surgery society to share knowledge and experience. He also invested in the younger generation with teaching and mentorship. I have been inspired by his example. He showed "you can bloom where you are planted" and can lead from anywhere, including the great state of Iowa. He was courageous, humble, and worked extremely hard to advance the treatment of the life-threatening disease of obesity. He was truly a role model for the ages with a wonderful legacy.
Robin Blackstone: Ed Mason is such a legend in our field that I had always wondered about the man himself, whether the legend was actually more than the man. When I was asked to write the chapter on the history of ASMBS by Ninh Nguyen for the first ASMBS textbook, I turned to Dr. Mason as my primary source of truth. To the benefit of us all, I found him willing to share his memories and many documents he had from that early period, predating even the society's formation. As we conversed once or twice a week while I was writing the chapter, I came to realize that here was someone who was authentically himself. Who he was in private in our many conversations represented with complete fidelity his public persona. It became clear that his work ethic and commitment to the science behind our work had driven his life's pursuits in metabolic surgery. He pursued to whatever end, even the rejection of his own closely held hypothesis or procedure, the mechanisms that would free people from the bonds of their metabolic disease the foundation of which was and is obesity. We have much to thank him for. I doubt our specialty would have held up to the many years of challenge and scrutiny from our fellow surgeons had it not been for this commitment to a scientific foundation for our work and the seeds he planted in so many others that have born fruit.
Walter Pories: Most of us have a small number of heroes who changed our lives. Ed Mason was one of mine. I regret that I never got to know him really well, although, during a visit to his home at around 1980, about three years before the founding of ASBS, he was most generous with his time and frank about his concerns about banding and the bypass. I was struck by his gentle humility, not what I expected in such a surgical giant. The "giants" I knew personally, from Michael deBakey to Robert Zollinger, made the earth tremble when they walked. This man who led to the most effective treatment of society's most costly diseases was just the opposite, offering a confessional of his trials and failures to see the full implications of his fastidious research.
His career also offers further evidence that there are no failures in good research. His original intent for the gastric bypass was to serve as therapy for duodenal ulcers did not work out, and that could have been the end of the story. But, true to his reputation as a caring physician, he followed his patients closely and noted the remarkable weight loss following the procedures and then thought it through to father an entirely new discipline.
Imagine what he would have contributed had God granted him another 100 years.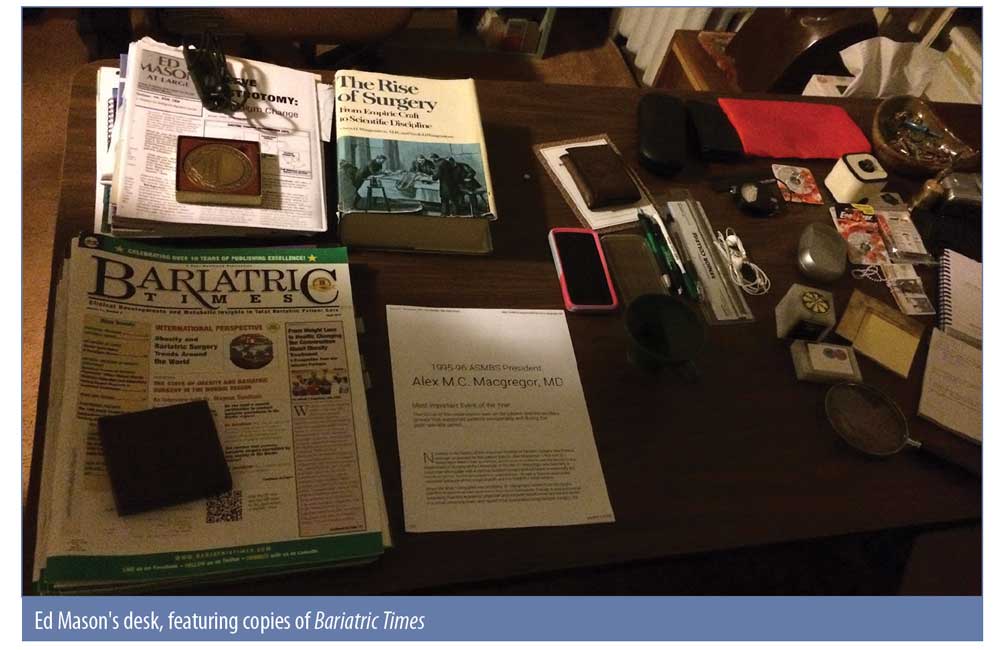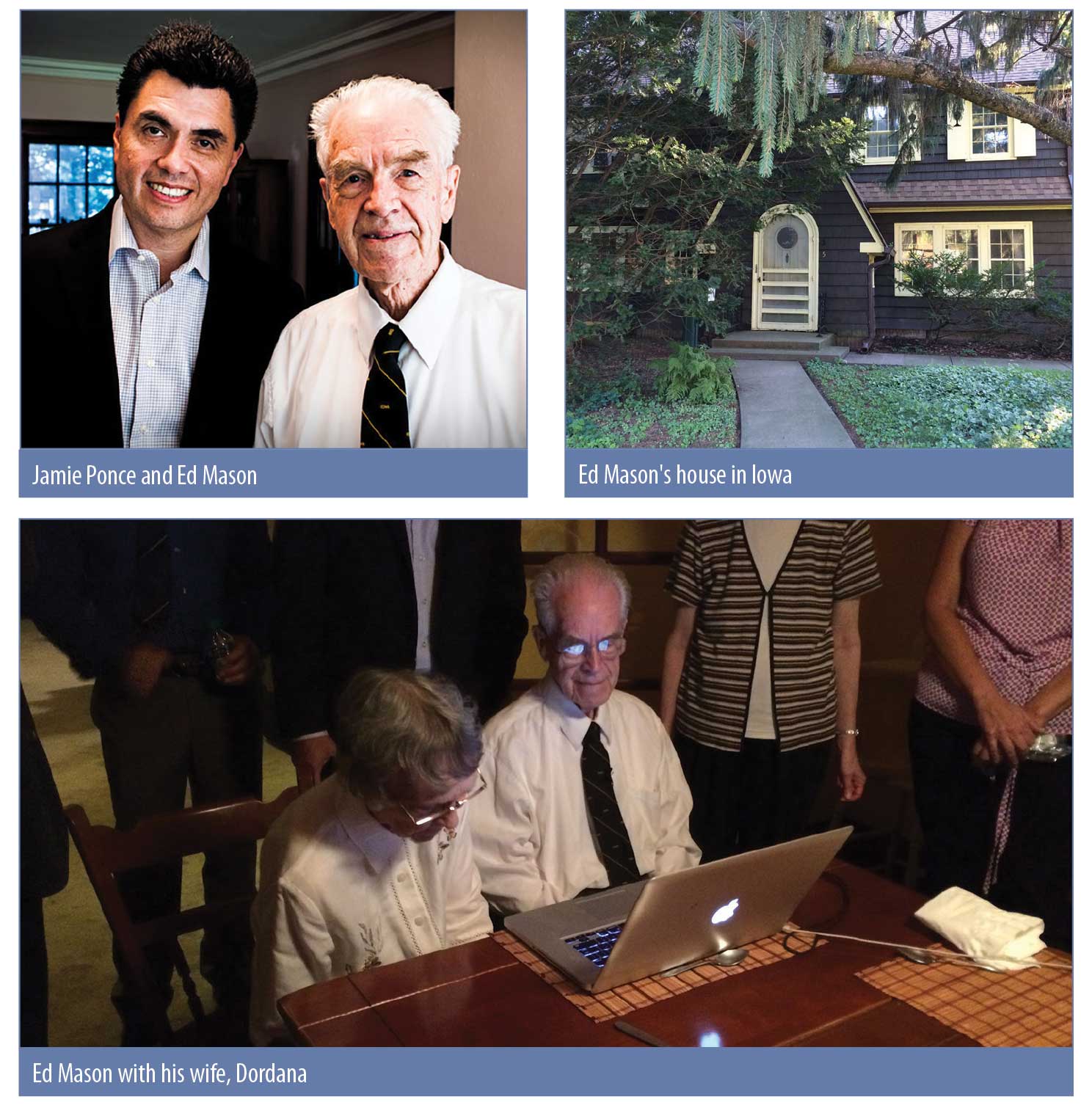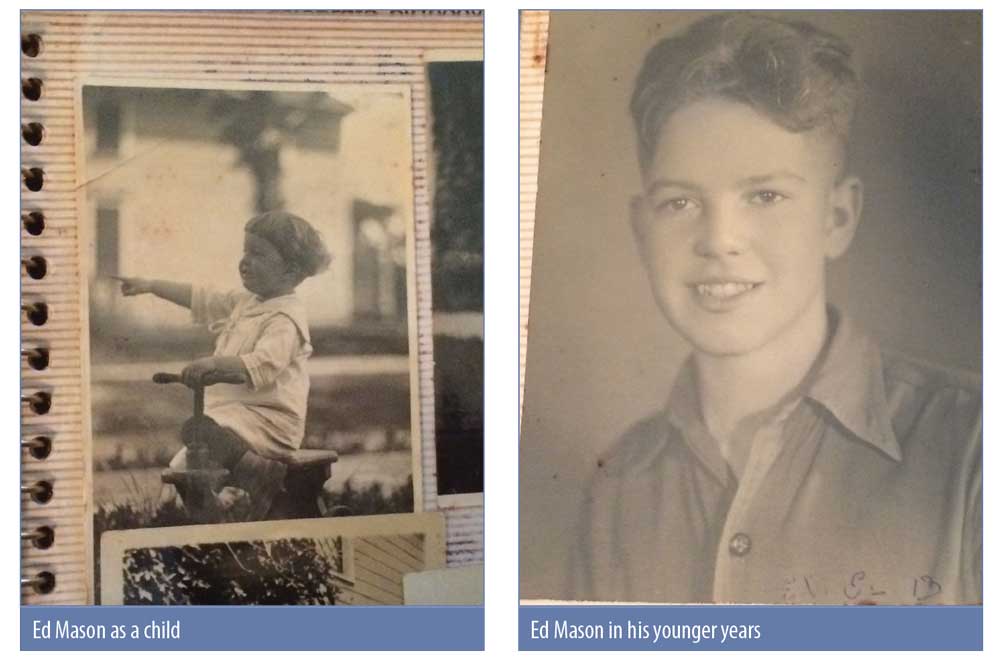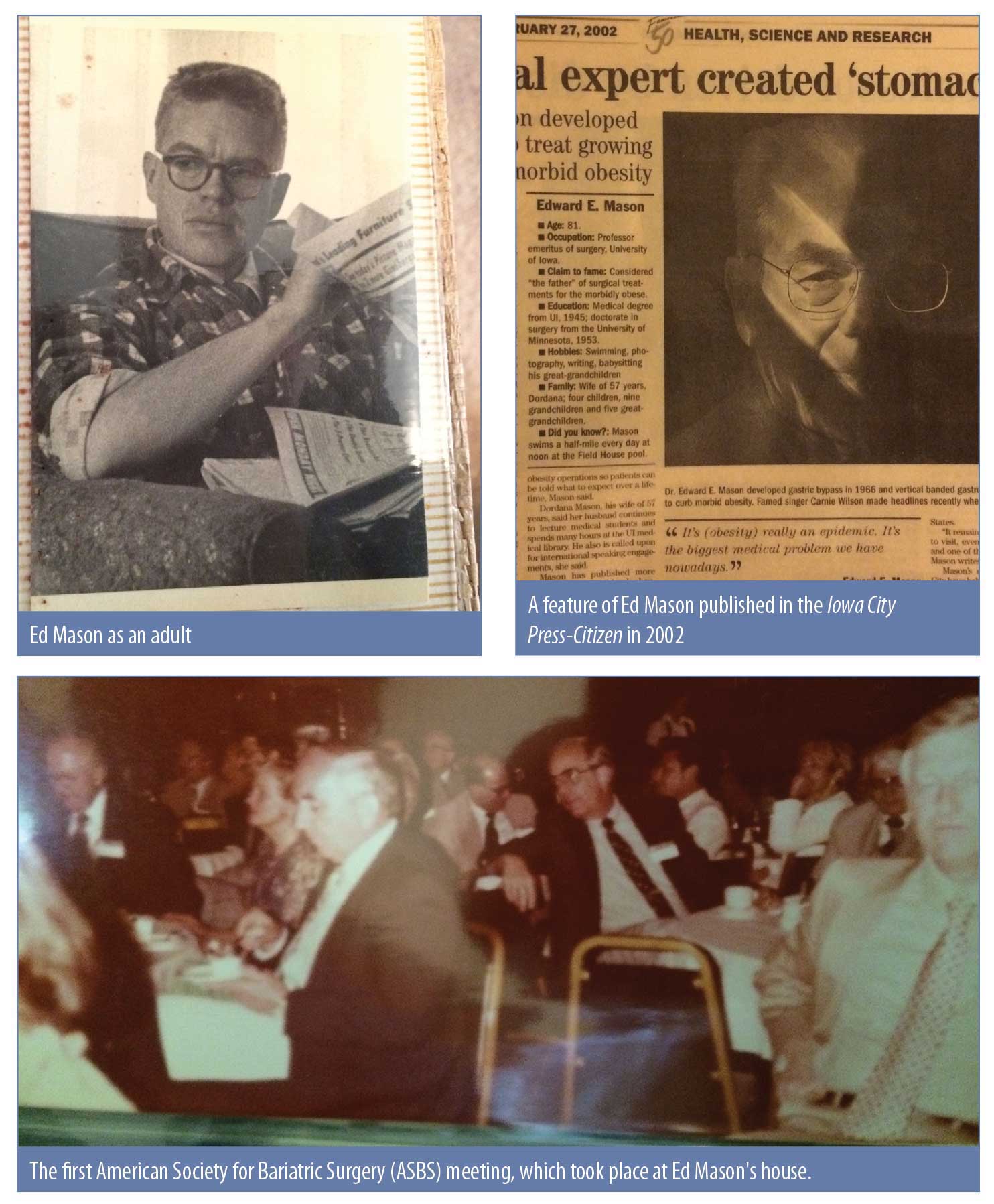 Henry Buchwald: Edward E. Mason will be known as the "Father of Obesity Surgery" or "Father of Bariatric Surgery" because he was our first great teacher of the need for such a discipline.
The presence of obesity has been traced to 25,000 BC with the discovery of the "Venus of Willendorf" statuette. Mention of obesity can be found in Judea-Christian writings; its morbid implications were known to Hippocrates. Obesity became both a source of amusement and ridicule in post-Renaissance society; yet, in some cultures, it was a symbol of beauty and desirability, and, after World War II, obesity became a pandemic. Ed Mason was aware of this chronology and, most importantly, realized that obesity was actually a disease entity, an affliction with genetic roots, subject to environmental impact. Further, that this disease was the basis of, or a contributor to, the major diseases, morbidity, and mortality of our time. He realized that obesity is a disease that must be treated as a disease, and treated vigorously.
Ed Mason realized that most physicians felt little need to do anything about this disease. The admonition to "eat less and exercise more," essentially helped no one. The jejunoileal bypass, initiated by Richard L. Varco in 1953, though effective weight loss therapy was fraught with severe side effects and complications, not a lasting surgical solution. 
Under the tutelage of Owen H. Wangensteen in Minnesota, Ed was influenced to propose gastric bypass in 1966 for the management of peptic ulcers. He soon learned that the procedure was an excellent operation for weight loss, and in 1967, together with Chikashi Ito, he published his classical treatise on gastric bypass for morbid obesity. This operation, in one variant or another, with a loop or a Roux-en-Y gastrojejunostomy, has lasted as a mainstay of bariatric surgery, and is often referred to as the "gold standard" of bariatric procedures.
Ever in search of simplification, and thereby of greater availability and safety for bariatric procedures, in 1973, Ed together with Kenneth J. Printen, proposed a vertical gastric bypass that, in one form or another, became the dominant bariatric operation in the 1990s, and can be envisioned as the forerunner of the sleeve gastrectomy.
Ed continued his search for anti-obesity therapy by studying the related role of the gut hormone GLP-1 (2007) and isolated Gila monster venom that possessed anti-obesity properties (2008). 
Ed's most lasting contribution as a teacher was proposing and originating the ASBS. In 1977, he hosted a meeting of 50 surgeons interested in bariatric surgery at his home in Iowa, under the rubric of a Bariatric Surgery Collaboration. After several such meetings, this group organized itself, in 1983, into the ASBS and elected Ed as the first, and only two-year President from 1983 to 1985. In 2007, the ASBS changed its name to the ASMBS. To facilitate ASBS outreach and provide for a research database, he started the National Bariatric Surgery Registry in 1996, a format that obtained information on 30,000 patients. In his career, Dr. Mason authored over 200 peer-reviewed publications and book chapters, as well as five books. On his 100th birthday, his autobiography was published: A Fat Chance.
Ed was born in the backseat of a taxi in Boise, Idaho, on October 16, 1920, the only child of Edward Files Mason, who became a Professor of Photojournalism at the University of Iowa, and Dora Eaton Mason, teacher and sculptor. At age one year, Ed's family moved to Iowa, which became his home state. After college, Ed served in the United States Navy during World War II. Next, he spent fruitful years (1945–1953) at the University of Minnesota as a medical student and surgical resident, receiving his PhD in surgery in 1953. He returned to the University of Iowa in 1953, where he practiced bariatric surgery and gained a reputation for outstanding and sympathetic patient care. Intellectually, he never retired; he attributed his longevity to a lifelong dedication to exercise. Until the age of 96, he swam a half mile daily at the Field House of the University of Iowa. Ed died, age 100, on December 28, 2020.
I first came to know Ed when he visited with us at the University of Minnesota. I found him ever so amiable, humble, and eager to know what others were thinking and doing. I also remember taking long walks together in a wooded area in Hamburg, discussing the meeting we were attending, as well as how to promulgate bariatric surgery. We reminisced about our days as Wangensteen residents, and Ed spoke about his love for camping in the north woods of upper Minnesota.
I have saved mention of Dordana, Ed's wife of 71 years, as the fitting closure for this eulogy. Ed met Dordana Fairman while canoeing on the Iowa River. They were married in 1944.
Professionally, Dordana was a dietician who cared for patients with anorexia, ironically the opposite of Ed's patients with obesity. They were inseparable, and their great love for each other was obvious. When Ed came to a meeting, Dordana was usually with him. Dordana died in 2015; her ashes have been waiting to be comingled with Ed's. Ed and Dordana are once again together. 
Ed Mason, inspiring teacher, showed us the need for bariatric surgery and originated several operative pathways to overcome the disease of obesity. His spirit will walk with his us and his students, into the future of the discipline he fostered.
Ninh Nguyen: A true visionary like Ed Mason is hard to find, difficult to part with, and impossible to forget.
Phil Schauer: I'm a huge fan and admirer of the late Ed Mason. Not only was he a centenarian who lived 100 years, but he was also a centurion. He was a commander of an army of bariatric surgeons who strived to make a difference for patients suffering from severe obesity. He was an early pioneer of our field. He invented many procedures, including the gastric bypass and the vertical banded gastroplasty. He also was the founder of the ASBS. He also launched the very first outcome registry for our field, which gave it much credibility. On top of all that, he was a good-hearted, kind man. We will miss him very much. Rest in peace, Ed Mason. Click here to watch the video of Phil Schauer's dedication message

Matt Hutter: Ed Mason was a true visionary.  It is amazing how great an impact one person can have.  His innovative mind and dedication to his patients essentially created the field we now call metabolic and bariatric surgery.  He was  the originator of the gastric bypass, the founder of the ASBS, and our first president.  He developed the first registry to track bariatric surgery patients.  He is a true giant in our field who built our strong foundation.  By standing on the shoulders of such a giant, we can aspire to even greater heights.  I am inspired and encouraged to think what we can achieve together, by creating a vision for our future which puts the patient first, and by working collectively and collaboratively to achieve that vision. Thank you Dr. Mason for all you have done for us, our field and our patients.

To view a tribute video that was made for Dr. Mason in 2015, please visit https://asmbs.org/mason-library
Category: In Memoriam, Past Articles