A Message from Dr. Raul J. Rosenthal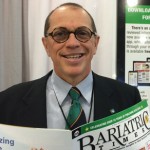 Raul J. Rosenthal, MD, FACS, FASMBS, Clinical Editor, Bariatric Times; Professor of Surgery and Chairman, Department of General Surgery; Director of Minimally Invasive Surgery and The Bariatric and Metabolic Institute; General Surgery Residency Program Director; and Director, Fellowship in MIS and Bariatric Surgery, Cleveland Clinic Florida, Weston, Florida
---
Dear Friends and Readers,
I just returned from Japan where I attended the 35th Annual Meeting of the Japanese Society for Treatment of Obesity (JSTO35) held in Morioka, Japan. I really enjoyed visiting this phenomenal country and cherished every minute of the great hospitality delivered by Professors Akira Sasaki, MD, Congress President, and Kazunori Kasama, MD, a leading bariatric surgeon in Japan who is also a dear friend. The highlight of the meeting was a roundtable discussion addressing the ideal body mass index (BMI) and surgical procedure to treat the diabetes epidemic in this part of the world. The Asia-Pacific region is projected to have over 190 million individuals with diabetes by 2030,1 a problem that surgery alone will certainly not be able to handle. Nevertheless, because of the low BMI at which severe obesity is diagnosed in this region (BMI >25kg/m2 is considered obesity), the choice of gastric bypass versus sleeve gastrectomy is a subject of debate. Regardless of the evidence, sleeve gastrectomy has become the most prevalent procedure in the Asia-Pacific region.
I thank Terrence Fullum, MD, for his contributed letter on intravenous micronutrient supplementation in gastric bypass patients to treat undetectable deficiencies. Indeed, some subtle deficiencies in vitamins and minerals cannot always be detected with regular laboratory analysis, and the empiric treatment of those has become common practice among most bariatric centers. We give, regardless of the blood levels, a cocktail of multiple vitamins and minerals to most patients that get readmitted to prevent the development of those deficiencies.
Next, Ann Rogers, MD, and Jared Cappelli, RN, BS, address a very important subject—chronic abdominal pain in patients after undergoing Roux-en-Y gastric bypass. Between gastro-gastric fistulae, dumping syndrome, marginal ulceration, biliary tract disease, intussusceptions, and bowel obstructions, the differential diagnosis and treatment algorithms are colorful and can become a real challenge for the on-call surgeon and emergency room physician. It is our obligation to educate general surgeons, emergency room physicians, and gastroenterologists to better understand the pathophysiology and best management of these potentially life-saving surgical emergencies.
This month, we present an interview with Esteban Varela, MD, FACS, FASMBS, and Carlos Chaux, MD. They discuss the fascinating research on metabolic surgery and stem cell transplantation. Camillo Riccordi, MD, who delivered the Mason Lecture during ObesityWeek 2016, is a leading scientist conducting pancreatic islet cell transplantation. I believe this work, combined with our outstanding surgical approaches, can become another excellent option to treat the patients with types 1 and 2 diabetes. I very much look forward to the results of future clinical trial in this area.
Preparations are underway for The 22nd World Congress of International Federation for the Surgery of Obesity and Metabolic Disorders (IFSO), taking place in London, United Kingdom, August 29 to September 2, 2017. I thank Tracy Martinez RN, BSN, CBN, Chair, IFSO Integrated Health, and Mary O'Kane, RD, BSc (Hons), MSc, FBDA, IFSO Integrated Health Chair-elect, for the wodenrful preview of what will transpire at the upcoming meeting.
To close on this excellent edition, I would like to thank John Morton, MD, MPH, FACS, FASMBS, for leading the American Society for Metabolic and Bariatric Surgery (ASMBS) nominations committee into the new election season. As mentioned by John in his interview, we need our membership to get involved in our committees and voting for our new leaders. Over the past years, we have developed what I believe is a fair and transparent election process. Leadership is not only about clinical or academic excellence, but rather it is service to our members and society goals. The nominating committee makes sure that all three of these qualities are balanced in our nominees so that our members can choose from those who excel.
Sincerely,
Raul J. Rosenthal, MD, FACS, FASMBS
References
Wild S, Roglic G, Green A, Sicree R, King H. Global prevalence of diabetes: estimates for the year 2000 and projections for 2030. Diabetes Care. 2004;27(5):1047–1053.
Category: Editorial Message, Past Articles