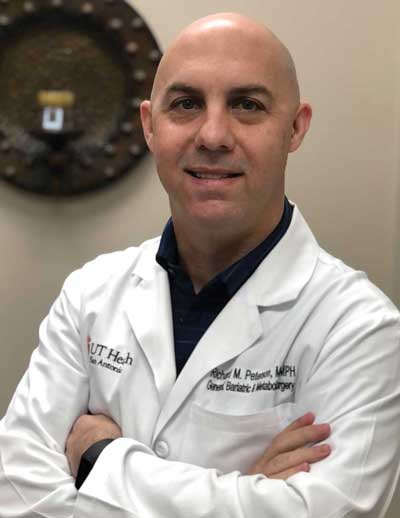 Richard M. Peterson, MD, MPH, FACS, FASMBS, is the Co-clinical Editor of Bariatric Times; Professor of Surgery, UT Health San Antonio; Chief, Bariatric and Metabolic Surgery UT Health San Antonio; Director, Christus Weight Loss Institute – Westover Hills, San Antonio, Texas.
Dear Colleagues,
With my first editorial, I would like to take a moment and thank the leadership of Bariatric Times for giving me the opportunity to serve as one of the Co-clinical Editors. I will do my best to provide the high-quality work that the readership has come to expect from my surgical predecessors and mentors, Dr. Raul Rosenthal and Dr. John Morton. These are big shoes to fill, so I will do my best to live up to that standard and, with luck, as I get running, the shoes won't inadvertently fly off.
As you might have seen in the last issue, I am planning on bringing you more video content with our members and readers. In this issue, I sit down with the leadership of the Focused Practice Designation (FPD) Committee and answer some questions that were brought forth by our readership from our previous month's article. I also had the chance to sit down with Nate Sann, MSN, FNP-BC, our current President of the Integrated Health (IH) Section of the American Society for Metabolic and Bariatric Surgery (ASMBS) and talk about membership engagement and directions for IH. I must say, I was excited to be able to do the interviews live, as we were just at our first live ASMBS meeting since 2019. 
The ASMBS re-UNITED meeting held at the Mirage Hotel in Las Vegas was a true pleasure to attend. We've all become very adept at doing meetings via digital platforms, such as Zoom, Teams, WebEx, etc., but those don't compare to the in-person meetings. It was great to be able to have that personal connection that we have been missing for so long. While many smiles were hidden (at first, anyway) by the masks being worn, you could still see the smiles in their eyes. From a handshake or a hug, being able to reconnect was therapeutic for us in so many ways. It truly felt like we were re-UNITED again. The content of the meeting was stellar, and I must give a shout out to the meeting's Chair and Co-chair, Drs. Mona Misra and Ann Rogers, for the effort and work they put in to bring this meeting to fruition, along with the amazing staff at the ASMBS. There were sessions on the integration of medical and surgical weight loss with both pre- and postoperative considerations, interesting cases to stump the experts, robotics, gastroesophageal reflux disease (GERD) and the foregut, navigating disasters in the operating room, and a lessons learned session to close. In addition, the first FPD review course was held the day before the meeting kicked off. 
I'd also like to ask the readership of Bariatric Times to send me ideas of topics you'd like to see us cover in future issues. I'd like to see an increase in case reports to share with our readership, both surgical and medical, hopefully some with a combination of both. 
Lastly, I'd like to thank Dr. Chris Still for all his work in Bariatric Times over the years and welcome my new Co-clinical Editor, Dr. Jenny Seger. I've known Dr. Seger for many years, and her passion in treating this disease is palpable, as I am sure you will all see.
I look forward to this opportunity to serve you all.
Sincerely,
Rich Peterson, MD, MPH, FACS, FASMBS
Category: Editorial Message, Past Articles