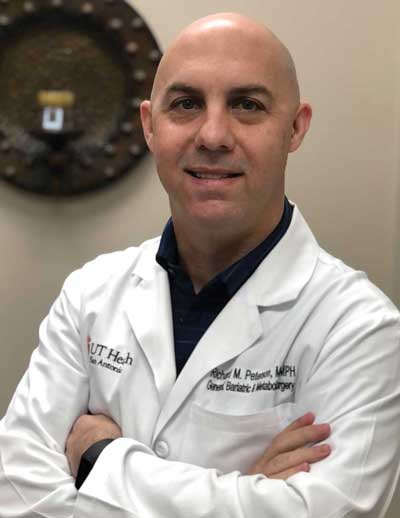 Richard M. Peterson, MD, MPH, FACS, FASMBS, DABS-FPMBS, is the Co-clinical Editor of Bariatric Times; Professor of Surgery, UT Health San Antonio; Chief, Bariatric and Metabolic Surgery UT Health San Antonio, San Antonio, Texas.
Dear Colleagues,
This month, I'd like to highlight the great work of three of our surgery column editors. 
Dr. Adrian Dan leads the Perspectives column and delivers some really great content. He isn't afraid to tackle some of the more challenging topics we all face every day. This month he brings his perspective on the relationship that surgeons and industry share. I won't spoil his column—it is definitely a great read. I will say that innovation is a collaboration between clinicians and industry. There are provisions in place to help maintain that professional relationship and prevent what, in our history, was a black eye to us all. 
I remember back in residency we had what was known as our "Day of Surgery," an all-day series of lectures, visiting professor rounds with patients, and a culmination of a formal dinner. One of our visiting professors was my Chairman's classmate from medical school and a vascular surgeon. He gave a great talk on vascular surgery during the day and then his "fun talk" for the dinner was his experience as a consultant for medical accuracy in the movie The Fugitive, starring Harrison Ford as the vascular surgeon falsely accused of killing his wife. They gave him a small cameo as one of the surgeons being questioned about Dr. Kimble, which he shared with us. But the point of his talk also centered around the relationships physicians and industry were responsible for maintaining. If you haven't seen the movie (hopefully you have seen it, as it was released in 1993)—I'm sorry to spoil the premise, which is that it definitely showed the greedy, worst side of our profession. 
I would also like to highlight the great work of Drs. Tony Petrick and Dominick Gadaleta for their "Raising the Standard" column, which has been running monthly for 57 consecutive months since it started in July 2018. It is no small task to keep up with that much content. Also, we will be adding Dr. Stacy Brethauer as a regular contributor to their column as the Chair of the American College of Surgeons (ACS) Committee on Metabolic and Bariatric Surgery to bring us updates from the Metabolic and Bariatric Surgery Accreditation and Quality Improvement Program (MBSAQIP) program. 
Of course, I want to also thank you all for your contributions to this publication. Your voices also keep these pages full. 
Sincerely,
Rich Peterson, MD, MPH, FACS, FASMBS
Category: Editorial Message, Past Articles