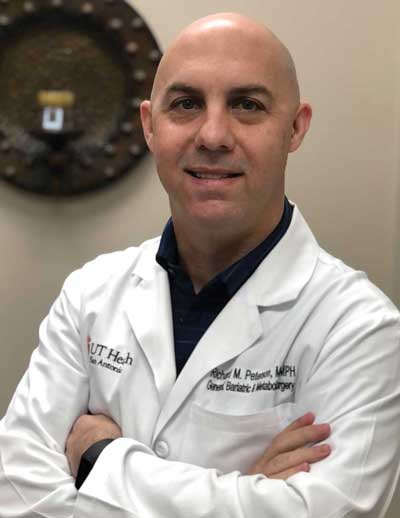 Richard M. Peterson, MD, MPH, FACS, FASMBS, is the Co-clinical Editor of Bariatric Times; Professor of Surgery, UT Health San Antonio; Chief, Bariatric and Metabolic Surgery UT Health San Antonio; Director, Christus Weight Loss Institute – Westover Hills, San Antonio, Texas.
Dear Colleagues,
With this issue, we are on the precipice of our first return to the June American Society for Metabolic and Bariatric Surgery (ASMBS) annual meeting. The ASMBS meeting in Dallas will be one for the books, as we find ourselves back in the days prior to our combined meetings. Looking at the schedule though, it appears we will have plenty of variety so our members can engage in topics from all aspects of obesity care. I had the chance to chat with Program Chair Mona Misra and Co-chair Ann Rogers to gain some insights into our upcoming meeting. They, along with their Program Committee team, have done an outstanding job in planning the meeting. The overall theme of the meeting is Cancer and Obesity. There will be several tracks that cover this, but there will be a special Presidential track and the Mason lecture with prominent names in the field of cancer treatment and prevention. They have continued with one of the newer traditions, established in our last in-person meeting, of the Presidential Grand Rounds, which is a chance for past ASMBS Presidents and fellows to bridge the past and future in the present by moderating quick podium presentations during the breaks. You might have seen the schedule and noticed the Abstract Palooza sessions, designed with an abundance of paper and video abstracts mixed together. New to the meeting in the pre-conference section is the Piranha Pit. If you like difficult cases and have opinions about them, this is the session for you. It is sure to be full of debates and heart-stopping videos—I'm looking forward to being a fly on the wall in this one! And this year also features a new opportunity to recruit members (new and seasoned) who want to share their talent and their thoughts. Dr. Misra told me about the first-ever ASMBS's Got Talent, which is a chance for YOU to share your thoughts and ideas; submit a 2-to-3 minute video to the program committee (email: [email protected]) to be considered to talk about your topic. They are looking to hear about your interests and your passion for our field. Now is your chance to have your voice heard. 
I am excited to see everyone in Dallas and to have the in-person networking re-established. The Re-UNITED meeting in Vegas was a nice warm-up to our in-person meetings, and I, for one, am looking forward to it. I know how much work has been done and is being done behind the scenes to make this meeting an amazing success, but the success of the meeting is made by you and your participation. I'm hopeful that you are planning to attend, and I welcome you to my home state of Texas, where, as everyone knows, everything is bigger, so it only makes sense that we kick off the biggest return gathering of our society here. I wish you safe travels and I will see you soon!
Sincerely,
Rich Peterson, MD, MPH, FACS, FASMBS
Category: Editorial Message, Past Articles