A Message from Dr. Raul J. Rosenthal
Raul J. Rosenthal, MD, FACS, FASMBS, Clinical Editor, Bariatric Times; Chief of Staff, Professor of Surgery and Chairman, Department of General Surgery; Director of Minimally Invasive Surgery and The Bariatric and Metabolic Institute; General Surgery Residency Program Director; and Director, Fellowship in MIS and Bariatric Surgery, Cleveland Clinic Florida, Weston, Florida.
Dear Friends and Readers:
I just returned from Vienna where I attended another exciting World Congress of The International Federation for the Surgery of Obesity and Metabolic Disorders (IFSO). The congress venue, Hofburg Imperial Palace, was majestic and the scientific program was excellent as well. Dr. Rudolph Weiner, IFSO's outgoing president, and Dr. Karl Miller put together an outstanding program and I thank them for all of their hard work. I would like to take this opportunity to wish Dr. Natan Zundel, my dear friend and incoming IFSO President, good luck in his new position! I would also like to congratulate Dr. Kelvin Higa, IFSO's President-Elect.
We present another exciting issue of Bariatric Times. In this month's "The History of Bariatric Surgery," edited by Drs. George Blackburn and Daniel Jones, Dr. Mervyn Deitel, founding editor of Obesity Surgery, provides a snapshot of how the American Society of Bariatric Surgery (ASBS) was developed.
Faria et al review the use of functional foods and phyto supplements (e.g., probiotics, fiber, and green tea) in the bariatric patient population. The authors discuss the use of thermogenic foods, such as ginger, cocoa, and cinnamon. I found it interesting to learn that these foods require more energy and work than typically expended to be digested and absorbed.
Also in this issue, we conclude our exclusive interview series on the 3rd World Congress on Interventional Therapies for Type 2 Diabetes and the 2nd Diabetes Surgery Summit (DSS-2). We present interviews with Drs. Lee Kaplan and Philip Schauer, members of the meeting organizing committees. Dr. Kaplan outlines the basic mechanisms of action of bariatric surgery as an effective herald of type 2 diabetes mellitus (T2DM). Dr. Schauer discusses the important progress made in the field of metabolic surgery, including the addition of randomized, controlled trials to this area of research.
We provide an update on both the American Society of Bariatric Physicians (ASBP) and the American Society for Metabolic and Bariatric Surgery (ASMBS) Foundation. For the last two years, the ASMBS Foundation has been at the top of my priorities. Be sure to read this month's update where Connie Stillwell, ASMBS Foundation's Executive Director, announces new, exciting fundraising programs that the Foundation has developed to help grow our endowment. I encourage you to participate in the United We Step National Pedometer Challenge, taking place Monday, November 2, 2015. Visit http://asmbsfoundation.org/ to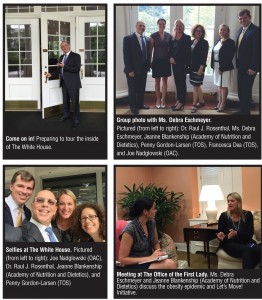 learn more and register.
I am excited to share with you some photos and highlights of my recent visit to the White House in Washington, DC. I was among those representing the ASMBS, and together with representatives from The Obesity Society (TOS) and Obesity Action Coaliation (OAC), we had the opportunity to meet with Debra Eschmeyer, Executive Director of the Let's Move! Initiative led by the office of United States First Lady Michelle Obama. Here, we discussed new and exciting initiatives to prevent childhood obesity, and emphasized the important role of bariatric surgery in treating obese parents. I presented to Ms. Eschmeyer on the current literature that has clearly demonstrated that bariatric surgery performed in severely obese mothers will result in a significant decrease of obesity in their offspring.
I hope you enjoy this issue and my photos. I look forward to seeing many of you in Chicago, Illinois, for the American College of Surgeons Annual Clinical Congress.
Sincerely,
Raul J. Rosenthal, MD, FACS, FASMBS
Category: Editorial Message, Past Articles