A Message from Dr. Raul J. Rosenthal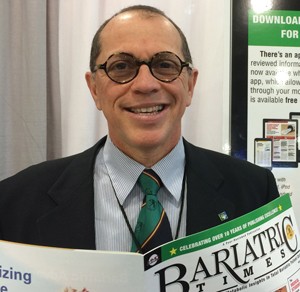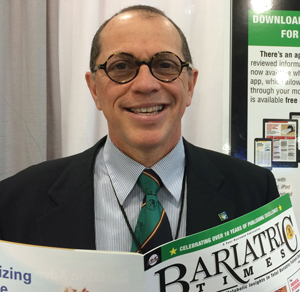 Raul J. Rosenthal, MD, FACS, FASMBS, Clinical Editor, Bariatric Times; Professor of Surgery and Chairman, Department of General Surgery; Director of Minimally Invasive Surgery and The Bariatric and Metabolic Institute; General Surgery Residency Program Director; and Director, Fellowship in MIS and Bariatric Surgery, Cleveland Clinic Florida, Weston, Florida
---
Dear Friends and Readers,
Welcome to this new and exciting edition of BT.
As the obesity pandemic continues to rapidly expand, scientists are maximizing efforts in an attempt to elucidate disease ethology and alternatively develop new treatment modalities that might help counteract this devastating health threat. The human species is not only being affected and threatened by "global warming," but also by "global obesity."
As stated in his book, Homo Deus: A brief History of Tomorrow, author Noah Yuval Hariri reports that in 2012 about 56 million people died throughout the world; 620,000 of them died because of human violence (war killed 120,000 people, and crime killed another 500,000). In contrast, 800,000 committed suicide and 1.5 million died of diabetes. Sugar, he concludes, is now "more dangerous than gunpowder."[1]
When looking at long-term outcomes of bariatric surgery, I like to tell my patients that we operate on their stomachs and not on their brains. Long-term success, I like to emphasize, depends on lifestyle changes. I encourage bariatric patients to exercise every day and stay on a high-protein, low-fat, and low-carb diet. What is the evidence to support my recommendation? What kind of food is available to our patients in order to accomplish this task and what type of exercise should they pursue to in order to be successful?
In this month's issue, Stacy A. Brethauer, MD, FACS, FASMBS, current president of the American Society for Metabolic and Bariatric Surgery (ASMBS) conducts a wonderful interview with Allen Levine, PhD, president of The Obesity Society (TOS) and one of our country's leading nutrition scientists. The topic— the interaction between medicine and food industry—cannot be more timely and interesting. How can we work with the food industry to provide a healthy diet to our citizens? Dr. Levine gives us an excellent overview on how we can partner and interact with industry to conduct meaningful research without incurring into conflict of interest.
How about exercise? Is it true that we need to exercise every day? What is the proper duration of physical activity? Can we expect patients to fit exercise in their daily routines along with the responsibilities of life, such as work and family? In "Medical Methods in Obesity Treatment," Anthony Auriemma, MD, JD, reviews available guidelines for physical activity in United States adults and discusses recent literature on high-intensity interval training (HIIT) in individuals with overweight and obesity. He also discusses what kind of exercise we might recommend our patients our patients incorporate into their physical activity regimen in order to fulfill their weight loss or weight maintenance goals. I like to tell my residents, "to work longer does not necessarily mean to work better." When it comes to exercise and fitness it seems a similar philosophy applies. Though research on HIIT is still early, growing evidence shows that through HIIT, individuals might achieve the benefits of traditional continuous exercise training (e.g., increased cardiorespiratory fitness and insulin sensitivity) in 50 to 60 percent of the training time.[2–4]
We are proud to spotlight another ASMBS State Chapter this month. ASMBS Texas State Chapter President Michael V. Seger, MD, FACS, FASMBS, and colleagues provide an update on obesity in their state. Texas is one of the first four states that initiated its own chapter prior to the creation of a nationwide call by the ASMBS to have representation of all states. Lloyd Stegemann, MD, FACS, FASMBS, served as its first president and delivered phenomenal work to help ASMBS leadership establish state chapters. In another spotlight column titled "Bariatric Center Spotlight," we showcase the Bariatric Program at BayCare Mease Dunedin Hospital in Dunedin, Florida.
Don't miss the 13th Annual Bariatric Times Buyers Guide, which highlights products and services of many companies that have become an integral part of our specialty. Access the Buyers Guide via the BT APP or e-Edition to get the full interactive experience of easily linking directly to company websites.
I hope you enjoy this issue of Bariatric Times. I look forward to seeing many of you at the 22nd World Congress of International Federation for the Surgery of Obesity and Metabolic Disorders (IFSO), taking place in London, United Kingdom, August 29 to September 2, 2017, and other upcoming meetings.
Sincerely,
Raul J. Rosenthal, MD, FACS, FASMBS
References
Yuval Noah Harari. Homo Deus: A Brief History of Tomorrow. New York, New York: Harper; 2017.
Keating SE, Machan EA, O'Connor HT, et al. Continuous exercise but not high intensity interval training improves fat distribution in overweight adults. J Obes. 2014;2014:834865.
Hood MS, Little JP, Tarnopolsky MA, Myslik F, Gibala MJ. Low-volume interval training improves muscle oxidative capacity in sedentary adults. Med Sci Sports Exerc. 2011;43(10):1849–1856.
Burgomaster KA, Howarth KR, Phillips SM, et al. Similar metabolic adaptations during exercise after low volume sprint interval and traditional endurance training in humans. J Physiol. 2008 Jan 1;586(1):151–160. Epub 2007 Nov 8.
Category: Editorial Message, Past Articles