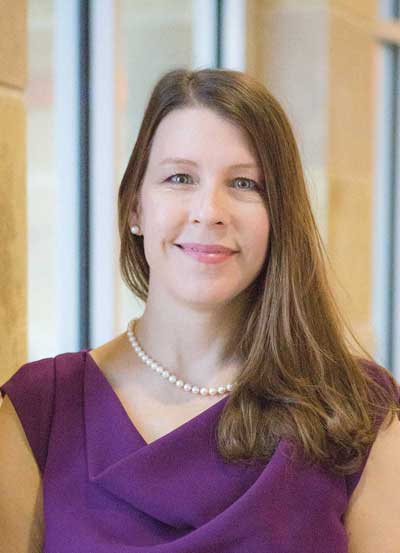 Jennifer C. Seger, MD, FOMA, is the Co-clinical Editor of Bariatric Times; Diplomate, American Board of Obesity Medicine; Medical Director, Bariatric Medical Institute of Texas, San Antonio, Texas.
Dear Readers,
September is National Childhood Obesity Awareness month, which seems timely as our children head back to school this fall. As a society, we strive for excellence in education, which is certainly important and admirable; however, we are failing when it comes to addressing the number one health crisis facing our youth—obesity.  
Childhood obesity is a national emergency, affecting 20 percent of children aged 2 to 19 years, making it the most common chronic disease of childhood and adolescents.1 Since 1980, childhood obesity has tripled.2 One of three children meet criteria for obesity by their fifth birthday, yet most pediatricians and family medicine practitioners remain ill-equipped to address this complex disease.3 
I interviewed a nationally recognized pediatric obesity medicine specialist, Dr. Suzanne Cuda, about childhood obesity. Here is what she had to say.
Broadly speaking, what progress have you seen in the field of obesity medicine over the past few years?
Over the last 1 to 2 years, there have been some important developments in the field of obesity. Several new anti-obesity medications (AOMs) have been approved in children between the ages of 12 to 17 years, liraglutide and phentermine/topiramate, and we are anticipating the announcement of outcome of the STEP 4 Trial for Teens for Semaglutide in the next 1 to 2 months. This study will hopefully be followed by the approval of semaglutide for those aged 12 to 17 years for the treatment of obesity. In addition, setmelanotide was recently approved for the treatment of children older than 6 years and adults with Bardot-Beidel Syndrome (BBS), which expands the use of setmelanotide beyond POMC, LEPR, and PCSK1 deficiency. Finally, metabolic and bariatric surgery (MBS) is becoming more widely available for children and adolescents with severe obesity, and thanks to recent publications, many of the previous limitations on MBS are no longer valid.
In your opinion, what needs to happen most immediately to move the field forward?
Recognition of the disease of obesity in children and adolescents is the single most important thing that should transpire. Obesity is a disease that frequently develops in childhood and would be most effectively managed as early as possible, before complications develop. Coverage for care and treatment to include pharmacotherapy and surgery will help move the field forward. In addition, children and adolescents should routinely be included in drug/treatment trials and not have to wait years for these trials to be done after the particular drug/treatment has been shown to work in adults.
What are the most rewarding aspects of your career?
The most rewarding aspects are the high amount of success we have in helping children and adolescents achieve a healthier weight while simultaneously improving their metabolic health. It's great to take care of families and see them work together to achieve a healthier lifestyle. I can't think of a better job! 
What is the most frustrating part of your job?
The most frustrating part of the job is when there are challenging social circumstances that make it difficult for families to make changes.
What do you wish the general public knew about pediatric obesity?
I wish the general public knew how important it is to get children into treatment as early as possible. I also wish the general public was more aware of all the effective AOMs we have now and that they aren't going to be told to just eat less and exercise more. At the same time, I want the general public to start approaching the disease of obesity much as they would hypertension or cardiovascular disease, as a chronic lifelong disease that requires comprehensive, long-term treatment.
What about your medical colleagues?
I wish that more of my colleagues would also approach the disease of obesity as a chronic lifelong disease. It is time to make weight stigma a thing of the past. It is important to treat each patient with obesity with care and respect, especially the kids!
Huge thanks to Dr. Cuda for her reflections and for her work alongside her colleagues at the Obesity Medicine Association (OMA) to create the OMA's Pediatric Obesity Algorithm, which you can find here: https://obesitymedicine.org/childhood-obesity/. 
In health,
Jenny Seger, MD, FOMA
References
Centers for Disease Control and Prevention. Childhood obesity facts. Reviewed 17 May 2022. https://www.cdc.gov/obesity/data/childhood.html. Accessed 26 Aug 2022.

Centers for Disease Control and Prevention. Prevalence of obesity among children and adolescents: United States, trends 1963–1965 through 2007–2008. Reviewed 6 Nov 2015. https://www.cdc.gov/nchs/data/hestat/obesity_child_07_08/obesity_child_07_08.htm. Accessed 26 Aug 2022.

National Institute of Diabetes and Digestive and Kidney Diseases. Overweight & obesity statistics. Reviewed Sept 2021. https://www.niddk.nih.gov/health-information/health-statistics/overweight-obesity. Accessed 26 Aug 2022.

 
Category: Editorial Message, Past Articles