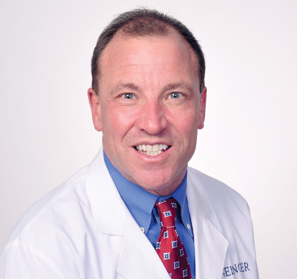 by Christopher D. Still, DO, FACN, FACP

Co-clinical Editor of Bariatric Times; Medical Director for the Center for Nutrition and Weight Management, and Director for Geisinger Obesity Research Institute at Geisinger Medical Center in Danville, Pennsylvania.
Dear Colleagues,
As we say GOOD RIDDANCE to 2020 and look toward 2021, I would like to reflect on the year in terms of accomplishments in the understanding and treatment of obesity and highlight opportunities for the coming year, despite all that has happened over the last eight months.
Regarding treatment, new pharmacotherapies are continuing to move through the pipeline with Phase II and III clinical trials. It is hoped that semaglutide will be approved for the treatment of obesity in the first or second quarter of 2021­—I'll have more to say about that medication in upcoming messages. Additionally, reimbursement for anti-obesity medications is continuously increasing as employers and payers see their efficacy and significant improvement in health.
The field of obesity medicine continues to thrive. This year, the American Board of Obesity Medicine (ABOM) altered its application requirements and deadlines to ensure that interested physicians could still pursue certification despite barriers presented by COVID-19. The response has been inspiring, with approximately 1,000 physicians expected to sit for the 2021 certification examination. These successful diplomates will add to the more than 4,100 physicians currently certified by the ABOM. It's so great to see the steady growth of physicians taking the initiative to advance their knowledge, understanding, and treatment of obesity.
Despite conferences being virtual this year, I think both the Obesity Medicine Association (OMA) and The Obesity Society (TOS)'s ObesityWeek set attendance records with its virtual formats. Moreover, the Obesity Action Coalition (OAC)'s virtual Your Weight Matters conference for patients in July was a huge success, reaching some 2,000 patients from 47 states and 59 countries. I think going forward, even with in-person allowance, a virtual hybrid is here to stay.
The Obesity Medicine Fellowship Council, established in 2018 to increase obesity medicine fellowships, continues to make great progress under the leadership of Dr. Lee Kaplan. Obesity medicine fellowship programs, specifically for MDs and DOs pursuing a career in obesity medicine, are overseen by the Obesity Medicine Fellowship Council (OMFC), of which I am pleased to be a member. The council has developed standardized program guidelines for obesity medicine fellowships and has, to date, awarded 11 seed grants for new obesity medicine fellowships throughout the country. There are now 19 fellowship programs included in the OMFC, and these programs will graduate approximately 22 fellowship-trained obesity medicine physicians each year. Fellowship-trained physicians' unique clinical training experience gives them a higher level of expertise and positions them to become clinical and academic leaders in obesity. The OMFC plans to continue supporting the development of new programs and expanding the fellowship-trained obesity medicine physician workforce. Looking ahead, I believe this program will broaden physicians' competency and understanding of obesity, which will help fill the educational gap that exists in medical school curriculum
As we look forward to 2021, there continues to be many uncertainties overall but great opportunities for the field of obesity. The telehealth opportunities that COVID-19 has quickly brought to the forefront is here to stay. Hopefully additional anti-obesity medications will be approved with continued increases in efficacy and reimbursement. Another "opportunity" will be the increased awareness, diagnostics, and potential therapeutic treatment options for nonalcoholic fatty liver disease (NAFLD) and nonalcoholic steatohepatitis (NASH). NASH, because of obesity, has reached epidemic proportions and is currently the number one indication for liver transplantation. Weight loss will remain its primary treatment recommendation. Medical and surgical weight loss interventions currently and will lead to the way in treatment of this chronic, progressive disease. As a specialty, we are well situated to be the leader in the treatment of these patients.
These are just a few of the highlights in the field of obesity medicine in the unprecedented year! I thank you all for another great year at Bariatric Times. May you all have a blessed holiday, continued success, good health, and happiness in 2021!
Be well,
Christopher D. Still, DO, FACN, FACP
Category: Editorial Message, Past Articles