by Sarah Muntel, RD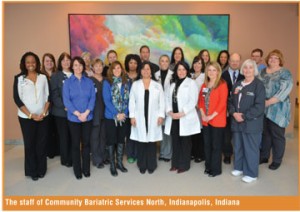 Sarah Muntel is a registered dietitian at Community Bariatric Services North, Community Hospital North, Indianapolis, Indiana.
Bariatric Times. 2014;11(7):16–18
Welcome to Community Bariatric Services North
Community Bariatric Services North is located on Community Hospital North campus in Indianapolis, Indiana. Community Hospital North has provided care for patients from Central Indiana for more than 30 years. Community's "patients first" focus and commitment to the community have been constants.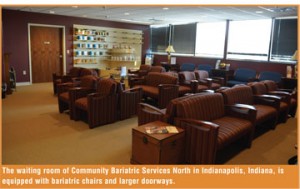 Community North launched its bariatric program in 2004. Over the past 10 years, Community Health Network's bariatric services has grown to three locations with dedicated surgeons and staff at each, and continues the focus on patients' long-term success.
Our Staff
Community Bariatric Services North comprises a multidisciplinary team. We employ 21 staff members. We have two highly skilled surgeons who are experienced in the field of bariatrics. Rosemarie Jones, MD, Medical Director, has over 24 years of bariatric experience. Jack Ditslear, MD, has over 15 years of bariatric experience. Both surgeons perform primary bariatric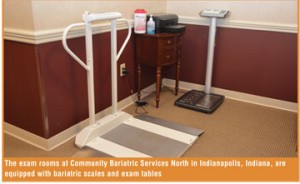 surgeries, secondary surgeries, and general surgery. Our surgeons are dedicated to the field of bariatrics, and care about the long-term success of our patients. Both surgeons have physician assistants, Lori Vasquez, PA-C, and Renae Graber, PA-C, to assist in the office, rounding, surgery, and in all areas of patient care. We also employ a certified surgical first assistant to help with cases in the operating room.
Our bariatrician, Christine Kirkendol, MD, provides both surgical and nonsurgical patients with multiple dietary options, such as nutritional supplements and very low-calorie diets.  We feel it is important to offer surgical and nonsurgical weight loss so that patients may choose which avenue they would like to pursue.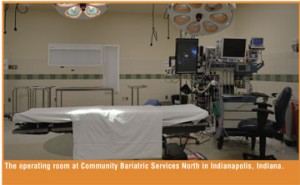 The program prides itself on the multidisciplinary approach to weight loss and knows how important the team is to a patient's long-term success. We employ many support staff within the program. Our front office specialists help with scheduling patients, checking them in and out, and answering various programmatic questions. Our insurance coordinator and coder help patients through the process and assists with financial questions. Our surgery scheduler schedules all patients for their procedures.
Patients also work with our four registered dietitians pre- and postopertively. Dietitians teach groups, classes, and individual sessions to patients, and follow them throughout their surgical journey. One of our dietitians also serves as bariatric coordinator. Our exercise physiologist teaches exercise classes. She develops individualized exercise prescriptions for patients and also leads four exercise classes weekly. Our psychologist prepares patients for surgery by completing their preoperative psychological assessment. All members of the healthcare team are actively involved in patients' follow-up care through individual appointments and group sessions.
Our two registered nurses teach preoperative classes and assist patients who come into the clinic and call-in to have their questions answered. Our medical assistant registers the medical and surgical patients prior to their appointments.
Our bariatric program director manages the outpatient practice and facilitates the bridge between the program, the surgical services department, and hospital.
Our Facility
Our office facility. The entire facility at Community Hospital North is able to accommodate bariatric patients. From the moment they walk into the clinic, patients will see larger sized doors, bariatric sized chairs, bariatric wheel chairs, scales, and exam tables. Throughout the hospital, bariatric equipment is readily available. This includes imaging equipment, operating room tables, and all surgical equipment.
A portion of our cases are completed using the da Vinci System (Intuitive Surgical, Inc., Sunnyvale, California, United States). The da Vinci System features a magnified 3D high-definition vision system and special wristed instruments that bend and rotate far greater than the human wrist. These features enable the surgeon to operate with enhanced vision, precision, dexterity, and control. In our experience, the benefits of having a da Vinci procedure are similar to a Laparoscopic Gastric Bypass and include the following: a low rate of complications, low rate of wound infection, and a short hospital stay.
Procedure Statistics and Patient Demographics
Community Bariatric Services North completed more than 200 primary cases in 2013. Many patients return to our center seeking long-term follow up, support to get back on track, or secondary surgery. Because of the high-level experience our surgeons have, we often treat high-risk patients. Some may have higher BMIs, increased medical comorbidities, or had multiple abdominal surgeries in the past. These long-term patients require an increased amount of time and skill from our surgeons and support staff. This is a different demographic characteristic many centers may not experience. Our staff is highly trained in individualized care. We offer specific classes, such as "Back on Track" groups for patients struggling with weight regain and educational classes for those patients undergoing secondary surgeries. We feel these added specialized classes benefit and support patients on their way to a healthy life.
Achieving Accreditation Designation
Our center was re-certified as a Bariatric Center of Excellence the end of 2013. We recently transitioned to the MBSAQIP certification of Comprehensive Center early in 2014. Patients who come to our center are typically referred to us by a physician or have been a previous patient of one our surgeons. We inform all patients of our certification at their initial appointment. Our center truly believes in the importance of the certification and educates patients on the significance of this accreditation.
Managed Care
Managed care has changed the course of treatment for bariatric patients. Patients now have to adhere to certain guidelines to meet their requirements for surgery. Patients usually have to adhere to 3 to 6 months of supervised weight loss classes prior to surgery. Although this has slowed down the process, we do see that patients are more prepared and educated for their surgery.
Patient Adherence
Patients are held to a high standard pre-operatively. We ask that all patients follow a pre-operative diet prior to their surgery to begin transitioning patients to a new meal plan. The pre-operative way of life is encouraged by all staff and is viewed as very important. We have an established pre-operative program to educate all patients on what it takes to be successful following their surgery. These classes are taught by our registered dietitians. Patients also see our psychologist to assess their readiness. If they need additional counseling to become ready for surgery, we will require this. We feel that high standards during the pre-operative period will help patients make changes early on, remain accountable, successful, and follow the program.
It is a challenge for patients to maintain long-term follow-up appointments. Our front office staff contacts patients via phone and mail to confirm they will attend follow-up appointments. This information is tracked and managed by our front office staff. We also feel connecting with patients encourages them to come back. Offering a variety of follow-up options, support groups, and events will help patients stay connected to the center. We also offer online sessions, Facebook groups, and phone support for those patients who are farther away or who struggle with coming in to the office.
Sometimes, as patients are successful postoperatively, they feel they do not need follow up any longer. It happens to many patients as their comorbid conditions diminish and their energy increases. It is our job to make patients understand that they need to commit to life-long follow up to maintain a healthy diet and to continue to follow our recommendations that can affect their health long term.
Patient Care
Patients enter the program through a seminar. The seminar is a time to learn about the procedures and get their questions answered by clinical staff. If patients are interested in proceeding, they will see a surgeon individually to determine the best surgical option for them. It is in this consultation that the patient becomes aware of what they need to do to become ready for surgery. Patients enter our supervised weight loss program where the focus is nutrition and exercise. Our goal is to educate patients on their new lifestyle to maintain postoperatively. By beginning education early, patients quickly adapt to that lifestyle change. Our psychologist is actively involved in each patient's progress. Through a psychological evaluation, patients are given clearance to proceed or provided additional recommendations that need to be met for long-term success.
When the supervised weight loss portion is completed, patients are sent to the insurance company for approval. Upon approval, patients attend a pre-operative educational class about two weeks prior to surgery. These classes discuss the importance of meal plans, supplements, and vitamins, as well as review the surgical process and prepare patients for life at home after surgery.
During this process, HIPAA compliance is an important issue. Measures of confidentiality are taken when phoning patients, seeing patients in the clinic, and releasing records.
Additionally, the staff discusses patient cases and concerns during clinical meetings. All clinical staff attend these meetings and individualized treatment plans are developed for patients. The staff develops the best treatment plan to ensure the patient's health, well-being, and long-term success.
Our Equipment and New Technologies
Our center uses body composition scales. These scales are helpful because they not only tell us the patient's weight, but also their fat mass and percentage, muscle mass, and percent water weight. It is very helpful for us to monitor patients' progress as they lose weight. We want to see a drop in fat mass while maintaining as much muscle mass as possible. With this type of scale, we can also see if their muscle mass is getting too low, which can affect their metabolism and can be a factor in weight regain. These readings help our exercise physiologist determine the efficacy of their exercise program. The water weight feature is also very helpful. It is easy to see if the patients are getting dehydrated or (more commonly) if they are retaining water.
One of our surgeons is currently performing endoscopic resuturing and repair for patients who are requesting a secondary surgery. This procedure can be performed endoscopically, which can reduce the patient risk significantly. This can be used to assist with a dilated outlet, weight regain, or possible scarring. It is a very cost-effective procedure as well.
Cost and Efficiency
We have a surgery scheduler who schedules all bariatric cases and testing. Community Health Network has an electronic medical records (EMR) system for charting.
Our inventory management system that tracks inventory levels and helps us to identify what products are most popular.
Our facility participates in several network level cost containment measures, including network level purchasing consolidation to improve buying power, optimization of our newly implemented EMR, and network-wide initiatives to reduce waste in all processes. At the program level, we have right sized staffing utilizing an activity based staffing model so we ensure the staff on site is appropriate for the level of patients and activities to be performed. To improve efficiencies, we are restructuring our education process to offer patients more pre-operative education. We also have several performance improvement projects ongoing in the practice, including discharge calls from both the hospital and the practice.
Patient and Staff Safety
Our facility has a lift team that is available for transport from the office to any department in the hospital. This ensures the safety of the patients and the staff. One product we use in the operating room is the AirPal (Hill-Rom, Batesville, Indiana, United States). It allows us to move patients more easily in the operating room. All team members who are involved in transporting patients participate in education regarding safety and best practices.
Staff Training
All new employees complete sensitivity training when they are hired. It is important for employees within the network to understand the bariatric population to provide optimum care. Patient care areas are also provided with training in transporting bariatric patients and possible complications. In addition to this training, staff members do provide inservices and education for clinical areas and dietary areas on a routine basis.
Emerging Trends
We find that patients are looking for online resources. Patients continue to have busier lives and need advances to make things less hectic. One solution our practice has implemented is the development of online support groups and social media. Patients are able to log on once per month and attend a support group. This is a great way for patients to connect from home and get the support they need. Our closed Facebook Group also provides patients with support from others going through the process. We are adding an online seminar as an option for individuals interested in learning more about surgical weight loss options and our program. As technology continues to advance, we will continue to provide innovative options. It is our job to connect with patients and assure they are given the resources they need to be successful long term.
Patient Cases
An interesting case. Recently, we had a complex patient who was struggling with the pre-surgical requirements. Our clinical team discussed the best plan of care for him to meet the requirements. He was a dialysis patient who had a high BMI and multiple other health issues as well. He was not doing well in classes and was not progressing. The team decided that close, individual care would be the best option for him. Instead of the classroom setting, he was seen by a member of our clinical team twice per month. His care was also coordinated in conjunction with his dialysis team for a very individualized plan. After over six months of bi-weekly appointments, this patient was cleared by the team for surgery. It was our individualized, personal approach that prepared this patient for surgery.
A difficult case. Our surgeons agreed to take over the care of a bariatric patient who had surgery in another facility. This patient came to our center and had not followed up in many years. She was transferred to our care after having a complication from a general surgery. The patient was in a very poor state. She was in septic shock. Our surgeons were able to address her complications surgically and stabilize her. She developed a very good rapport with our program nurses who followed up with her routinely when she went home. These nurses were also able to act quickly so the patient could return to the office when she had a pulmonary embolism, which was successfully treated. This quick care from our nursing staff was able to provide the patient with the care she needed. At this time, the patient is in regular follow up with our staff and dietitians and is doing well.
A Unique Facility
Community Bariatric Services North offers convenient access with a wealth of bariatric experience from the team of surgeons and clinical and support team members while offering a personal and supportive environment. Because of our vast experience in bariatric services, we often consult with higher risk patients. The team serves its common goal of providing quality medical care with exceptional service to the patient and family.
Visit eCommunity.com/bariatric for more information.
Funding: No funding was provided.
Disclosures: The author reports no conflicts of interest relevant to the content of this article.
Category: Bariatric Center Spotlight, Past Articles