This column is dedicated to covering a variety of topics relevant to the multidisciplinary care of the bariatric surgical patient.
A Message from the Column Editor: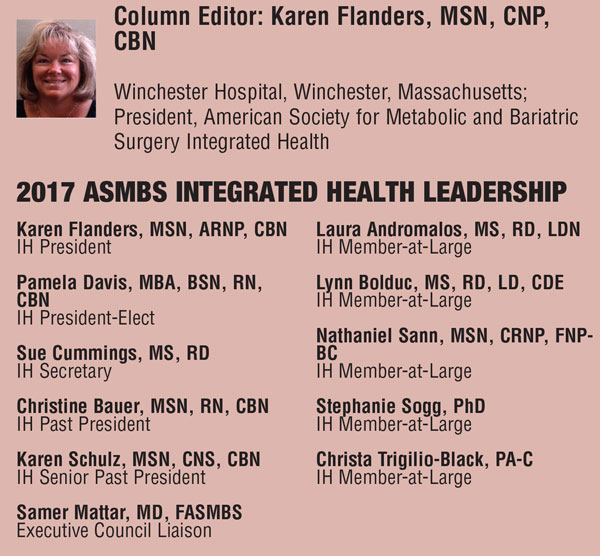 Dear Colleague,
It seems like just yesterday we were in New Orleans, Louisiana, for ObesityWeek 2016, and here we are now on the doorsteps of ObesityWeek 2017. The ASMBS IH Professional Education and Program committee have developed a program that will appeal to the many disciplines of Integrated Health. If you haven't registered yet, please be sure to register soon for ObesityWeek – it will be here quicker than you think. Please visit https://obesityweek.com/ and view the schedule.
One of the preconference courses being offered again this year is a course geared toward support group leaders of all experience levels. The IH Support Group committee has developed an agenda that is based on the feedback from attendees and the topics in which they expressed an interest. Additionally, the committee has been actively working on several other projects to provide resources to the membership. On a personal note, I want to take this opportunity to thank the committee for all of their hard work, dedication, and commitment to this committee and to the ASMBS organization.
If you have any comments or concerns you would like to share, please feel free to contact me at IH-[email protected].
Sincerely,
Karen Flanders, MSN, CNP, CBN ASMBS Integrated Health President
---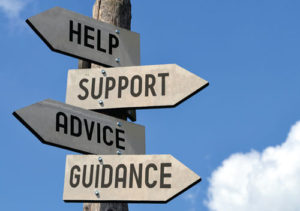 by Lori S. Nevins, LCSW, and Paul Davidson, PhD
Lori Nevins is a clinical social worker and bariatric care specialist in private practice. Paul Davidson is Director of Behavioral Services, Center for Metabolic and Bariatric Surgery, Brigham and Women's Hospital/Brigham and Women's Faulkner Hospital and Harvard Medical School, Boston, Massachusetts. 
Funding: No funding was provided.
Disclosures: The author reports no conflicts of interest relevant to the content of this article.
Bariatric Times. 2017;14(8):22–23.
The ASMBS Integrated Health (IH) Support Group Committee utilizes the experience and knowledge base of its varied professionals (e.g., psychologists, dietitians, nurses, and social workers) in tandem with IH administrative leaders to create and share bariatric patient care and provider education initiatives. Over the last several years, many new programs and resources have been put in place to aid those working with patients in a group setting. The committee has several fundamental goals, which include the provision of education for support group leaders under the auspices of ASMBS, encouraging the dissemination and expansion of research into the critical value of support groups, and enhancing the status, leader support, and standards for running bariatric groups.
There has been clear progress in each of the core goals for the committee. In terms of education, the committee published the Bariatric Support Group Manual for professionals, available on the ASMBS website for members. Years of work went into the document, providing a how-to guide for leaders, a variety of suggestions for success, topical ideas, and a summary of the essential research in the field. A key initiative in that area was the development of support group training and networking opportunities at all ASMBS conferences. Over the past two years, this has included expert lunch meetings, networking sessions, and focused education. At Obesity Week, 2016, the committee provided a first-ever four-hour pre-conference training dedicated to bariatric support groups. Topics ranged from setting up a group, establishing the framework, involving the family, handling problematic patients, cognitive-behavioral techniques, and creative group topics. Much to the pleasure of the organizers, the session had standing-room-only attendance. Feedback was requested from attendees with a post-course survey and the overwhelming response was appreciation for offering a much needed and formerly overlooked element of bariatric care. A stunning 97 percent of attendees felt they were provided with tools and knowledge to improve their practice.
Plans are in place for a similar, yet distinctly different pre-conference training for ObesityWeek 2017, which will include ways to increase attendance, addressing professional versus peer-led groups, understanding the difference between what patients say they want and what they need in terms of support, multidisciplinary roles played in support groups, interactive mock groups, and an introduction to using social media effectively. Additionally, there will be an added session during the scientific program teaching pragmatic skills for the support group leader. Taken together, the committee has created a comprehensive curriculum to enhance the skills of support group leaders.
In terms of research and resources, the IH Support Group Committee, as well as the IH Clinical Issues and Guidelines Committee, have taken on a systematic review of the support group literature. Elements of this will be presented at ObesityWeek 2017, with a goal of publishing an updated review and analysis in the future. After our successful IH Support Group Course at ObesityWeek 2016, interest in our committee has grown our roster of professionals to include additional clinicians who bring hands-on experience regarding patient outcomes to our large fund of knowledge. In addition to exploring outcome data, the committee is focused on trying to understand why patients attend (or do not attend) support groups and how to encourage participation and grow group attendance. This includes developing patient and provider surveys to examine the issue, which will be disseminated directly to ASMBS and Obesity Action Coalition (OAC) members.
Through collaboration with the Integrated Health Executive Committee, an online toolbox is being developed as part of the ASMBS website. The Support Group Committee has been collecting useful tools on an ongoing basis to help individuals running or looking to start support groups. These resources will be available to all members. Additionally, a listserv was developed two years ago to offer a forum for support group leaders to raise questions and share ideas with one another, and it is anticipated that this will be expanded each year. IH Support Group Committee members add value by contributing up-to-date feedback in their respective areas of practice and patient care. Future work will investigate virtual outreach, online support group meetings, and social media platforms.
The third leg of the committee's agenda is the promotion of increased professionalism in the delivery and guidance of support group services provided for bariatric patients to improve success and satisfaction. To achieve these ends, the committee is undertaking an evaluation of core competencies for running both professional and peer-led groups. Empirical evidence is being explored to better define appropriate standards for support group leaders with the hope of advising accrediting agencies of clinically sound guidelines in this arena. Ultimately, this might inform the development of both in person and online education to gain the necessary knowledge to lead an accredited group program.
The IH Support Group Committee continues to discuss ideas and receive feedback from the administrative councils of ASMBS and their key leaders. The committee has seen a sharp rise in commitment to addressing the issues of the patient in a "holistic" manner: physical and emotional challenges that contribute to the comprehensive care of patients, particularly in the short and long term post-operative period for the patient population as a whole. The committee is here to support our professional colleagues in applying the latest evidence and best practice to further patient care through bariatric support groups. With great enthusiasm, we look forward to continuing to serve the metabolic and bariatric surgery community and encourage your involvement in our offerings.
Category: Hot Topics in Integrated Health, Past Articles