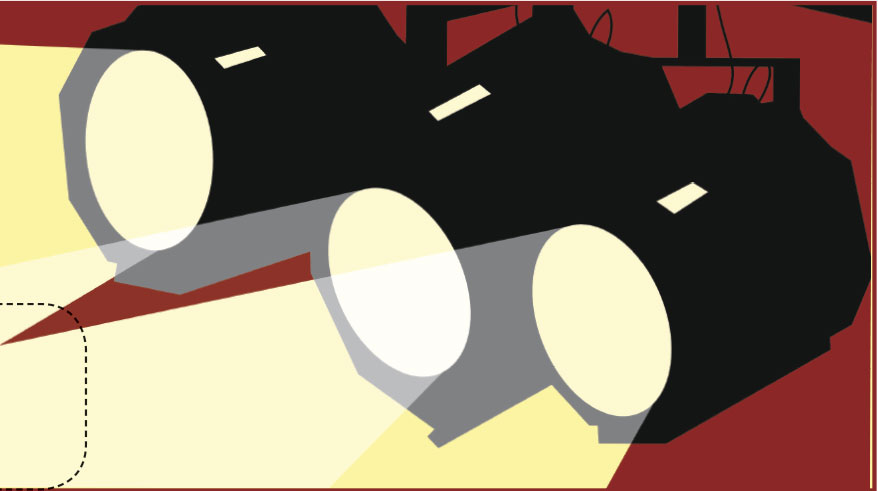 by Andrew Laguna, BA; Jeremy Korman, MD; and Bridgette Agee, RN, CBN
Mr. Laguna is Specialist, Marketing and Communication at Cedars-Sinai Marina Weight Management Center in Marina del Rey, California. Dr. Korman is Bariatric Medical Director Director at Cedars-Sinai Marina Weight Management Center in Marina del Rey, California. Bridgette Agee is the Bariatric Program Director at Cedars-Sinai Marina Weight Management Center in Marina del Rey, California.
Funding: No funding was provided.
Disclosures: The author reports no conflicts of interest relevant to the content of this article.
Bariatric Times. 2023;20(3–4):16–18.
---
Located in Marina del Rey, California—minutes from Los Angeles International Airport—Marina Weight Management Center is a flagship program at Cedars-Sinai Marina del Rey Hospital, providing weight management care to patients from surrounding communities and abroad. Our clinic aims to streamline preoperative visits while providing education and care to guide our patients throughout their weight loss journey. 
The bariatric program provides patients with a variety of medical and surgical options, while providing our patients with the flexibility to navigate their preoperative course based on their schedule. Part of a small community hospital, our team takes a hands-on approach with our patients, guiding them through their bariatric care journey and supporting them during their hospital stay. Most notably, we provide continual contact between patients and our bariatric team, which consists of four bariatric surgeons, a bariatrician, navigators, dietitians, nurses, a physical therapist, and a psychologist.
Our Staff
Our multidisciplinary team has 16 highly trained medical professionals who together have performed thousands of bariatric surgeries and are available to meet the needs of our patients. We have four bariatric surgeons, including our medical director Jeremy Korman, MD, who, with the help of our program director, Bridgette Agee, leads this unique bariatric clinic. Dr. Korman is an expert in laparoscopic techniques and has vast experience in revisional surgery. Monali Misra, MD, currently serves on the American Society for Metabolic and Bariatric Surgery (ASMBS) executive council as a Councilperson-at-large, is an expert in robotic and laparoscopic techniques, and ensures that our program meets all regulatory guidelines. Sergey Lyass, MD, is an expert in robotic, laparoscopic, bariatric and minimally invasive surgery, and Carson Liu, MD, is an early adopter of transoral technique (transoral incisionless fundoplication) and endoscopic sleeve gastroplasty. The vast expertise of our surgeons allows us to provide a wide range of medical and surgical options for our patients. Our staff members have provided high-quality care at our clinic for a number of years, and our patients benefit from that longevity and continuity. Dr. Korman and Bridgette Agee have worked together for 20 years, and some staff members have worked with our team for up to 15 years.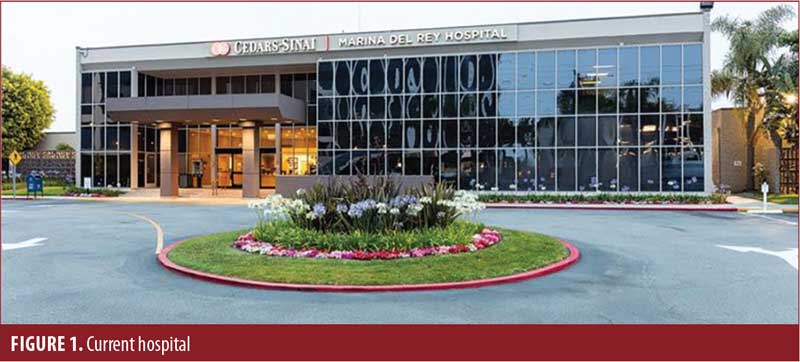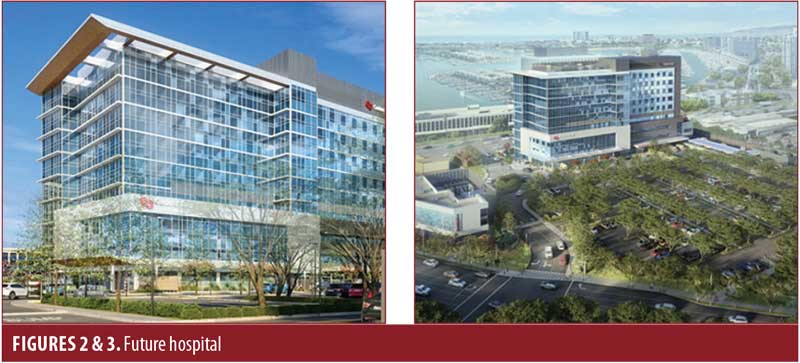 A Unique Facility
The Cedars-Sinai Marina Weight Management Center is designed to accommodate all bariatric patients. We are equipped with state-of-the-art exam rooms and offer a variety of resources to patients, including advanced body composition scales, cooking demonstrations, intravenous (IV) hydration, vitamin B12 injections, and personalized educational materials. Our hospital provides patients with private postoperative rooms, where the entire team rounds on our patients. Our facility is outfitted with specialized lift equipment to ensure the safety and wellbeing of our patients and staff. As a program offering the complete spectrum of bariatric care, we are able to offer our patients postoperative upper gastrointestinal endoscopies, an enhanced recovery after surgery program, bariatric-specific diet orders, and support groups.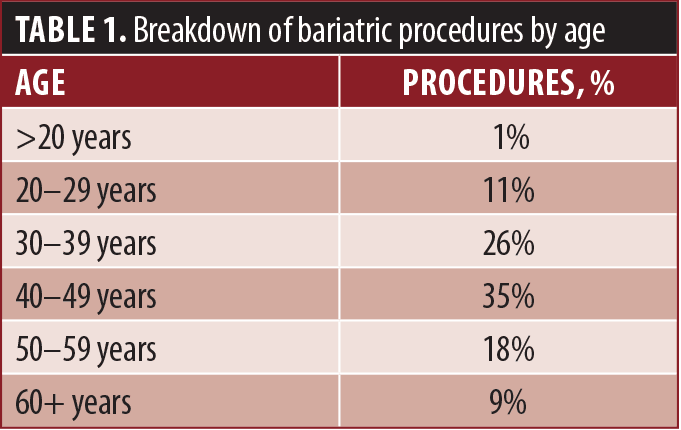 We help our patients achieve their goals, and we celebrate their successes. We host an annual celebration that recognizes all patients who have met and maintained their goal weight. This celebration is just one of the many ways we stay involved in the bariatric journey of our patients. We also actively support the ASMBS Foundation's Walk from Obesity, with the help of related programs at Cedars-Sinai.
An Accredited Center
Our program takes a hands-on approach to maintaining standards for accreditation. We offer quarterly in-person classes and online courses for nursing staff, with specific training modules for staff in the intensive care unit and emergency department. Our Metabolic and Bariatric Surgery Accreditation and Quality Improvement Program (MBSAQIP) accreditation allows us to regularly review current processes and update them to serve the evolving needs of our patients. As a data-driven program, we also review data monthly and discuss ideas for improvements or develop quality assurance and performance improvement initiatives based on the data we collect. Our annual surgical volume is 350 to 400 cases. Tables 1 and 2 provide further details on our bariatric procedures.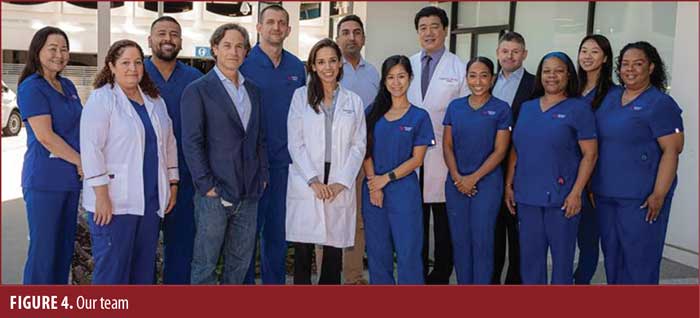 Patient Engagement
Our program aims to make patient engagement feel exciting and effortless. Before surgery, we schedule a patient's first year of postoperative appointments through the online Cedars-Sinai patient portal, My CS-Link. During preoperative visits and classes, we set expectations and explain the importance of attending postoperative visits. We also include a schedule of appointments in patients' educational binders.
By accessing My CS-Link, patients can request appointments, manage prescription renewals, and communicate with their physician's support staff. When scheduling long-term postoperative follow-up care, we will attempt to contact patients twice by phone, messaging them in My CS-Link or sending a letter. Our clinic also offers convenient virtual visits to help keep patients on track.
Occasionally, patients will struggle with engagement after they meet their goal weight. Some patients experience postoperative weight regain and might be ashamed to return. Regardless of their circumstances, we provide a safe, judgment-free space for our patients.
Patient Process
We are a detail-oriented team that provides individualized care during patient visits, all of which take place in one convenient location at the Marina Weight Management Center clinic. Patients attend a series of consultations with a surgeon, nurse, dietitian, psychologist, primary care physician, and bariatrician to begin the process. Patients must be 18 years or older and have a body mass index (BMI) of 35kg/m2 with one or more comorbidities. Those with a lower BMI are referred to medical management for appetite suppressors or dietitian consults, physical therapy, and psychological counseling.
New Technologies
As an advanced bariatric program, we use the latest technology to run our clinic, especially for communication. We are pleased to provide a video communication service offering 24/7 access to interpreters in more than 250 languages and a Health Insurance Portability and Accountability Act (HIPAA)-compliant application that sends secure messages to patients through My CS-Link. Our physicians and staff members use Voalte phones to communicate with each other. 
When we provide IV vitamin infusions to address mild dehydration in patients adjusting to their postoperative diets, we ensure patient comfort by using vein finder technology and providing a warm blanket and relaxing atmosphere.
Summary
The Cedars-Sinai Marina Weight Management Center is a multidisciplinary bariatric program that takes an individualized, sustainable lifestyle approach to patient care while addressing the mind, body, and spirit. We provide a range of services for patients in one visit, including pharmacy, blood work, chest x-rays, and clearances. Our program is a convenient solution for all pre- and postoperative needs. If services cannot be accommodated at our center, our staff provides all hospital services or referral appointment scheduling for patients.
We have an experienced, dedicated team that provides care in a calming environment. Our clinic uses the latest technology to remind patients of requirements, processes, and long-term follow-ups to promote strong patient adherence. We provide our patients  with opportunities to engage in fun, interactive support groups that include cooking demonstrations, tours of farmers' markets and grocery stores, patient celebrations, charity walks, and mentorship programs. As the bariatric department of Cedars-Sinai Marina del Rey Hospital, we have access to a variety of resources, making navigation easier for patients. We offer valet parking services for the convenience of our patients. Most importantly, we are a team of friendly physicians and staff members who are passionate about making the bariatric patient experience a safe, encouraging, and life-changing experience.
---
Notable Cases
We provided care for a married couple that navigated their weight loss journey together. The wife had gained weight after a prior bypass surgery, and the husband was interested in sleeve gastrectomy. They supported each other by attending all aspects of the program together. At their request, we scheduled their surgeries on the same day, and they attended all their postoperative appointments together. Ultimately, they lost a combined total of 211 pounds and regularly refer others to our program.
Another patient was a long-time scrub technician who had worked with us since the launch of our bariatric program. Initially intimidated by the idea of sleeve gastrectomy surgery, she later decided to prepare for the procedure. She navigated all the requirements and scheduled her surgery. She is now one of our many advocates for our program and weight loss surgery. She has lost 120 pounds and continues to refer patients, including family members.
One of our most challenging cases was a 68-year-old male patient who underwent a previous Roux-en-Y gastric bypass (RYGB) surgery at another facility. He had trouble tolerating solid and liquid food and had experienced a poor appetite for many years. The patient had been on total parenteral nutrition on and off for two years about 12 years prior. He had a recent low weight of 125 pounds, but the increased use of Ensure supplements could occasionally increase his weight to 145 pounds. An esophagogastroduodenoscopy (EGD) revealed that the patient had a 13cm pouch with a stricture in the mid-portion of his esophagus and another tight stricture at the gastrojejunostomy. His upper gastrointestinal showed little emptying from the pouch at 10 minutes. We surgically divided the pouch above the stricture at approximately 6cm from the gastroesophageal junction and performed another gastrojejunostomy. The patient responded well to the procedure and was discharged two days after surgery.  
Category: Bariatric Center Spotlight, Past Articles