by Pavlos Papasavas, MD, FACS, FASMBS
Dr. Papasavas is with Hartford Hospital in Hartford, Connecticut, and is the President of the Connecticut State Chapter of the American Society for Metabolic and Bariatric Surgery (ASMBS).

Funding: No funding was provided.
Disclosures: The author reports no conflicts of interest relevant to the content of this article.
Bariatric Times. 2021;18(6):12–13.
---
Welcome to the Connecticut State Chapter of the American Society for Metabolic and Bariatric Surgery (ASMBS).
Our state chapter organized in 2012, beginning with a membership of under 10 and growing to over 50 members in 2020. We look forward to continued growth and welcome new members from all programs and across the state. 
Connecticut ranks 42nd in states impacted by obesity and 34th in adults with Type 2 diabetes (9.8%). Although Connecticut is considered one of the healthier states, obesity affects 27% of its citizens and 13.4% of children 10 to 17 years of age. The age group most affected by obesity in Connecticut is 45 to 64 years (30.8%). Like in other states, obesity in Connecticut affects minorities disproportionally—37 percent of African Americans and 32 percent of Hispanics. These disparities were highlighted again during the COVID-19 pandemic. Connecticut was one of the states that was hit hard by the early phases of the COVID-19 pandemic. Fortunately, after the initial paucity of elective bariatric surgeries, we have been able to provide uninterrupted services to our patients through this day.
Connecticut is the only state in New England that has not recognized the disease of obesity and has not enacted an Essential Health Benefit that includes coverage of bariatric surgery for all residents. In 2019, our State Senator, Eric Berthel, introduced SB-317: An Act Requiring Health Insurance Coverage for Bariatric and Metabolic Surgery. The entire bariatric surgery community in Connecticut rallied to support this bill. Our board met weekly to organize the advocacy efforts and secured a grant from PAC. We recruited patients without insurance coverage for bariatric surgery to join bariatric surgeons and provide written and in-person testimonies during the public hearing. Bariatric surgeons had a strong presence at the "Doctor's Day at the Capitol;" they had the opportunity to meet with their elected officials and explain the importance of such a bill to the people of Connecticut who suffer from this chronic and debilitating disease. Although the bill did not make it to the Senate floor for a vote, this was an amazing experience for all of us. It united bariatric providers from competing programs around the same cause: obesity, and its treatment with bariatric surgery to become an essential health benefit. We will not stop until we succeed. In 2021, two bills were introduced in our state's legislature to achieve this goal. This is the third time we are trying and hopefully the last. I would like to recognize our STAR representative, Dr. Darren Tishler, for his tireless advocacy efforts and Drs. Jon Aranow, Neil Floch, Geoffrey Nadzam, Saber Ghiassi, Makram Gedeon and Aziz Benbrahim for their leadership.
Our members are active and engaged, having enthusiastically participated in Walk from Obesity events. Despite the small size of our state, Connecticut has been at the top in terms of states raising funds to support the ASMBS Foundation. In 2020, we sponsored a very successful virtual Walk from Obesity. Our state team, CT Strong 2020, won the Top ASMBS Chapter Award and was second place nationally for raising funds. Congratulations to our captain, Jane Sweeney, and all the colleagues who led our group and the event to this amazing achievement!

In 2018, under the leadership of Dr. Floch, we organized our first Obesity Summit at the Foxwood Resort. This has become an annual event, and our scientific meetings have continued to grow in attendance, drawing over 150 attendees. We are proud to offer a robust, multi-disciplinary program that covers a wide variety of topics related to the epidemic of obesity, such as novel medical treatments, the future of robotic surgery, new surgical approaches for revisional surgery, patient-reported outcomes, bariatric anesthesia and enhanced recovery protocols, advances in nutrition and mental health, patient advocacy, and panel discussions on how to address a person with obesity, obesity stigma, and bias. We have been privileged to work with a talented group of nationally renowned speakers who delivered interactive and dynamic talks on topics that were of interest to all disciplines. The two-day meetings were generously sponsored by our industry partners and gave the opportunity to our primary care providers and allied health professional colleagues to learn more about bariatric surgery and the disease of obesity. At the last Summit, we organized a Bariatric Jeopardy (CT Chapter vs. New England Chapter), which challenged the knowledge base of the participants. Many thanks to our ASMBS president, Dr. Matt Hutter, and the other colleagues from the New England chapter who participated in our meeting. We always try to have a little entertainment at the end of the first day, including stand-up comedy and singing!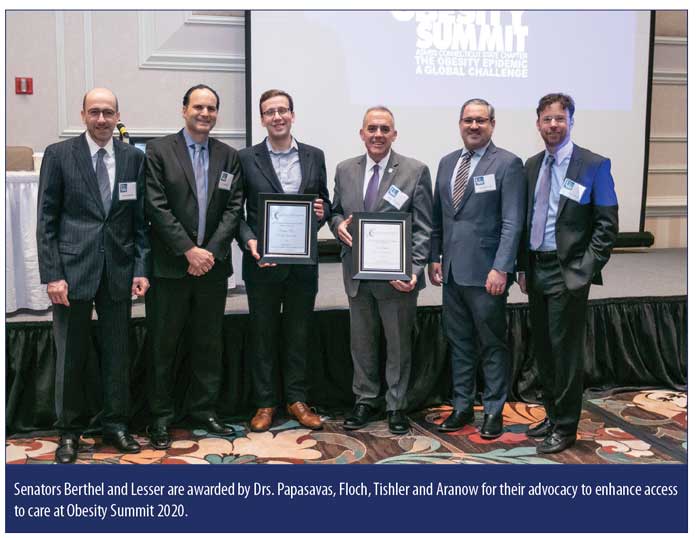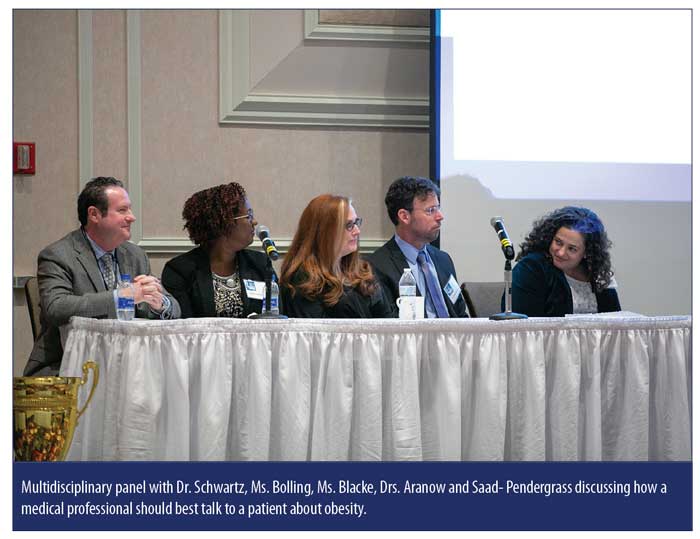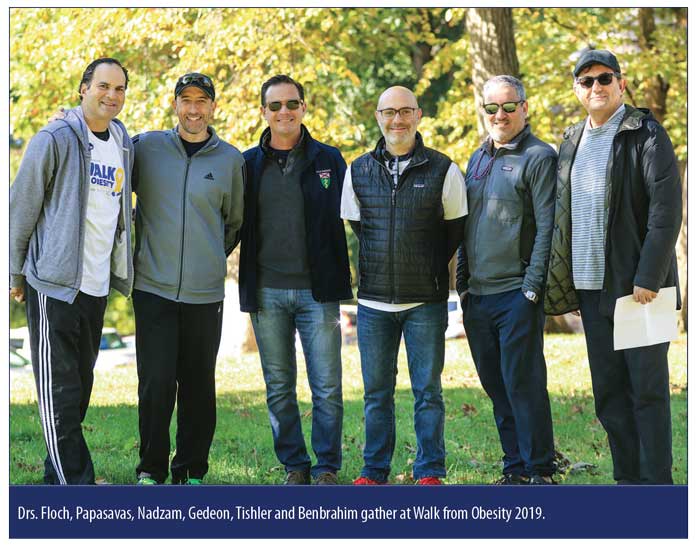 We have continued forward with our membership outreach and encourage our colleagues and their team members to join the chapter and actively participate. We are proud to have an Integrated Health Member on our Board, Dawn Garcia, APRN, and we recently welcomed ASMBS ex-president, Dr. John Morton, to our chapter. I would like to recognize Katy Dunay, our Executive Director, who has supported the chapter since inception, a great colleague and collaborator to me, all past presidents and boards of the chapter.
I hope you enjoyed reading about our chapter!

Board of Directors: 
Dr. Pavlos Papasavas, President
Dr. Geoffrey Nadzam, Vice President
Dr. Saber Ghiassi, Treasurer/Secretary
Dr. Darren Tishler, STAR
Dawn Garcia, Integrated Health Rep
Dr. Jon Pirrello, Member at Large
Dr. Jon Aranow, Member at Large
Dr. Makram Gedeon, Member at Large (recently resigned, moved to New York)
Dr. Vanessa Malit, Member at Large (new term beginning)
Dr. Neil Floch, Past President
Past Presidents:
Dr. Neil Floch
Dr. Aziz Benbrahim
Dr. Jon Aranow
Dr. Carlos Barba
Category: ASMBS State Chapter Spotlight, Past Articles