by Danny M. Vaughn, MD, FACS; Shaneeta Johnson, MD, MBA, FACS, FASMBS; and L. Renee Hilton, MD
Dr. Vaughn is with Atrium Health Navicent in Macon, Georgia. Dr. Johnson is with the Division of Metabolic and Bariatric Surgery, Morehouse School of Medicine in Atlanta, Georgia, in  Dr. Hilton is with the Medical College of Georgia at Augusta University in Augusta, Georgia.

Funding: No funding was provided.
Disclosures: The authors report no conflicts of interest relevant to the content of this article.
Bariatric Times. 2021;18(5):12.
---
The Georgia State Chapter of the American Society for Metabolic and Bariatric Surgery (ASMBS) was originally founded in 2009. Since that time, the priority of our organization has been improving access to care for our residents. Georgia holds the dubious distinction of being one of only six states in the country that does not cover bariatric surgery for state employees. Most of our advocacy efforts have been geared toward solving that problem. In 2018, our chapter was reorganized with new bylaws and officers. This allowed us to approach our advocacy efforts in a more cohesive manner. Chapter members testified before legislative committees at the State Capitol on multiple occasions in an effort to convince our state government to include bariatric surgery coverage in the State Health Benefit Plan. Unfortunately, those efforts did not yield results in 2018 and 2019. Dr. Renee Hilton, MD, and S.T.A.R. for Georgia met with key members of the governor's staff, including his health policy advisor, members of the Lieutenant Governor's office, and numerous senators and house representatives. The chapter held our first annual Obesity Day from August 16 to 18, 2019, at the King and Prince resort in St. Simons Island, Georgia. This meeting allowed us the opportunity to view presentations on a wide range of topics related to care of the bariatric patient. We were privileged to have Dr. John Scott as an invited speaker to discuss "Strategies to Improve Access to Care: Local and National Actions." Several of our state legislators were also present to participate in a panel on legislative advocacy (Ben Watson, MD, Katie Dempsey, and Jodi Lott). Our 2020 meeting was unfortunately cancelled due to COVID-19. On February 4, 2020, the Georgia Chapter of the ASMBS sponsored Obesity Awareness Day at the Georgia State Capitol. Members were present and spoke on the floor of the State House of Representatives regarding obesity and the importance of providing surgical treatments to our state employees. Resolutions supporting Obesity Awareness Day were read in both the house and senate. Dr. Hilton also had a meeting with Governor Brian Kemp in February 2020, which was the most promising meeting to date with the start of a discussion for plans for the benefit to be added back into the state employee health benefit plan. We left feeling confident that we were making progress, but the COVID-19 pandemic has put a stall on legislative action as well as additional meetings with the Governor. We are hopeful to rekindle these efforts in 2021. We have recently reached out to the Governor regarding the COVID-19 pandemic and the impact this virus has on patients with obesity. The chapter continues to drive toward increasing membership, advocacy for our state residents, and increasing awareness of treatment and prevention of obesity in our communities. We also continue to place an emphasis on making the chapter an organization focused on fellowship and networking for bariatric surgeons across the state. The chapter's current leadership includes President Dr. Shaneeta Johnson, Vice-President Dr. Renee Hilton, and Treasurer/Secretary Dr. Jamil Stetler. Dr. Danny Vaughn, Dr. Oliver Whipple, Dr. Fritz Jean-Pierre, Dr. Robert Richard, and Dr. Paul Cartwright sit on our Board of Directors. As previously stated, increasing membership is one of our top goals at this time. If you are reading this and you are a bariatric surgeon in Georgia, we want you to get involved. Please reach out to any of our officers or directors to see how you can help. You can also visit our website at www.asmbsga.org for information about our chapter. Our next Obesity Day and annual meeting is planned for August 13, 2021, in St. Simons Island, Georgia.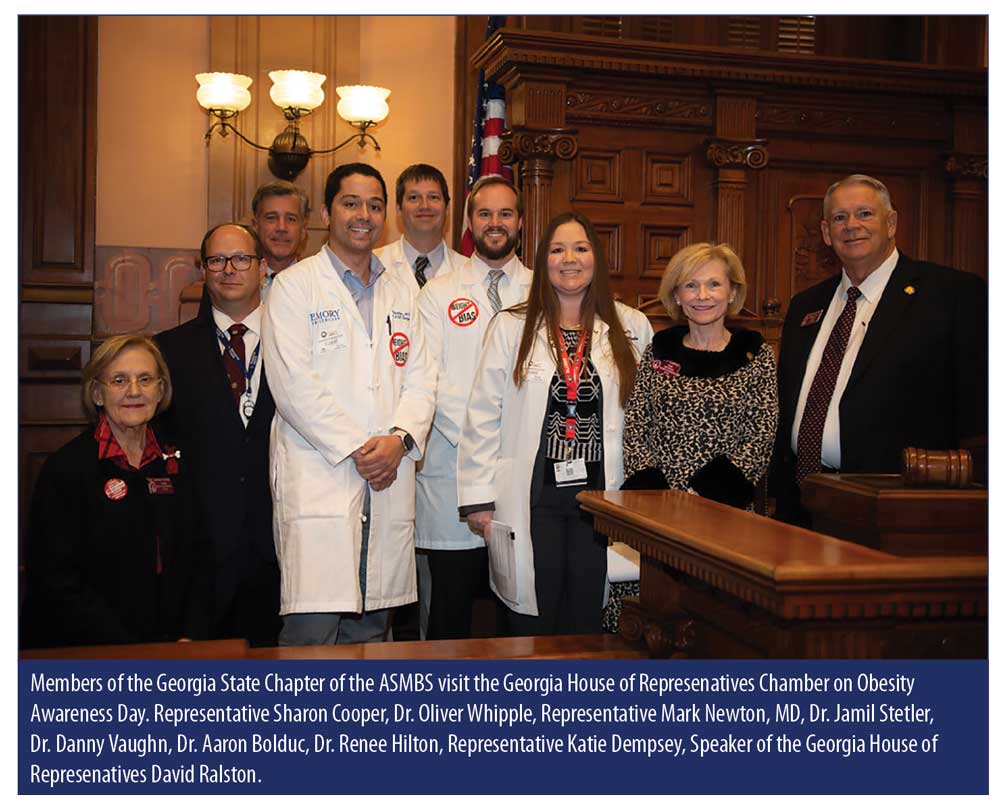 Category: ASMBS State Chapter Spotlight, Past Articles