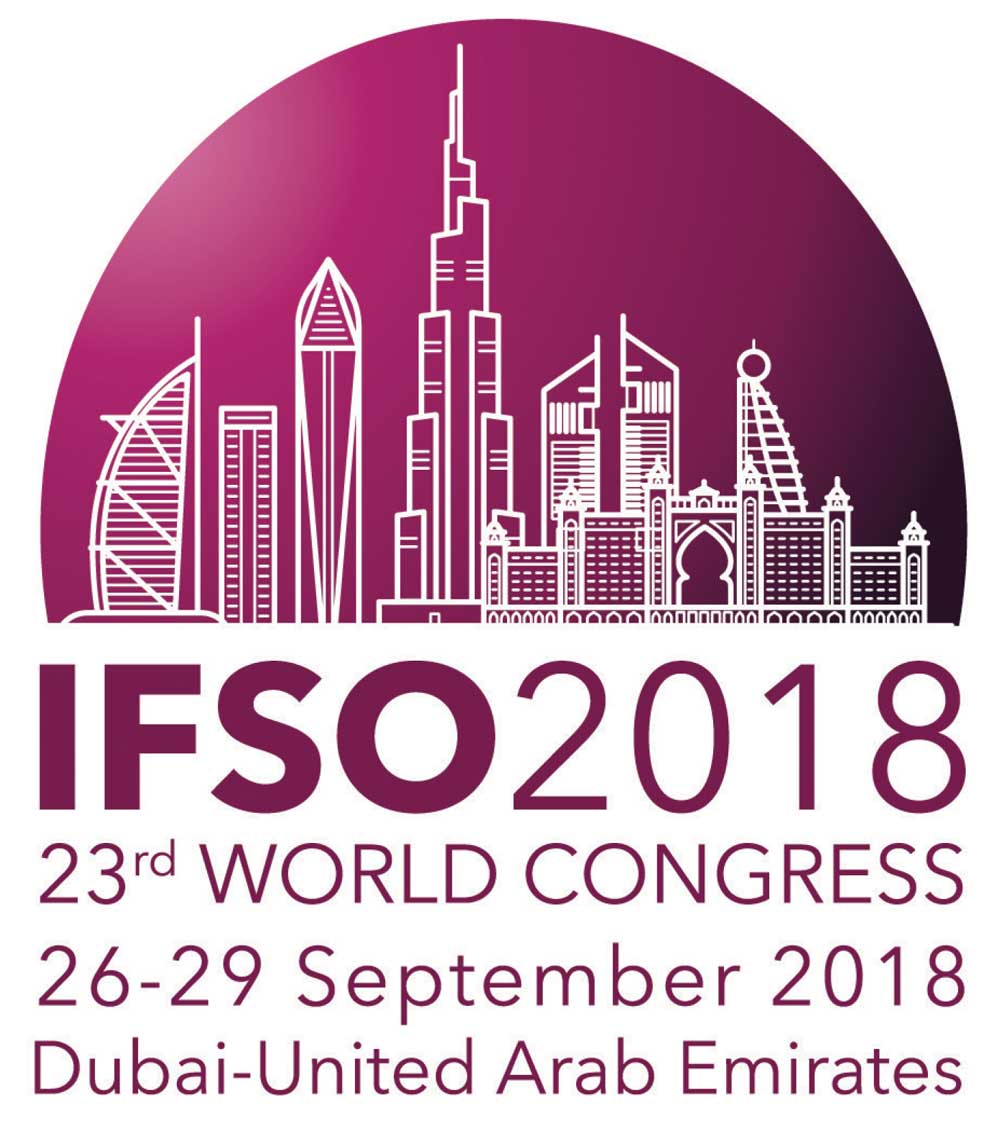 by Jacques Himpens, MD, PhD
Dr. Himpens is an associate professor, université libre de Bruxelles Chief, bariatric-metabolic department CHIREC Delta hospital in Brussels, Belgium.
Funding: No funding was provided.
Disclosures: The author is the current president of IFSO.
Bariatric Times. 2018;15(5):17–18.
A message from IFSO President Jacques Himpens, MD, PhD
Dear Readers,
I am happy to invite you to the 2018 World IFSO Congress to be held in Dubai, United Arab Emirates, September 26 to 29, 2018.
Dubai is the tourism and commercial capital of the Arabian Gulf states, a fantastic fusion between East and West that combines ancient heritage and modern living. The beautiful city is continuously gaining importance as a touristic, economic, and scientific location and will host World Expo 2020. In fact, Dubai is considered by many to be one of the best places to live in the Middle East.
In addition, Dubai's airport is an important hub for many airlines, uniting destinations in the East and West. As a result, the 2018 World IFSO Congress venue is swiftly reachable from most cities across the globe.
Participants to the Congress will enjoy a superb scientific program focusing on an array of topics in the field of adiposity-based chronic diseases, through postgraduate courses, symposia, expert talks and video, and pre-recorded operations.
The aim of the congress is to not only educate but to unite healthcare professionals from different specialties and from around the world in their fight against the adiposity epidemic.
I believe that all ingredients are present to make the 2018 IFSO World Congress an enjoyable, fruitful, and unforgettable experience for everyone. I look forward to meeting you there!
Sincerely,
Jacques Himpens, MD, PhD
Overview
The 23rd World Congress of IFSO (International Federation for the Surgery of Obesity & Metabolic Disorders) will be held in Dubai, United Arab Emirates, September 26 to 29, 2018. IFSO is a federation composed of national associations of bariatric surgeons and integrated healthcare professionals, and currently has 62 member societies.
IFSO is a scientific organization that brings together surgeons and integrated healthcare professionals, such as surgeons, nurses, physicians, dietitians, psychologists, and anesthesiologists, involved in the treatment of patients with morbid obesity.
One of IFSO's main goals is to support the professional needs of its members. One of IFSO's main activities is the organization of the yearly World Congress, which provides a forum to exchange knowledge on surgical treatment of patients with severe obesity, to present new surgical techniques and treatments, latest research and concepts, and to meet the experts in the field.
IFSO 2018 Scientific Program
The scientific program for IFSO 2018 provides a unique opportunity for all those interested in obesity and metabolic surgery to share their experiences, expertise, and knowledge to the worldwide IFSO community. The program committee has dedicated 20 sessions for abstracts this year to give ample opportunity for authors to share their research with the largest audience of surgeons and allied healthcare professionals working in the field of bariatric and metabolic medicine. Authors can submit abstracts for original oral, poster, and video presentations on any of the congress scientific topics.
IFSO 2018 will offer 10 postgraduate courses, multiple symposia, and numerous oral, video, and poster presentations. The program this year will focus on debates that address specific areas of concern, such as reflux disease, sleeve gastrectomy, and long-term outcomes after surgical procedures. In addition, there will be sessions on emerging technologies, date registries, and new procedures for patients with a body mass index (BMI) of more than 50 or patients with super obesity.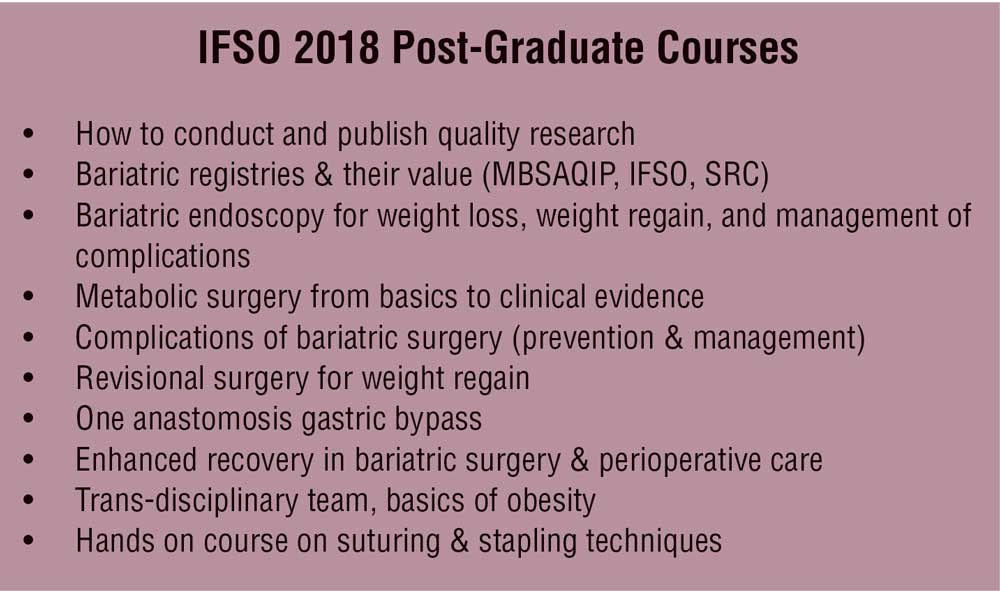 For the first time in the exhibition hall, there will be a simulation center to give participants hands-on experience with robotic surgeries, as well as endoscopic and laparoscopic procedures. IFSO's scientific committee has planned a large plenary session for 2,000 participants, in addition to the four parallel sessions. 
For the first time, IFSO will offer scholarships to one IFSO integrated health member from each of the five IFSO chapters who have demonstrated commitment through accomplishment and show strong potential for meaningful careers in obesity-related specialties.

Dubai as a Destination
Located on the Arabian Peninsula, Dubai is a prime meeting place at the crossroads of Europe, Asia, and Africa, and a global hub for trade, commerce, knowledge exchange, and innovation. Dubai has transformed itself into a buzzing international metropolis and has embraced people from over 200 nationalities who live and work in Dubai.
Dubai's central location makes it one of the busiest travel hubs in the world, and Dubai International Airport is ranked first in the world for international passenger traffic with over 7,000 weekly flights. The organizer of IFSO 2018 has proudly appointed Emirates Airline as the official airline partner. Emirates Airline has excellent connections to all six continents with more than 150 destinations worldwide. The participants will receive a 10-percent discount on regular fares when they book their tickets from the Emirates Airline website.
Dubai has a diverse range of premium, standard, and budget hotels offering services that cater to all needs and budgets. There are close to 700 hotels in the Emirate, together offering more than 100,000 rooms. Current estimates show that a total of 134,000 rooms are expected by the end of 2018. Moreover, Dubai has a politically stable environment and is a safe city for citizens, residents, and visitors alike. According to Interpol, Dubai is one of the safest cities in the world in terms of crimes and health, providing reassurance for IFSO participants.
Congress Venue
The congress venue, Dubai International Convention and Exhibition Centre (DICEC) is centrally located within the business hub of Dubai amid the city's iconic landmarks. The city's premier venue and destination welcomes 2.74 million visitors to Dubai each year.
DICEC has over 120,000m2 of exhibition and meeting space and is only a 10-minute drive or a Metro Red line ride from the airport. In addition, many hotels in Dubai offer high quality and sizeable meeting space.
Category: Past Articles, Symposium Preview