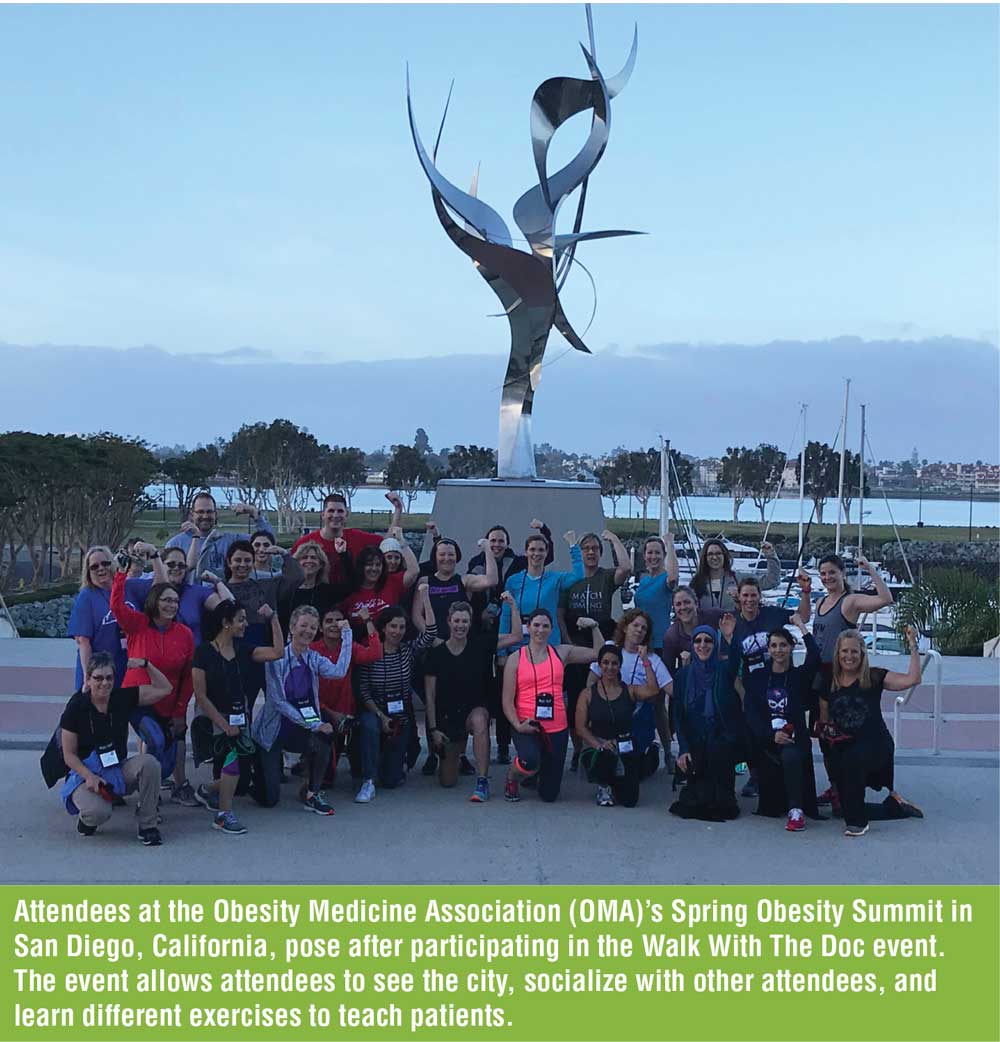 By Claudia Randall
Funding: No funding was provided for this article.
Disclosures: The author is the executive director of the Obesity Medicine Association.
Bariatric Times. 2018;15(5):14–15.
Obesity Medicine is the Science of Hope
Wendy Scinta, MD, the president of the Obesity Medicine Association (OMA), welcomed more than 660 physicians and other healthcare providers who gathered at OMA's spring conference in San Diego, California, in early April 2018 to share clinical knowledge, hear about new research, and exchange stories of hope.
"Obesity medicine is the science of hope," Scinta told the crowd. Scinta, who practices in Syracuse, New York, also told the audience that last year, she saw her first 600-pound patient.
"He had been told by the surgeon that he was too big for obesity surgery and could not fit on the operating table," she said. But obesity medicine is about providing hope to patients. Scinta said that five months later, the same patient had lost 200 pounds and was using a treadmill desk every day to achieve his goals.
The OMA conference featured several informative sessions that gave providers the tools and roadmap to continually grow their practices and provide hope to their patients. Highlighted sessions on intermittent fasting, post-surgical treatment with anti-obesity medications, motivational interviewing, and telemedicine were well attended and created a stir in the audience and on social media.
Fasting is an emerging option for those who are coping with obesity. Fasting is a common activity that millions of people participate in regularly, from medical test preparation to religious observances. But for some reason, fasting for weight loss is a less popular therapy for patients with obesity, according to Jason Fung, MD, a nephrologist from Scarborough General Hospital in Toronto, Canada.
"We tell patients to fast all the time for medical tests, so we know that a 24-hour fast will not harm them," Fung said. For patients who have chronic obesity and Type 2 diabetes, one of the only ways to reduce their disease is to lose weight. For patients who need to lose 100 pounds, fasting is one treatment approach that can be effective, Fung said.
He said most fasting focuses on a period of time, such as a 24-hour fast or for two days per week. Fasts can last longer, but Fung noted that the longer the time covered, the more risk a patient undertakes. He recommends that people seeking to lose significant weight not exceed a 24-hour fasting period.
"Where did this notion of eating six times a day come from?" he asked. "If you don't eat, you will lose weight. The key is finding a way that works best for the individual patient."
For patients who want to lose weight by fasting, Fung has developed an online coaching program that provides the education, guidance, support, and structure for weight loss and Type 2 diabetes reversal.
"Fasting has come a long way in a short period of time," he said. "Five years ago, it wasn't considered, but now more people view fasting as a serious alternative or option for weight loss and obesity treatment."
Anti-seizure medication can aid weight loss for patients after surgery. Patients who were given the anti-seizure medication, topiramate, after weight-loss surgery lost a statistically significant 10 percent of their weight or more, according to Fatima Cody Stanford MD, MPH, MPA, an obesity medicine physician at Massachusetts General Hospital in Boston, Massachusetts.
Approximately 25 to 30 percent of patients who undergo weight-loss surgery experience inadequate weight loss or weight gain after surgery. To determine what therapies might help these patients, Stanford and her colleagues analyzed 319 patients who had either Roux-en-Y gastric bypass (RYGB) or a sleeve gastrectomy between the years 2000 and 2014.
In addition to the findings about patients who were given topiramate, Stanford found that patients who underwent RYGB were significantly more likely to lose at least five percent of their total weight with the aid of any anti-obesity medications.
Stanford theorized that surgery initiates some changes in the patient's body that make them more likely to benefit from the medications that did not work before surgery. She said further studies are necessary to determine what biochemical changes occur in the body after surgery that could create this reaction to the medication.
Is telemedicine a serious model for delivering care? There were several presentations on telemedicine throughout the conference, including one by Jeremy McConnell, MD, which combined the topic of telemedicine with insurance billing and coding. The room was packed with providers learning best practices for incorporating telemedicine into an obesity medicine practice and getting reimbursed.
Telemedicine has traditionally served to improve access to medical care in rural or underserved areas. Now, new signs suggest telemedicine might be on the cusp of wider acceptance and use.
McConnell said there are several reasons why telemedicine is growing in popularity. He has three telemedicine practices that treat patients with sleep disorders, obesity, and mental health problems.
"There are 29 states and the District of Columbia that now mandate, for certain treatments, telemedicine visits be reimbursed at the same rates as in-office visits," he said. McConnell also pointed out that the Affordable Care Act (ACA) mandated coverage for obesity screening and counseling visits as a United States Preventive Services Task Force (USPSTF) Grade B recommendation. The policies of individual payers determine whether this service is reimbursed when delivered via telemedicine, but McConnell reports few rejections when claims are properly submitted.
He said obesity treatment could lend itself well to telemedicine's model. "Weight loss and obesity management require a long-term commitment by the patient along with follow-up and support from the medical team," he said.
Much of this can be effectively delivered to patients by video online, allowing the patient to participate from the comfort of his or her own home.
Other areas of the healthcare system might find positives in telemedicine's efficiency. 
"Payers see telemedicine as a way to reduce healthcare costs for treating non-urgent conditions, and patients love it because it's fast and convenient," McConnell said.
He said that the healthcare system is finally catching up with the technology. Broadband internet, the popularity and comfort of video, and Bluetooth and long-term evolution (LTE) technologies allow providers practicing telemedicine to employ wearable technology to track and download patient data to improve monitoring and follow-up.
"I bought my first Bluetooth scale to weigh patients in 2013. That technology has allowed us to better track and incorporate patient data into our treatment software and employee health record files," McConnell said.
McConnell's own experience adding telemedicine services to his obesity medicine practice supports his advice to other providers that they consider using this technology to reach more patients in a manner that is good for the patients and supports the provider's quality of life.
To learn more about the OMA, upcoming educational opportunities, and tools for healthcare providers, visit www.obesitymedicine.org.
Category: Past Articles, Symposium Synopsis