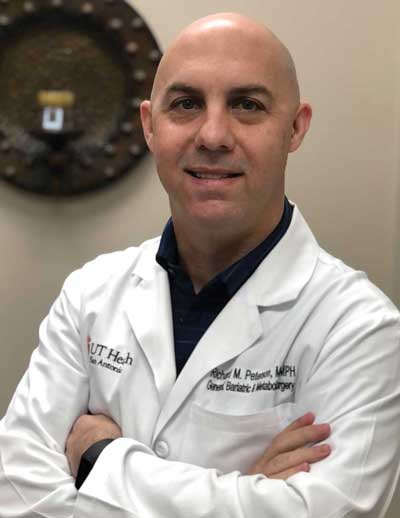 Richard M. Peterson, MD, MPH, FACS, FASMBS, is the Co-clinical Editor of Bariatric Times; Professor of Surgery, UT Health San Antonio; Chief, Bariatric and Metabolic Surgery UT Health San Antonio, San Antonio, Texas.
Dear Colleagues,
I had the pleasure of attending the American College of Surgeons (ACS) Quality and Safety Conference in Chicago just a few weeks ago. The Metabolic and Bariatric Surgery Accreditation and Quality Improvement Program (MBSAQIP) track of the meeting was full every day. I participated in the quality improvement workshop (MBSAQIP Quality Improvement 101: An Interactive Session for Novice Quality Improvement Leaders) that was part of this meeting, as well as part of our annual American Society for Metabolic and Bariatric Surgery (ASMBS) meeting. I've been a part of this session before in other meetings, but the talk on the statistics and modeling given by Ariel Grieco brought a whole new perspective to reading and understanding the semi-annual report (SAR). I've asked that they get her to do a voiceover of her presentation and put it out there for us to have and review. The session itself is all-inclusive and had surgeons, coordinators, and clinical reviewers in the audience. After the lecture component, attendees in the session were separated into groups and given SARs with "patient data files" to help interpret their SAR and form a project from the data. 
As a site surveyor for the MBSAQIP, I have found that identifying a project can be a very difficult task for programs. If you have a SAR with "needs improvement," this is often the absolute best place to start. With over a million patients in the MBSAQIP database, we are seeing a lot of improvement. One statistic that continues to stand out to me is the leak rate on sleeve gastrectomy. Years ago, when I was still doing in-person seminars, the quoted rate of leak from sleeve gastrectomy was about one percent. Not a high number by any means, but today, looking at the database (all comers anyway) we can see that we have reduced that number to 0.18 percent. That is amazing. It continues to reinforce the incredible quality that we are providing in this space for our patients. 
I also had the pleasure of moderating a session on "The New Normal: Novel Approaches to Adapting in Uncertain Times." Dr. Christine Lovato discussed the challenges and positives of implementing telemedicine into her practice, Pam Davis talked about supporting our patients virtually, and Dr. Cori McBride shared lessons on changing a practice paradigm to outpatient bariatric surgery. We've seen a lot of changes since the COVID-19 pandemic became the new normal. It was nice hearing and seeing ways for us to continue to improve and provide access to care for our patients, regardless of changes that impacted our ability to care for patients for a period of time.
Even if you didn't have a chance to attend the quality meeting and learn in-person, by participating in the MBSAQIP and sharing your data, you are making a difference and helping everyone else who is participating. Thank you for all you do for our patients, and I look forward to having a spotlight on the MBSAQIP and tips to be shared with the now current Chair of the ACS Committee on Metabolic and Bariatric Surgery, Dr. Stacy Brethauer, in future issues of Bariatric Times. 
Sincerely,
Rich Peterson, MD, MPH, FACS, FASMBS 
Category: Editorial Message, Past Articles