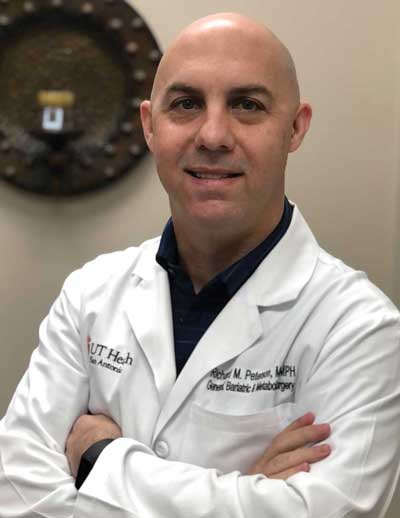 Richard M. Peterson, MD, MPH, FACS, FASMBS, is the Co-clinical Editor of Bariatric Times; Professor of Surgery, UT Health San Antonio; Chief, Bariatric and Metabolic Surgery UT Health San Antonio; Director, Christus Weight Loss Institute – Westover Hills, San Antonio, Texas.
Dear Colleagues,
This editorial comes after our first in-person annual meeting of the American Society for Metabolic and Bariatric Surgery (ASMBS) since having been a part of ObesityWeek. From my perspective, the meeting was a tremendous success. It was great to be able to connect with so many colleagues from across the country in person again. There were so many sessions and tracks to attend. It was difficult to know which session I wanted to attend at times, but that is a good problem to have. That having been said, there weren't as many conflicting sessions as we've had in the past. The video sessions have always been a huge hit at any of our meetings, but this meeting used a "Palooza" format to incorporate videos and paper abstracts in one session. This was a great way to mix it up, and from my past experience as Chair of the program committee, this was a well thought out way to find a balance in our sessions. In the past, those video sessions would be brimming with attendance, and the competing sessions would typically suffer to a degree. Of course, there was also the piranha pit session that was all videos and full of exciting presentations that sparked a lot of discussion. 
Along with one of the newest membership opportunities, the mentorship program and its meet and greet and networking, the program committee continued with the tradition of the Presidential Grand Rounds, in which a past president of the society was paired with a current or incoming fellow in bariatric surgery. These were held in the exhibit hall and were well attended, even during the breaks.
Dr. Shanu Kothari presented many of the initiatives that he had spearheaded during his year as president. He has set the changing of the criteria for bariatric surgery in motion and has worked vigorously to update the antiquated 1991 National Institutes of Health (NIH) guidelines for bariatric surgery. In his presidential address, he poignantly asked, "In what other specialty do we rely on 30-plus-year-old guidelines to direct our practice?" I look forward to seeing the final product that insurers will follow that will expand our patients' access to care. 
We also saw the passing of the gavel from Dr. Shanu Kothari to Dr. Teresa LaMasters. Dr. LaMasters has a great vision for her year as president and has been an avid proponent for quality improvement in our society, with her longstanding experience working on the Metabolic and Bariatric Surgery Accreditation and Quality Improvement Program (MBSAQIP) standards. She has a lot of exciting ideas, and I look forward to seeing them unfold.
This meeting also saw a celebration of those members that were part of the first Focused Practice Designation (FPD) exam with a reception and toast in the exhibit hall. Approximately 100 surgeon members of our society are now FPD designates and thus helped paved the way for a new era in our society.
I look forward to being able to see our members at the next ASMBS Weekend meeting, to be held in my hometown of San Antonio, Texas, in November.
Sincerely,
Rich Peterson, MD, MPH, FACS, FASMBS 
Category: Editorial Message, Past Articles