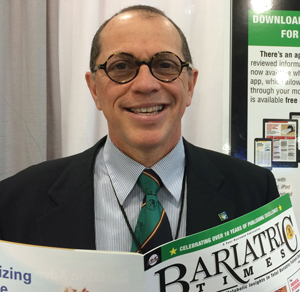 A Message from Dr. Raul J. Rosenthal
Raul J. Rosenthal, MD, FACS, FASMBS, Clinical Editor, Bariatric Times; Professor of Surgery and Chairman, Department of General Surgery; Director of Minimally Invasive Surgery and The Bariatric and Metabolic Institute; General Surgery Residency Program Director; and Director, Fellowship in MIS and Bariatric Surgery, Cleveland Clinic Florida, Weston, Florida
---
Dear Friends and Readers of Bariatric Times:
As we get closer to Obesity Week and the end of 2017, we present to you another wonderful issue of Bariatric Times. In this issue, we're pleased to recognize this year's LEAD Award recipients. The awardees will also be recognized at the LEAD Awards luncheon during Obesity Week, and you won't want to miss it. Join Marina Kurian, MD, FACS, FASMBS, the ASMBS Foundation President, to celebrate these wonderful recipients. We thank people in the industry for their support, and the members of the Foundation Board for their outstanding work.
Also included in this issue are two informative review articles that help us understand hormonal and bacterial processes of the digestive system before and after weight loss surgery. April Smith, PhD, from Creighton University, discusses how neurohormones can influence obesity, and Diana Maio from Beth Israel Deaconess and Harvard School of Medicine describes small intestinal bacterial overgrowth (SIBO), a rare complication of Roux-en-Y gastric bypass. I struggle to diagnose and successfully treat patients that have intractable microbiome diarrheas or cyclical hypoglycemia (neurohormonal axis) years after undergoing an uneventful gastric bypass.
Next, Dr. Sam Szomstein, the President of the Florida, Puerto Rico, and Caribbean ASMBS chapter, gives us a brief history and an overview of his chapter's accomplishments. I remember Dr. Michel Murr starting what I believe was one of the first state ASMBS chapters in the country.
Following this, we present an interview with John Morton, MD, FACS, FASMBS, Past President of ASMBS and founder of Obesity PAC. John gives us a good synopsis of the work we have ahead of us to help our policy makers understand the burden of the obesity epidemic, as well the major impact bariatric interventions can have on metabolic disease. I can't emphasize enough the importance of the PAC and how grateful we should be to John for getting this important committee off to a great start.
And finally, I would like to announce to our dear readers that I have accepted with great pride and honor an offer to join Harvey Sugerman, MD, FACS, FASMBS, to become Co-Editor in Chief of the journal Surgery for Obesity and Related Diseases (SOARD). I consider myself lucky to learn from the best who started a journal from scratch and in a few years made it one of the top 11 of 199 surgical journals worldwide. As such, I will transition to my new position with SOARD in January 2018, and I will help Bob Dougherty, Publisher of Bariatric Times, find a new Editor who will, in my place, continue to grow BT. I have no words to express and can't thank Bob and the editorial team of Bariatric Times enough for the opportunity I was given to build and shape this journal since 2004. I especially thank Angela Saba, Managing Editor (and who's just become a wonderful new mom), for her assistance and hard work with the journal over the years. I am honored to have been Bariatric Times's founding editor and to have helped Bob and his team develop what is considered, today, to be the prime bariatric magazine in the world.
I look forward to seeing you in Washington D.C. and joining Stacy Brethauer, MD, FACS, FASMBS, President of ASMBS, for what will be the most exciting scientific gathering we have ever had. Safe travels!
Sincerely,
Raul J. Rosenthal, MD, FACS, FASMBS
Category: Editorial Message, Past Articles