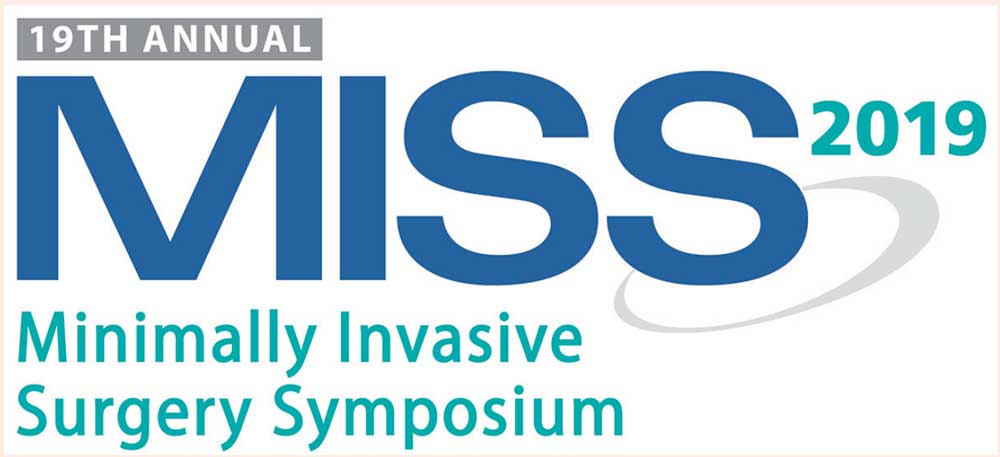 by Lisa Hack
Ms. Hack is a freelance writer.
Funding: No funding was provided.
Disclosures: The author has no conflicts of interest relevant to the content of this article.
Bariatric Times. 2019;16(9):9–10.
---
The 2019 Minimally Invasive Surgery Symposium (MISS), which took place February 25 to 28, 2019, at the Encore at Wynn Las Vegas in Nevada, represented the 19th year for MISS and featured more than 70 presentations on colon, hernia, foregut, and bariatric/metabolic surgery and enhanced recovery after surgery, as well as Q&A panels, scientific poster sessions, and a number of independent breakfast and lunch symposia.
MISS 2019 participants had the opportunity to earn up to 29 AMA PRA Category 1 Credits™ (including optional maintenance of certification [MOC] self-assessment credit), as designated by the symposium's providers—the University of Cincinnati and the Global Academy for Medical Education.
Colon Program Highlights
Most of Monday's and a few of Tuesday's sessions focused on a number of critical colon issues. Topics included an overview of the current state of colorectal surgery, robotic versus laparoscopic minimally invasive colorectal surgery, robotic sigmoid colectomy, the best approach to splenic flexure, intracorporeal anastomosis, and complicated diverticulitis.
Bradley R. Davis, MD, of Charlotte, North Carolina, welcomed attendees to this portion of the program and talked about the evolution of the MISS colon program over the last 10 years. He commented on minimally invasive surgery, saying that conference attendees no longer need a "how-to" or a "show and tell" about specific techniques.
"It's more about understanding the discipline and how to manage complex patients and their disease processes," Davis said.
Enhanced Recovery Program Highlights
A few afternoon sessions on Monday and late morning sessions on Tuesday were devoted to the subject of enhanced recovery. Topics included the physiology behind enhanced recovery, carbohydrate loading and glucose management, goal-directed fluid management, opioid-related adverse events, creating the team, prehabilitation and patient education, anesthesia techniques, and postoperative medications and care.
Hernia Program Highlights
Hernia sessions began Tuesday afternoon and included such topics as understanding abdominal wall anatomy, postoperative management, biologic and biosynthetic prosthetics, and robotics.
Guy R. Voeller, MD, of Memphis, Tennessee, described the permanent use of synthetic mesh in hernia repair as a "hot mess."
"While mesh is a very good product, it does have complications," Voeller said. "Asking a lay person to understand all of the complexities of the issue is daunting, so you try to help the patient understand as much as you can."
In a session about the pros and cons of robotic repair of inguinal hernias, Ajita Prabhu, MD, of Cleveland, Ohio, said the jury is still out on whether the robot is more advantageous than laparoscopy for inguinal hernia repair.
"There's a demographic of surgeons out there who are not comfortable with laparoscopy who are adopting the robot, but clinical data are lacking," Prabhu said. "We need to look at operative times, cost, and whether there is a clinical benefit to robotic repair over laparoscopy."
Foregut Program Highlights
The Foregut sessions began late Tuesday and continued into Wednesday morning. Topics included surgical treatment of Barrett's esophagus, assessing motility, new options for gastroparesis, and whether to use mesh for giant paraesophageal hernia.
In a session entitled, "Procedure choice: Should the patient decide?" Marina S. Kurian, MD, of New York, New York, answered the session title's question with an emphatic "no," explaining that procedure choice for gastroesophageal reflux disease (GERD) needs to be a decision made by the surgeon and patient jointly. She explained that about 90 percent of the choice between a surgical and medical approach is the patient's, with the remaining 10 percent belonging to the surgeon. Conversely, about 10 percent of the choice of specific surgical procedure for GERD is the patient's, with the remaining 90 percent belonging to the surgeon.
Metabolic/Bariatric Program Highlights
The flagship portion of the MISS conference began Wednesday afternoon and continued into Thursday.
The first speaker, Professor John B. Dixon, MBBS, PhD, FRACGP, FRCP(Edin), of Melbourne, Australia, discussed the science of aging and the implications of aging on bariatric surgery. He pointed out that in older adults with obesity, there is a distinct lack of compelling data demonstrating benefits of intentional weight loss, but that there is well-documented evidence that it leads to loss of bone and muscle mass, is associated with more than a doubling of the risk of hip fracture, and potentially increases frailty, morbidity, and mortality. In addition, he reported that another study found that in adults older than 70 years of age, there was a possible benefit of weight loss for physical function but no benefit for quality of life or cognitive function. As a result, Dixon emphasized that in the older patient, intentional weight loss must be accompanied by an appropriate exercise program.
He then explained that in people with chronic disease (e.g., cardiac failure, Type 2 diabetes, chronic renal disease, acute coronary syndrome, hypertension with established coronary artery disease, chronic pulmonary disease), carrying additional weight has some protective effects. Patients with overweight or Class 1 obesity have better outcomes and lower body mass index (BMI)-related mortality than people who are of normal weight. And while obesity is problematic in middle age, recent onset of obesity in late life is not.
In the end, Dixon said among patients who are older than 65 years of age, surgeons should restrict bariatric surgery to those with an increased risk of mortality and obesity-related impaired quality of life.
Aurora D. Pryor, MD, of Stony Brook, New York, who is the MISS foregut program director and President of the Society of American Gastrointestinal and Endoscopic Surgeons (SAGES), presented two sessions. In a keynote address Wednesday afternoon entitled, "Managing reflux after bariatric surgery," she explained that sleeve gastrectomy is such a popular procedure and that there is a decent amount of reflux and worsening of symptoms after the procedure. She emphasized that one of the most important things bariatric surgeons can do is to completely and appropriately evaluate patients before surgery and explore all surgical options.
On Thursday morning, she presented, "Band to bypass: One or two stages." She said in most cases, this doesn't need to be a two-stage process and that one stage is easier on patients.
"It cuts back on time lost and recovery, and it's safe as one stage," Pryor said.
With regard to revisional bariatric surgery, she said, "there's a lot of things people are doing. We need an algorithmic approach so that we're consistent and can study various approaches."
Pryor also had strong feelings on whether it is time for new criteria for metabolic surgery beyond BMI.
"Yes," she said without hesitation. "One of the biggest problems in my practice is the patient with a BMI of 32kg/m2, reflux, and esophageal dysmotility. These patients should have gastric bypass, but it's hard to get approved. If we could use medical sense instead of just the hard numbers, we could provide much better care for our patients."
Stacy A. Brethauer, MD, of Columbus, Ohio, spoke more about this in his session on Thursday morning entitled, "Metabolic surgery for BMI 30–35: Updated ASMBS Position Statement." After reviewing the health effects and management choices associated with Class I obesity, he summarized that systematic reviews of the numerous randomized, controlled trials of programs incorporating diets, exercise, pharmacotherapy, and behavioral therapy have reported a mean weight loss in the range of 2 to 6kg or less at one year and poor maintenance of that weight loss beyond that time.
Because of this and the availability of data examining the safety and efficacy of metabolic/bariatric surgery for patients with a BMI less than 35kg/m2, the American Society for Metabolic and Bariatric Surgery (ASMBS) updated its position statement on bariatric surgery in patients with Class I obesity in 2018. Recognizing that this group requires durable treatment, they now recommend offering bariatric surgery after nonsurgical therapy has failed. They say that adjustable gastric band (AGB), laparoscopic sleeve gastrectomy (LSG), and Roux-n-Y gastric bypass (RYGB) have all been shown to be safe and effective in this group and to have the same beneficial effects as in groups with higher BMIs.
On Wednesday afternoon, Scott A. Shikora, MD, of Boston, Massachusetts, reviewed the pros and cons of one anastomosis gastric bypass (OAGB) (mini) versus RYGB. After reviewing results from a number of trials and a meta-analysis/systematic review, he summarized that the current OABG achieves weight loss and metabolic benefits similar to RYGB with fewer complications and that the risk of esophageal cancer is minimal.
Also on Wednesday afternoon, Matthew M. Hutter, MD, MPH, of Boston, Massachusetts, discussed reoperative surgery and coverage implications. He said revisions are costly, but they're a necessary byproduct of effective primary operations.
"If we don't prove that revisions are appropriate on their own accord, then our patients will be subject to noncoverage decisions for revisions based on known costs but unproven outcomes," Hutter said. He added that physicians would lose the opportunity to collect the data necessary to prove the appropriateness of these procedures.
In a particularly well-received panel discussion on Thursday morning, which was moderated by Philip R. Schauer, MD, of Cleveland, Ohio, four bariatric surgeons shared their own personal weight loss journeys and their experiences with various bariatric surgical procedures. Corrigan McBride, MD, of Omaha, Nebraska, began by explaining she'd battled her weight since adolescence. She received a lap band in 2004, but it eventually slipped. In 2012, she had the band removed and got an LSG instead, which she said has been working well. She said she's one of the 30 percent for whom reflux is bad, but she added that she's kept off about 70 pounds.
Shaneeta Johnson, MD, of Atlanta, Georgia, also struggled with weight since her adolescence. Although she said she exercised fairly intensely and was even training for a marathon, she couldn't lose weight, so she received an LSG about 10 months ago and has lost about 80 pounds.
James C. "Butch" Rosser, Jr., MD, of Lancaster, Wisconsin, jokingly said that as an 11-pound baby, he "came out of the womb a big unit." By the age of 16 years, he was 6 feet 4 inches and 285 pounds. He played football, which he said helped mask the problem. At 460 pounds, he recognized a dark pannus as a sign of insulin resistance and received surgery. He's now holding steady at about 290 pounds.
Finally, Walter Medlin, MD, of Salt Lake City, Utah, recounted also struggling with his weight from the time he was young. At about 300 pounds, he received a blood pressure reading of 197/120mmHg and feared a stroke, so he received an LSG in 2008. Even though he's holding steady at about 205 pounds, he said he still gets hungry a lot.
"I still like food," Medlin said. "I just need my wick turned down a bit, so I recently started taking Ozempic."
The panel agreed that part of the difficulty of being a bariatric surgeon and having had bariatric surgery themselves is keeping their own personal journey separate from that of their patients and making sure that patients do what's best for them without being influenced by their choices.
Johnson mentioned that it took her longer than she thought it should have to decide to have surgery. She said it was because she feared it not working despite seeing successes on a daily basis.
"I feared that if it didn't work, I'd have to explain to patients and colleagues why this surgery that I believe in so much was not successful for me," she said.
Rosser said he felt the strongest judgment and prejudices from colleagues and made an impassioned plea to colleagues in the audience not to judge their patients.
"We are not defective," Rosser said.
Medlin agreed, stating that bariatric surgeons need to be careful about using the word "failure."
All of the panel agreed that as surgeons, it was incredibly difficult to decide to have the surgery, and all of them agreed that their only regret was not having the surgery sooner.
The 20th anniversary MISS will be held March 16 to 19, 2020, at the Aria Las Vegas in Las Vegas, Nevada. For complete information as it becomes available, please visit the conference website at http://MISS-cme.org.
Category: Past Articles, Symposium Synopsis