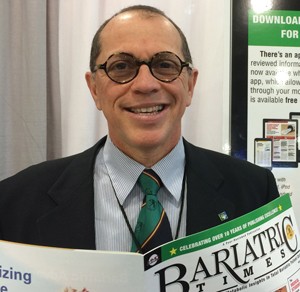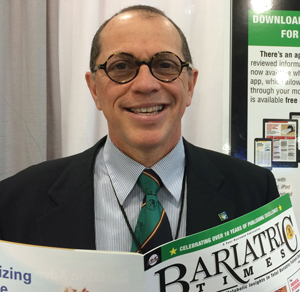 A Message from Dr. Raul J. Rosenthal
Raul J. Rosenthal, MD, FACS, FASMBS, Clinical Editor, Bariatric Times; Professor of Surgery and Chairman, Department of General Surgery; Director of Minimally Invasive Surgery and The Bariatric and Metabolic Institute; General Surgery Residency Program Director; and Director, Fellowship in MIS and Bariatric Surgery, Cleveland Clinic Florida, Weston, Florida
---
Dear Friends and Readers,
I just returned from the United Kingdom after attending the 22nd World Congress of the International Federation for the Surgery of Obesity and Metabolic Disorders (IFSO) in London. There were close to 3,200 attendees, and the weather was magnificent. The conference was terrific, with live surgeries from around the world, a sleeve consensus meeting orchestrated by Michel Gagner, MD, and many presentations on diabetes surgery and single anastomotic procedures. I would like to congratulate IFSO Congress President Richard Wellborn, MD, and Scientific Committee Co-Chair Cynthia Borg, MD (Malta), MD (London), FRCS Ed (GenSurg), on a job well done organizing the conference. I also congratulate Kelvin Higa, MD, on a great year serving as president of IFSO, and I wish incoming IFSO President Jacques Himpens, MD, luck and success during his tenure.
In this issue of BT, Zorrilla et al present a case series describing the use of the Capella-Fobi interposition of jejunum as an option to treat chronic staple line disruptions after laparoscopic sleeve gastrectomy (LSG).[1–3] While I personally favor a proximal gastrectomy with a Roux-Y esophagojejunostomy to treat this serious complication, I believe that this technique can be used as an alternative option to another approach that anastomoses the area of the leak to a loop of jejunum. My long-term concern with both approaches is the potential for bile reflux into the esophagus if a fistula matures at the upper level of the gastric sleeve. Don't miss the accompanying video to this case series. I encourage you to send us your interesting case reports and videos. It is wonderful to see work from our colleagues from around the world and learn from each other.
Also in this issue, we present a review and case study on the clinical and economic implications of "bariatric readiness" by Temple et al. Bariatric readiness refers to a facility's level of preparation in caring for with patients with obesity, from the proper equipment to knowledge of this unique patient population. Using their own facility—Waikato Hospital in Hamilton, New Zealand—as an example of success, the authors discuss how implementation of a bariatric care team helped to improve the care quality and outcome for one bariatric patient. They emphasize a criteria-based protocol that facilitates, in a timely manner, training and equipment in order to support the principles of early progressive mobility.
The authors conclude that readiness and available equipment are paramount to improving outcomes and decreasing costs. They also highlight the importance of accreditation programs, such as the American Society for Metabolic and Bariatric Surgery (ASMBS)/American College of Surgeons (ACS) Metabolic and Bariatric Surgery Accreditation and Quality Improvement Program (MBSAQIP) program. While some might see accreditation programs as both a barrier to practice and an additional expense, I am convinced that implementing an accreditation system keeps our patients at the top of our agenda and improves their outcomes. As a former die-hard rugby player, I must acknowledge that, until today, I was familiar with Waikato, New Zealand, mainly because of their great tradition of outstanding rugby teams and all black players (Sivivatu, Allina, Barlow, McKenzie, Brown), and not because of their outstanding bariatric center. I am glad to hear they are excelling in both areas.
Did you know that 60 percent of the ASMBS membership is comprised of integrated health professionals? This month, Nevins and Davidson provide an update from the ASMBS Integrated Health Support Group Committee. I thank the authors and column editor Karen Flanders, MSN, CNP, CBN, current IH president for keeping us abreast of the happenings within ASMBS Integrated Health.
As we prepare for another ObesityWeek, I am looking forward to the upcoming Surgery for Obesity and Related Diseases (SOARD) publication on the findings of the recent ASMBS/NORC survey, which was aimed to gauge public perception of obesity, its risks, and available treatment methods.[4,5] It will be a real eye-opener. I also look forward to two events occurring this month: the 14th Annual Bariatric Summit for the Comprehensive Management of Severe Obesity, in Savannah, Georgia, and the Fourth Annual National Obesity Collaborative Care Summit in Chicago, Illinois.
Sincerely,
Raul J. Rosenthal, MD, FACS, FASMBS
References
Capella JF, Capella RF. Gastro-gastric fistulas and marginal ulcers in gastric bypass procedures for weight reduction. Obes Surg. 1999;9:22–27
Capella JF, Capella RF. An assessment of vertical banded gastroplasty-Roux- en-Y gastric bypass for the treatment of morbid obesity. Am J Surg. 2002;183(2):117–123.
Fobi MAL, Lee H. The surgical technique of the Fobi-Pouch operation for obesity (the transected silastic vertical gastric bypass). Obes Surg. 1998;8(3):283–288.
American Society for Metabolic and Bariatric Surgery (ASMBS), NORC at the University of Chicago. Obesity Rises to Top Health Concern for Americans, but Misperceptions Persist. October 2016. http://www.norc.org/PDFs/ASMBS%20Obesity/Issue%20Brief%20A_ASMBS%20NORC%20Obesity%20Poll.pdf. Accessed August 21, 2017.
American Society for Metabolic and Bariatric Surgery (ASMBS), NORC at the University of Chicago. New Insights into Americans' Perceptions and Misperceptions of Obesity Treatments, and the Struggles Many Face. http://www.norc.org/PDFs/ASMBS%20Obesity/Issue%20Brief%20B_ASMBS%20NORC%20Obesity%20Poll.pdf. Accessed August 21, 2017.
Category: Editorial Message, Past Articles